---
Both of our kids have December birthdays, three days apart, less than two weeks from Christmas.
Needless to say, our holiday season is a liiittle much.
Some people have suggested we do a half birthday party in June to avoid the mass exodus of cash that's the dual December birthday. But that trend isn't for us.  That just feels like "more stuff" to do, because we'd have the summer party and then probably something else for the December birthdays, because who can ignore the actual birthday? So we decided to just go all in and embrace the chaos.
This year, our kids turned 2 and 4. So we had our first official dual, co-ed birthday. And it was awesome.
That's because I've discovered the joy that is the Destination Birthday Party. That's when you fork over the monies, give up the control and hand the party over to the pros at some cool local kid place.  And they do ALL THE THINGS.
This review is about our experience having a dual birthday party at Central Coast Aquarium in Avila Beach.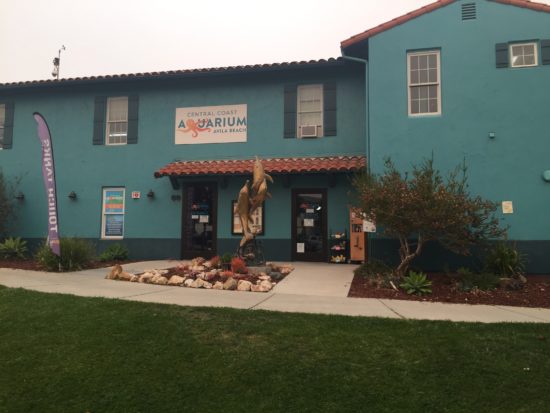 The beachfront aquarium at 50 San Juan St. in beautiful Avila Beach is on the smaller side, but packed with exhibits featuring the smaller species in the local sea life scene. The aquarium has touch-tanks for kiddos to explore purple sea urchins, crabs, sea stars and abalone. The touch tanks each have a staff member to guide the touching experience so the kids (and critters!) stay safe. Also on exhibit are little sharks, the red octopus and really cool jelly fish in a stunning wall display with lights. 
For a birthday party, this is a great venue that your guests will LOVE. First, it's indoors so you don't about to worry about the climate. And second, it's located right next door to restaurants, the beach and a playground, which makes for a good family day before or after the party. It's 40 miles, one way, from Paso Robles but almost everyone who was invited still came because there's so much to see and do there. And, yeah, ok, probably because they also love these two little crazies of ours 🙂
Our closer look at the aquarium's birthday package will show you that having a party here is super cool because it offers a fun look at sea life,  easy-peasy because the staff does nearly everything for you, and both fun AND practical because it offers different activities that move seamlessly into the next, while still fitting in enough time for food, presents and cake.
Side note: If you want to visit the aquarium outside of a birthday party, here are the deets:
► Open to the public Tuesday through Sunday, from 10 a.m. to 4 p.m., (CLOSED MONDAYS) 
► Costs: $8 per person but for seniors it's $5 pp //  and children age 2 and under are free
► 50 San Juan St., Avila Beach, CA 93424. It's located directly behind the Avila Beach pirate playground (and the beach), which makes it an excellent destination for kids.
► For more information, contact the aquarium at (805) 595 – 7280 or email: info@centralcoastaquarium.com.
► Check out its new website: www.centralcoastaquarium.com
The facility also features a Mommies & Guppies toddler program for $6 per child (or a $40 season pass).  We've done this program, too, and highly recommend it. Make sure to click here for more info on it.
---
And now …. on to the birthdays!
---
---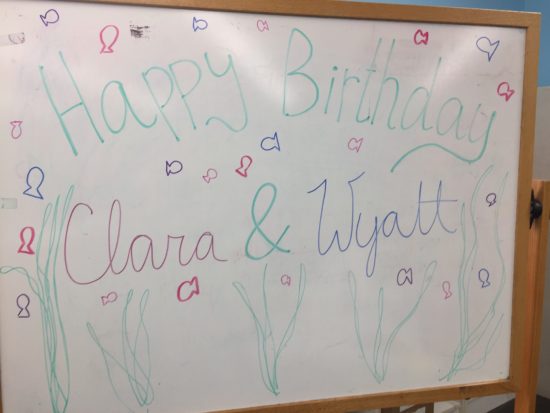 I got a discounted party package in exchange for our review, but all opinions are my own.
All birthday parties at the aquarium are two hours and cost $250, with the option of adding two additional activities for an add-on fee. You can have parties on Saturday or Sunday. For us, we like Sunday birthday parties because guests tend to have fewer plans on a Sunday.
We chose the party package designed for kids age 5 and younger, and opted for the Treasure Hunt add-on for $25 more, so our party would have been $275.
Here's what the party package included:
Base Price: $250 // Includes:
Staff members who run the party
2 hours of party time
15 minutes before and after party time for setup and tear down (staff helps)
Tables and chairs
Goodie bags for all children
Craft, game and Aquarium exploration time
2 party time options: 10:30 a.m. – 12:30 p.m  OR 1:30 – 3:30 p.m.
All attendees receive free admission to the aquarium for the remainder of the party day!
Optional add-ons:
Personalized Shark Encounter $50 // Approximately 30 minutes of a hands-on shark encounter for the birthday group with facts lesson.
Treasure Hunt $25 // Educational, facilitated treasure hunt in the aquarium
Other details:
The party room is HUGE. It also has a sink (key for little kid cleanup!) and more than enough tables.
Bathrooms are located right outside the room, all upstairs.
The staffers included with the party package are awesome. They do everything.
All you bring is plates/forks, etc./cups/napkins, food and cake. These can be themed or not. We did a loose "pirates and mermaids" theme because it was co-ed and, you know, at a place that celebrates the ocean :). Fitting, right?
---
---
Here's a closer look at our experience of what was included:
---
---

Staff Helpers

We got two staff helpers who ran the party. Their roles were to announce when each activity began (food time, cake time, craft time, activity time, presents time, etc.,)  and then facilitate the whole thing. All the heart eyes for their service. Here's one of our lovely helpers showing off the Treasure Hunt game.

---

Live Animal Encounter

The helpers facilitate the Live Animal Encounter by showing off a few different animals in smalls tanks and bowls in a private viewing for your guests in the party room. We saw various starfish. The staffers explains the animals to the children in easy to understand terms and teaches the kids how to safely touch the animal. Some fun facts I learned about starfish that day is they eat with their mouth located on the underside of their body, in the middle. And their eyes are the bottoms of each of their star points. So when they curl up and out, they're checking you out dude.

 Guest Count

Each party package includes a certain number of guests allowed, with the option for more guests for an additional fee per person: Ages 6 and over include up to 12 kids and 5 adults (additional children $15/adults $5, with 30 people maximum). Ages 5 and under include up to 12 kids and 12 adults (additional children $15/adults $5, with 30 people maximum). The 30 person maximum is key because it's dictated by the aquarium's fire code rules for the room.

Here's our party crew, which included 10 kids and their adults. Watch the number 30 closely when you're doing your invite list. From our experience in this age group (under 5), each friend comes with two parents and at least one sibling. So your rsvps can grow exponentially.

---

Craft & Games

Given our December party timeframe, the craft was salt dough ornament painting! Each ornament was shaped as a cute sea critter, and the kiddos got to paint them. The helpers also set out coloring sheets and crayons on the lunch tables which was nice for kids to do during the downtime between each thing.

---

Aquarium Exploration Time & Treasure Hunt

The $25 treasure hunt add-on was a great pick to break up the party room activities. For this add-on, each guest gets a scavenger hunt picture chart and heads downstairs to the aquarium part to find (and touch!) each critter, marking off the boxes as they go.

Then, back upstairs there was …

---

Time to Open Presents

During the presents segment, our helpers also made a list of who gave what as the kids tore open their presents.  Which, as a parent, is so super handy I just can't even, Because I always forget to do that, miss everything and then I'm left texting people, "Wait, did you give the so and so doll?".

---

 Goodie Bags for all the Kids

The goodie bags included two larger canvas bags for the birthday boy and girl, and ocean themed paper bags for the guests. The bags had little games and plastic jewelry etc in them.

---

Time for the baby to drop trou

DROP TROU: To lower one's pants down to one's ankles, often in a sudden, impulsive manner, thus exposing one's nether regions. – Urban Dictionary

Oh wait, that last one isn't part of the actual party package. But it's an activity that's very common in our household, and, apparently, outside of it too.

---

---

Some fine print:


No balloons allowed (I think for sea critter safety?)
A $25 non-refundable deposit holds your party date and goes toward your total party price.
I booked two months early for our party, and even that was too late for inquiries I made on other places. So, send those email inquiries early. Or call. if you can. I personally have little luck with making actual grown up person phone calls during the day because my kids see this as a chance to be wild monkeys in the background. Every. Time.
And that's it for our package! I was very happy with it.
And here are the deets on the party food we brought:
The cupcakes
We brought three dozen cupcakes ordered from Albertsons. Which was way too many, but I thought it was safe to assume all the kids (and maybe their parents) would want seconds. Then it turned out, none of the parents wanted any. But the kids loved them! We bought ours at the Paso Robles Albertsons grocery store, preordering them online three days in advance and then picking them up the morning of the party.  Here is the online order form I used.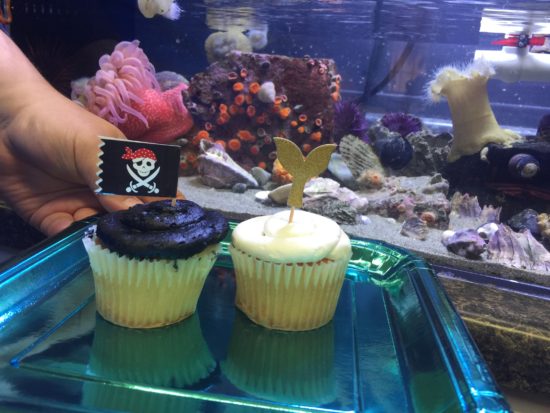 Our cupcakes cost $9 a dozen and were customizable in color, frosting type and theme. We ordered the "special occasion – birthday" cupcakes in white and black frosting, with plastic "Happy Birthday" cupcake toppers on the side in a little bag. I ended up buying my own mermaid and pirate picks.
Then the very nice party attendants offered to insert all the picks into the cupcakes  before cake time. (Seriously, they did everything. You just show up with food/supplies and sing their praises, for they are your new BFFs.)
Lunch
We also brought drinks (Honest Water pouches) and ordered pizza from Woodstock's Pizza in SLO. The local pizza place delivers to the aquarium and offers 20 percent off promotion for Central Coast Aquarium parties. Score. Make sure your contract rep sends you the code!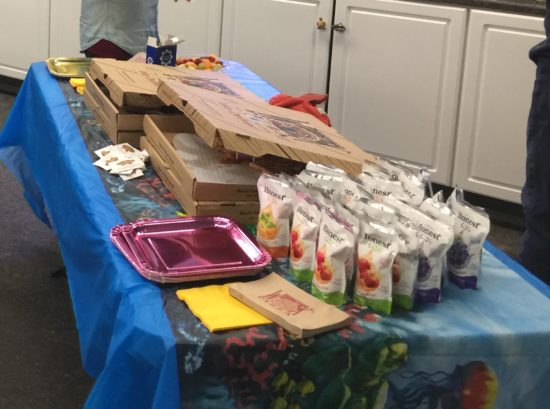 And that's a wrap! We loved our party at Central Coast Aquarium!