This article was originally published in the February 2018 edition of Paso Magazine 
2021 Update: The playplace links are all broken so I removed them. I suspect this means  it closed to the public during the pandemic – but I haven't confirmed that.
Here's the church's Facebook page if you'd like to further research it.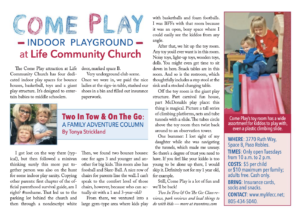 We reviewed the Come Play indoor playground attraction at Life Community Church in Paso Robles last year, and have been back several times since.
Come Play has  four dedicated indoor play spaces for bounce houses, basketball, toys and a giant play structure.  It's designed to entertain babies to middle schoolers.
I got lost on the way there (typical), but then followed a minivan thinking surely this more put-together person was also on the hunt for some indoor play sanity.  Copying other parents: first chapter of the official parenthood survival guide, am I right? #noshame.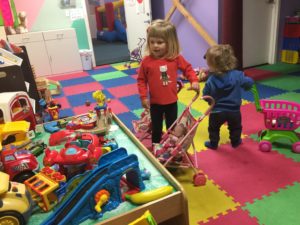 The minivan maven led us to the parking lot behind the church and then through a non-descript white door, marked space B.
Very underground club scene.
Once we were in, we paid the nice ladies at the sign-in table, stashed our shoes in a bin and filled out insurance paperwork. Then, we found two bounce houses: one for ages 3 and younger and another for big kids. This room also has foosball and Skee-Ball. A nice row of chairs for parents line the wall. I can't speak to the comfort level of those chairs, however, because who can actually sit with a 1 and 3-year-old?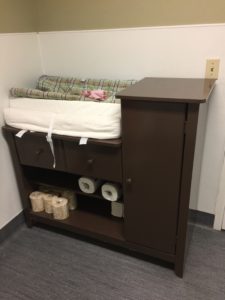 From there, we ventured into a large gym-type area where kids play with basketballs and foam footballs. I was BFFs with that room because it was an open, boxy space where I could easily see the kiddos from any angle. After that, we hit up the toy room. Any toy you'd ever want is in this room. Noisy toys, light-up toys, wooden toys, dolls. You might even get time to sit down in here. Snack tables are in this room. And so is the restroom, which thoughtfully includes a step stool at the sink and a stocked changing table.
Off the toy room is the giant play structure. Part carnival funhouse, part McDonalds play place: this thing is magical. Picture a tall series of climbing platforms, nets, and tube tunnels with a slide. The tubes circle above the toy room then twist back around to an observation tower. One bummer: I lost sight of my daughter while she was navigating the tunnels, which made me uneasy. So there's a degree of trust you need to have. If you feel like your kiddo is too young to be alone up there, I would skip it. Definitely not for my 1-year-old, for example. Still, Come Play is a lot of fun and we'll be back!
---