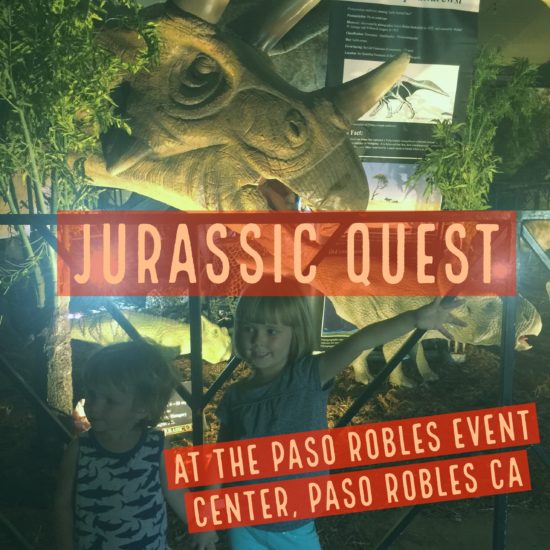 Is Jurassic Quest coming to your city? You can check out the schedule here.
Last weekend Jurassic Quest came to our city, filling the Paso Robles Events Center with all its Mesozoic Era goodness. The Texas-based company brings the family-friendly pop-up event around the country each year to offer life-like animatronic dinosaurs, saddle-sporting dinosaurs you can ride, a baby dino petting arena, crafts, bounce houses with towering inflatable slides, science stuff, history stuff and a ton of fun.
Think day at the natural history museum, but you get to RIDE THE DINOS.
WHEN TO GO: I highly recommend attending the event during the last three hours each day because the crowds really thin out at that time. We barely had to wait for anything from about 4 to 6:30 p.m. on a Friday. That meant we could do things twice or three times in a row (we parents are quite familiar with that again! again! toddler chant). It messed up dinnertime and bedtime by a couple of hours but super #worthit because later, I had another mom tell me that she took her 3 year old on Saturday during the morning/early afternoon and they had to go home without doing anything because the lines were too long. Like, there was even a 20-minute line just to get a balloon! Boo.
The paper program we received at the gate gave a good overview of what there is to do at the event, but we never found a map of where each attraction was located. So we totally missed the fossil dig and the walking dino show. So here's a map I created to give you the gist of where things are. It's probably going to laid out differently in your city. But hey.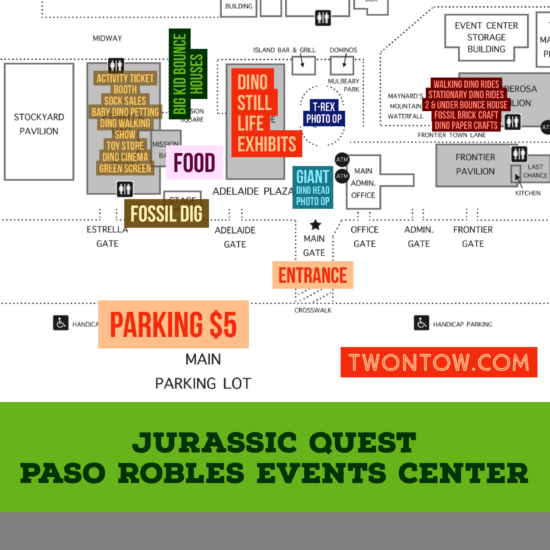 Note that the most popular things are the big kid bounce houses and the dino rides. The dino rides are kinda hidden (in my opinion) way over in the Ponderosa Pavilion in Frontier Town to the south. Meanwhile, everything else is grouped together inside and outside the north side buildings. In our city, the bounce house for kids age 2 and younger was in the same building as the dino rides, and not with the other bounce houses.
First stop:
Dinosaur Exhibit
Here, families can look at the life-like robotic dinosaurs in habitat replicas and all the science-y stuff about each one. And these guys are BIG! I wish I could have read each dino factoid. But – kids. I was chasing them. Everywhere. However, it's very fun to look at the exhibit. And probably read, too, for others 🙂 You can't touch the dinosaurs  on exhibit but some move their heads and tails. There are also sound effects and the event plays up the special lighting to add drama and special effects to each habitat.
A tour guide comes through the exhibit at certain times of the day to explain some of the history. The times were posted on a board outside the building.
DINOSAUR PETTING SHOWS/CINEMA/GREEN SCREEN/ACTIVITY BOOTH
In the next building, we found the Activity Ticket Booth. There, you can upgrade your regular kids ticket by purchasing a wristband for $11 that gets them into most activities.  Or you can buy single activity tickets for $5 each. Since my 21 month old got in free, I bought him the $11 wristband. We also got our 3 year old the VIP ticket online prior to the event. So now they could both go on all the things. (NOTE: Since he was almost 2 he could go on all the things his sister did. Maybe we just got lucky?)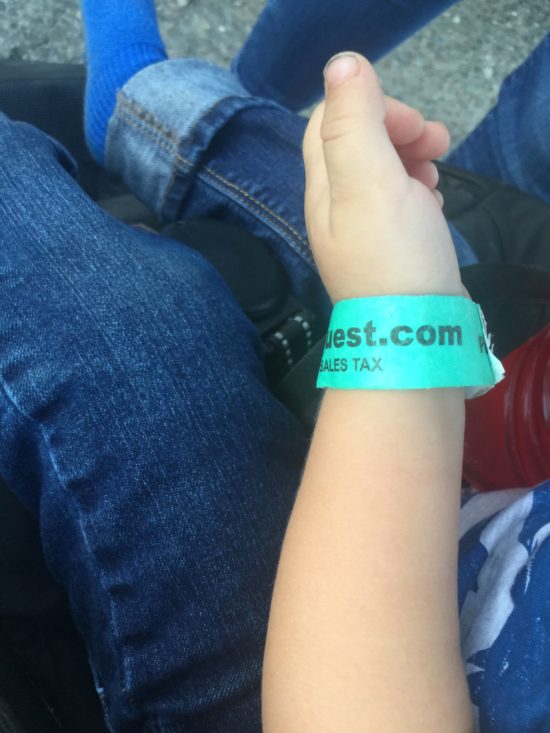 On whether to get the VIP ticket ahead of time, it might be worth buying the regular child's ticket and then walking through the event to see how much stuff your kid is actually interested in, and then upgrading to the wristband at the ActivIty Ticket Booth once you're there.
It's in this building that we found the very popular baby dinosaur petting show. I didn't realize it was a show that only took place at certain times so we ended up coming back after we did the rides in another building.
My son was terrified of the babies and my daughter loved them. It's basically a puppet controlled with the attendants' hands as they carry them around. There were three different babies to touch and see at our show. The attendants like to surprise the kids and nipping at their clothes/hair etc. In a nice way though. But if your baby is freaked out by them that's good to know.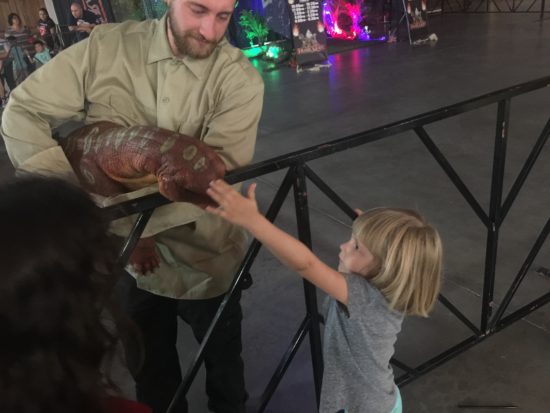 We didn't do the toy store, cinema or the green screen so I can't share my experiences with those, but other people seemed to be enjoying them. There's also a walking dino show in the same place the baby dino petting show is but I didn't realize that until today. There's are specific times for that one, too.
BOUNCE HOUSES
From the exhibit in Adelaide Hall, we exited north toward Mission Square to find the food and a long line of bounce houses. Every bounce house involved steep climbing and a inflatable slide.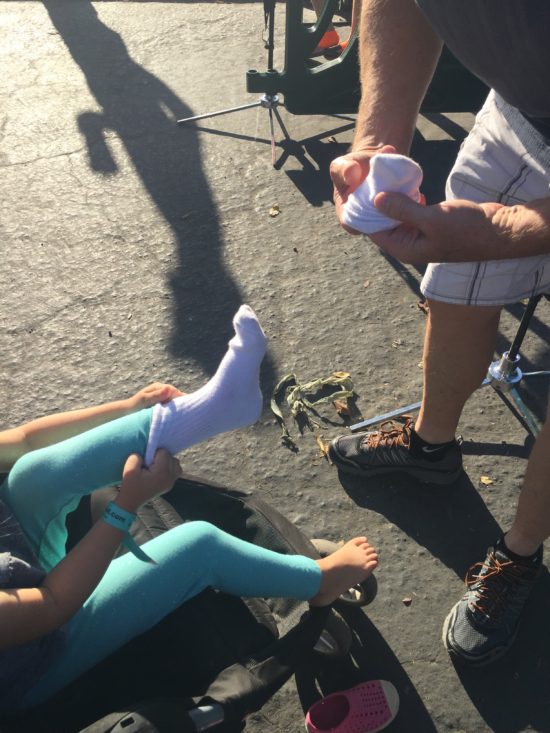 Let's take a moment to talk about socks. You got 'em? Bring 'em. All kids need socks to play on the bounce houses. They had a few for sale at the Activity Ticket Booth but we brought our own.
There was also a fossil dig near the bounce house area, which you can participate in if your kid has a wristband. Or you can buy an activity ticket for it. But like I said earlier … we didn't know the fossil dig was over there, unfortunately. So we missed it.
FOOD
The food available for sale at our event included kettle corn, food truck fare and a Domino's Pizza booth. There was also a candy station inside.
T-REX SELFIES
#REALLIFE And here's a collection of mommy + babies selfie fails that include no smiles, some extreme mommy double chin action (🙈🙈🙈🙈) and then major threenager smiles but glare on my glasses (on just one eye, naturally).
DINO RIDES: STATIONARY AND WALKING
Then we went to the Ponderosa Pavilion to the dino rides! I feel like they're the main attraction and kinda hidden over here. The website says the minimum height is 36" to ride but both my 21 month old and 3 year old were allowed to on – no questions asked. I didn't see any height charts like you see at carnivals, etc. Again, I don't know how it's going to go in your city.
As we entered the building, we found two types of dino rides: stationary rides where you sit on the back of a very tall dino who moves its head but stays put; and another where you ride a walking dino.
First, we found the row of pretty large dinosaurs fitted with saddle seats, buckles and metal handles. Kids can sit on their backs as Mr. (Or Mrs?) Dino moves its head and tail. You have to walk up steps to get up to them and the attendant let me hold my sons hand and stand on the top step with him.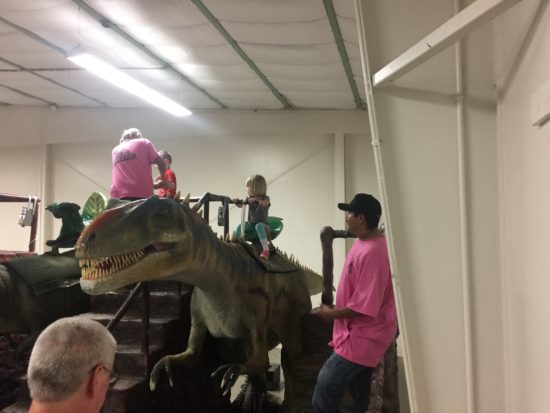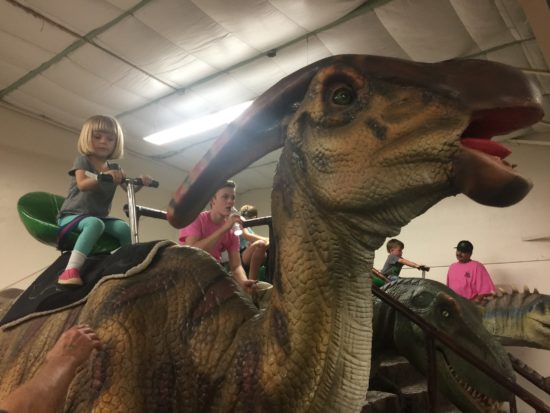 There are a few different species of dinos to choose from. The ones on the left are shorter than the ones on the right.
There was almost no wait for these as we went around 5 p.m. Friday.
By 5:30 p.m., there was about a 10-person line to get on the next ride, which is to ride on the back of robotic dinos that walk around. By 6 p.m., there was almost no line for that one 😊😊😊.
No waiting looks like this —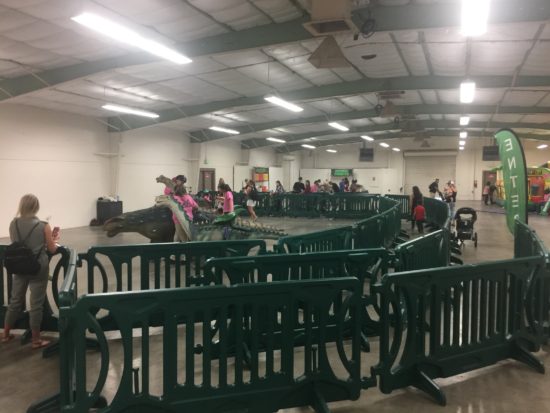 To ride the walking dinos, your kid has to wear one of the provided helmets, which they spray with Lysol (or something) after each use.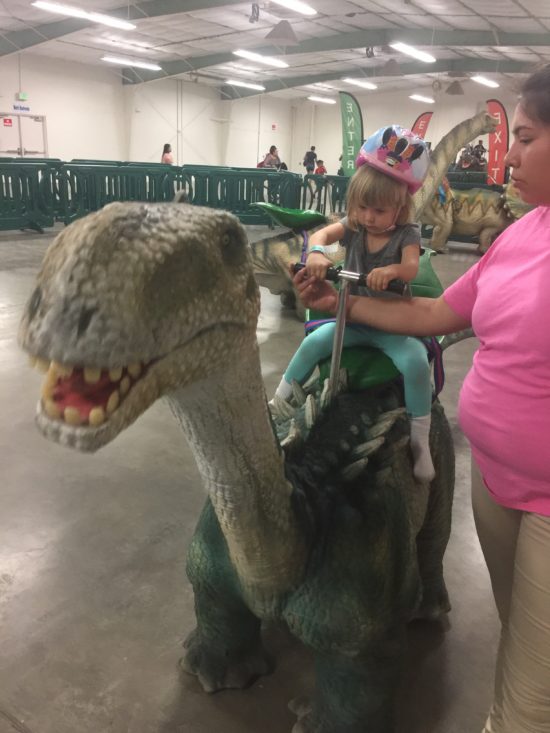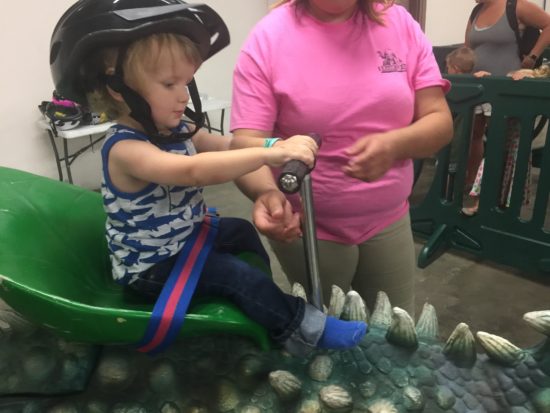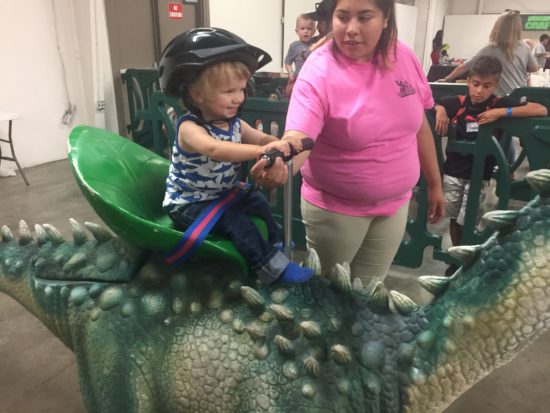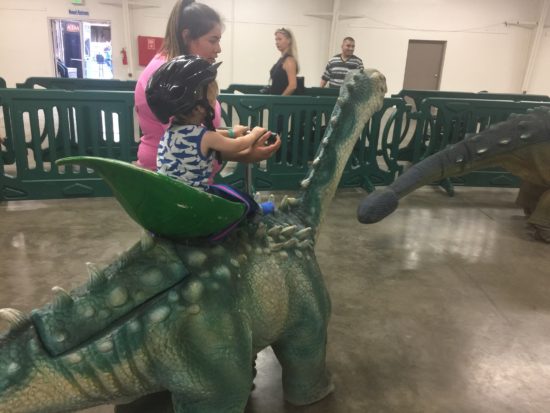 Both my kids LOVED this ride. The dinos walk super slow and there's a handle to hold. The attendant also walks around alongside your kid so they don't fall out.
2 AND YOUNGER BOUNCE HOUSE
Seriously, my son could have stayed in here all day. It had things to climb but was mostly flat. And it had a small slide that he could navigate all by himself. How do I get one for my house?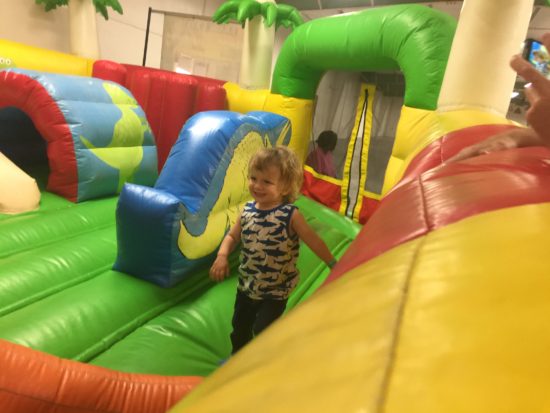 And that's it!
Overall, this was a really cool event that had lots to do and was really like nothing we've ever done before. We were able to do all the things several times each because there were no lines in the evenings.  And we'd definitely go again!
Here's a look at some of the DINO 411 we provided our readers during our city's event:
↠ ACTIVITIES: Kids get to ride in a saddle on the backs of five different dinos. There's also an exhibit of dinos to look at, dinos that walk, and an area to pet baby dinos.
↠WHEN//WHERE//TICKETS: Check out the Jurassic Quest website. They say these things vary by city.
↠ TICKET PRICING: For kids older than 2 but younger than 13, there's two tiers of pricing, regular and VIP. The VIP ticket includes unlimited playtime in a line of bounce houses, dino rides, fossil digs, bungee pull, dino scooters, getting an excavation brick (one per VIP pass) and more without having to pay extra for those with the Activity Tickets that are $5 per activity inside the event.
↠ BABIES: Children under 2 get in free.
↠ WHAT TO BRING: Bring socks for the bounce houses. Snacks for small children and water is OK. No one checked our bags for that. Again, this might vary per city. Strollers are ok.
↠ FOOD: There are food vendors. As far as packing lunches goes, Jurassic Quest doesn't have a policy against bringing food in, but the Paso Robles Events Center might. BUT you can also get your hand stamped and leave to eat (in the car or nearby) and return the same day.
These notes are summarized from my questions with the event people as well as info on the event's FAQ section.