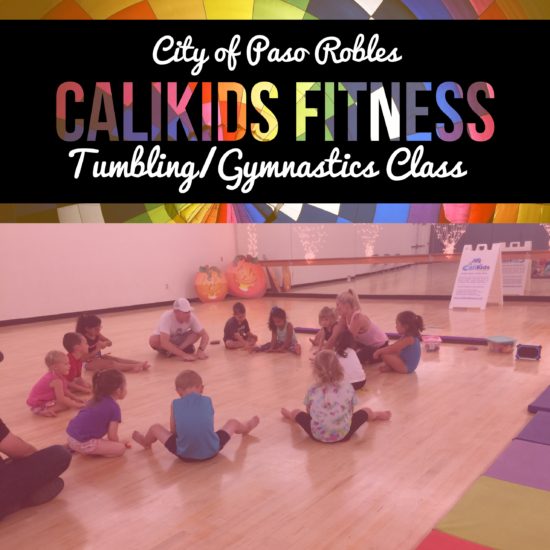 Super excited the City of Paso Robles is offering two NEW classes this fall:
We were able to try out a sample class of each to share our experiences with you.
For this review, I'm going to focus on CaliKids Fitness.
Here's a look at the Paso class:
What: CaliKids Fitness Beginning Tumbling/Gymnastics for ages 3 to 6
When:  The next open class to sign up for is from 5:30 – 6:15 p.m. Thursdays from Oct. 19 to Nov. 30  for 6 weeks. A winter session class is planned for Thursdays from 5:30 to 6:15 p.m. Jan. 18 to March 22, offering parents two, five-week options; and one full 10-week option.
Cost:  $54 for 6 weeks (but no class on Nov. 23).  Monthly winter session classes are also planned for Thursdays from 5:30 to 6:15 p.m.  The cost of those are January and February $40/month, March $50/month.  Register for two months: Jan/Feb $74 and Feb/March $80.  Sibling discounts and scholarships are available. 
Where: Centennial Park's recreation building, 600 Nickerson Drive, in Banquet Room B.
Sign up: Click here.
But before I get into our review (spoiler alert: we love it) let's first reflect on the experience that is bringing a younger sibling to the older sibling's class. This class was for kids ages 3 to 6 years, so my 1 year old was just too young to participate.
(They did, however, let him tumble before class and participate in circle time and a warm up activity — which I so appreciate. It is in those moments where I have a MAJOR MOM MOMENT where I got teary when I saw the baby walk right over to his big sister that huge circle and squeeze into the tiny open spot on the floor right beside her. Gah).
But, in general, keeping the younger sibling occupied during a big kid class is … fairly chaotic. Below, you'll find a random sampling of my efforts. Which includes:
Distracting him with selfies.
Taking random pictures of my feet as I scrambled to grab him.
Capturing blurs doing said scrambles.
Him dumping all the papers in the lobby.
And then there's this handy video which occurred while I was trying to shoot an Instagram Story of class (#bloggerproblems) as he ran like the wild banshee he is toward the trampoline.
But then we found the awesome toy stash the city's rec department has in the lobby! Thank you, awesome city people. You must be parents.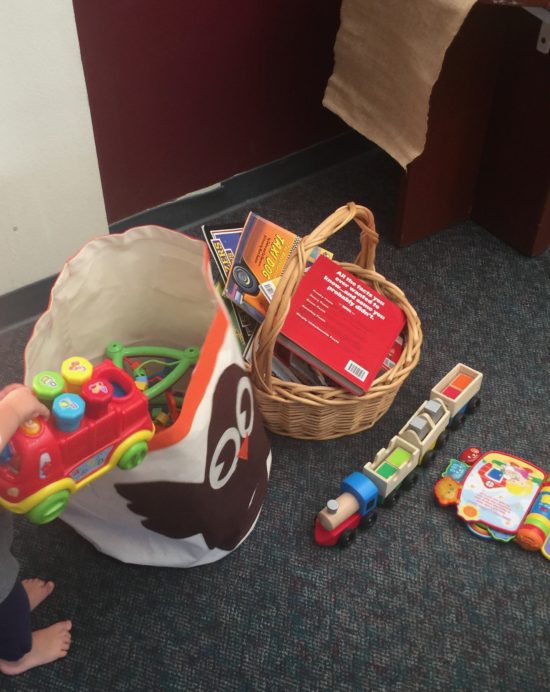 Now that I've gotten that over with. Here's some info about the company behind the class:
CaliKids Fitness
CaliKids Fitness is a mobile children's fitness business run by San Luis Obispo residents Brittney Jones and her fiancé Chad Nicholson. They have extensive backgrounds in the fitness industry, including (but not limited to) Brittney's career as level 10 national gymnast and Chad's time as a extreme sports pro athlete. (For more on these two, visit their website at: CalikidsFitness.com). The couple developed programs for children ages 12 months to 12 years, tailoring them to each age, to boost the physical, social, emotional and cognitive development of young children.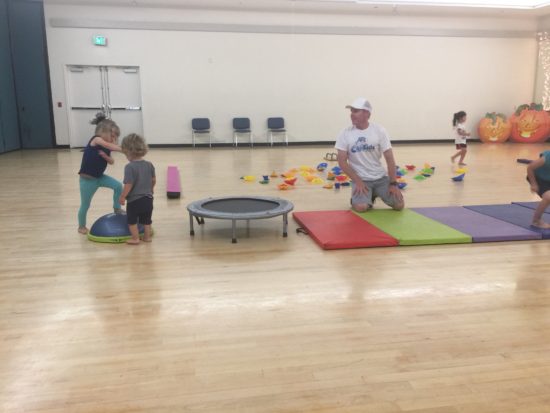 We certainly saw that in the hour or so we were there.
We went on Thursday evening a couple of weeks ago.  The class included circle time, warm-ups, running relays, tumbling, games, singing and dancing. Brittney also provided upbeat music from her phone that played through a snazzy portable speaker.
Here's a video of the freeze dance segment:
CaliKids is mobile because they literally drive up and down the Central Coast with all their gear offering afterschool classes, city classes, birthday parties and play dates. Visit the CaliKids website for sign-up info on their classes in AG and SLO.
Here's a look at the fun stuff they brought to Thursday's class in Paso: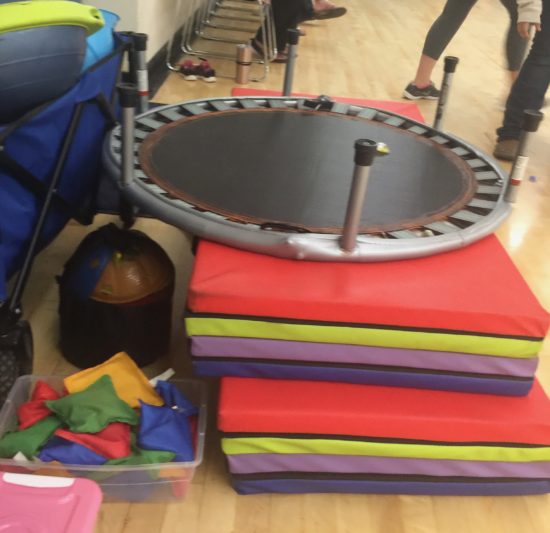 Our Experience
My first impression was that the class was popular. Like, super popular. All the chairs on either side of the room were filled with parents — and there were 13 kids participating.
That's pretty impressive. I mean, it was a small miracle that I got my kids to an evening class at all because that pre-dinner bewitching hour is usually a circus at my house. But here were all these other superstar parents functioning just fine. Go figure.
My second impression was that Brittney and Chad are highly qualified — but also high- energy individuals. A sampling:
They handled that room FULL of kids no problem, kept them active and had fun doing it. And we're talking kids ages 3 to 6 here, which usually isn't the most cooperative of the age brackets. As more families trickled in, the fitness duo made a point to let the kids burn off some pre-class energy with some tumbling and trampoline bouncing during some free play, even getting on the floor with the kids for tumbling help.
Then at the start of class, they got all the kids to SIT in a circle and pay attention (can they come to my house please?) and made a point to welcome each child by name. THEN Brittney proceeded to remember each kid's name as she addressed them for various things during the class. I always find the name remembering skill impressive.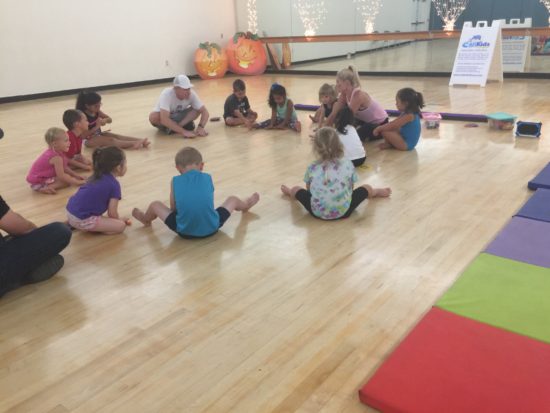 In the circle, all the kids got plastic glitter batons and practiced holding them with their hands and feet while stretching.
Here's another video:
Then they had some relay running games, followed by a circuit line of jumping, tumbling and balancing. After that I have no idea what they did because I was chasing the baby around. By the time we got back, they were playing freeze dance and soon got into a floor circle again and handed out little sticky hand toys as take-home gifts.
Final Thoughts
Overall, the class incorporated a lot of different types of movement and music, which the kids seemed to really love. That variation sets this tumbling class apart from traditional gymnastics.
There's lots to do via all the fun gear the instructors bring with them.
Bringing the younger sibling not enrolled in class can be a pain for mom.
But if you have to bring them, do it at a Centennial Park class because of the AWESOME TOY STASH there.
In closing, here's a bit about class from Brittney, in her words:
Many of these group movement activities facilitate and encourage the children to learn about how their bodies move through space.  Our goal is to make fitness interactive, enriching, engaging, and of course, FUN!