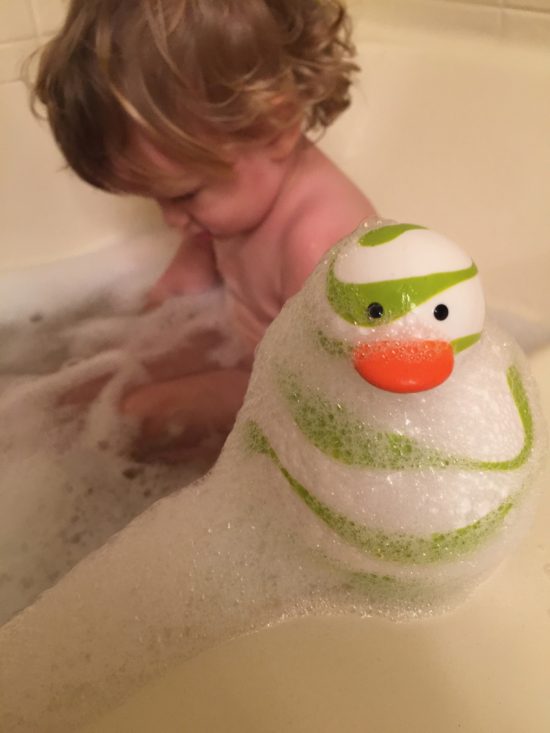 When San Luis Obispo resident and Beautycounter rep Lindsey Eckersley reached out to me with a collaboration  opportunity to try the Super-Duper Kids Clean Body Wash from Beautycounter's kids line, I was pretty excited.
And that's because my secret crazy #momtruth is I'm totally freaky about what products I'll use (and won't use) on my kids.
As much as I try to be a fairly laid back parent, I basically banned all plastic from my household during my kids' teething stage. Because when you start really researching what ingredients are in all your stuff – your plastics, your lotions, your makeup ….  you'll find carcinogens, endocrine disrupters and a bunch of other weird ingredients.
Since I'm no scientist, one way I research our household products is by leaning on the Skin Deep online safety database from the fine folks over at the nonprofit Environmental Working Group. The search tool "combines product ingredient lists with information in more than 50 standard toxicity and regulatory databases," according to the website. Then the EWG rates the products on a numerical scale according to how hazardous their ingredients are, or where information is lacking.
In comes Santa Monica-based Beautycounter, which has positioned itself as a standout beauty company boasting pure ingredients in products for women and children. And Lindsey tells me it's also developing a men's line. Beautycounter is also in the Skin Deep database as having EWG Verified products, meaning they get the organization's overall seal of approval. Woot.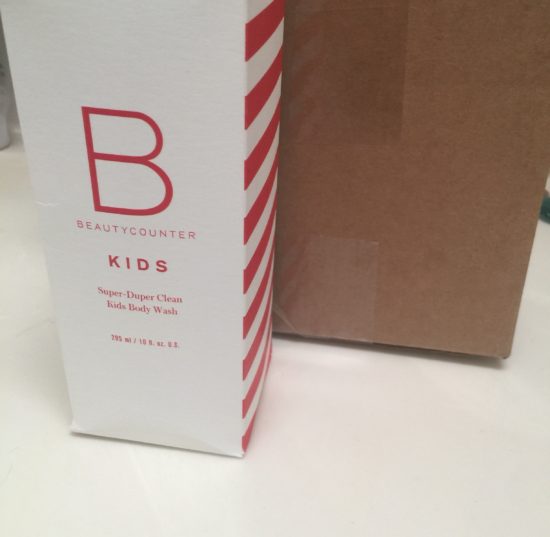 Here's where Super-Duper Kids Clean Body Wash falls in the database. Spoiler alert: It scored well.
I was more than down to try it.
So, the other night, after a long day of playing at the park and smearing dinner everywhere (the kids, not me), I plopped the kiddos into the bathwater and got out our fresh bottle of baby wash. It's in a 10 oz pump bottle that's has its name printed in English on one side and in French on the other.  The French side has the very endearing blah blah blag French stuff "Super-Duper" printed on it. Makes me laugh.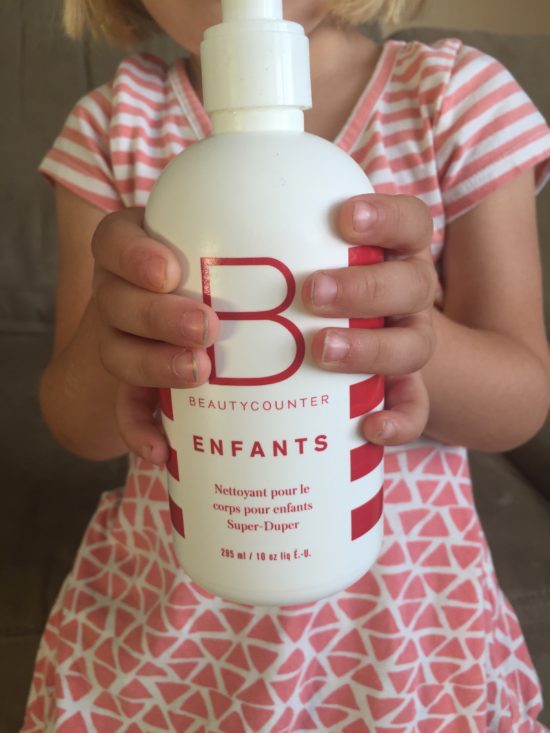 I should also note that I appreciate the pump top because a pump feature makes washing so much easier. And with two kids splashing and pouring water in their little boats (and, much to my protest, OUT OF THE TUB) — easy is key.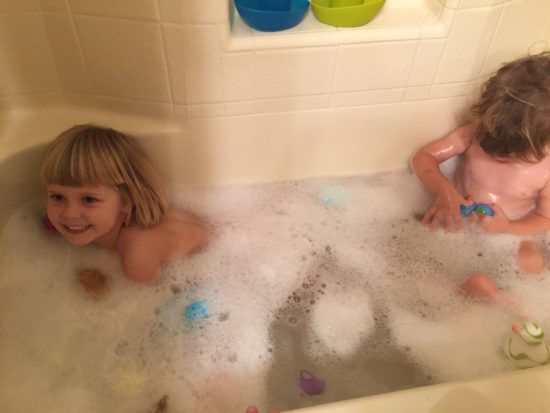 The first thing I did was test the smell. I don't like things with too strong of a scent. But it smelled nice. My first guess was citrus, but then I looked at the label and it said berry. But I'm fairly sleep deprived so I'm sure that if you look that up on WebMD it would say that four years of birthing, nursing and raising the tiny humans equates to berries smelling like lemons.
My kids also liked the scent. My three year old said it smelled like candy. But in her threenager world, that just means it smells delicious, not that your kids are going to smell like Sweet Tarts.
Though I'm pretty sure this would be their reaction if they did: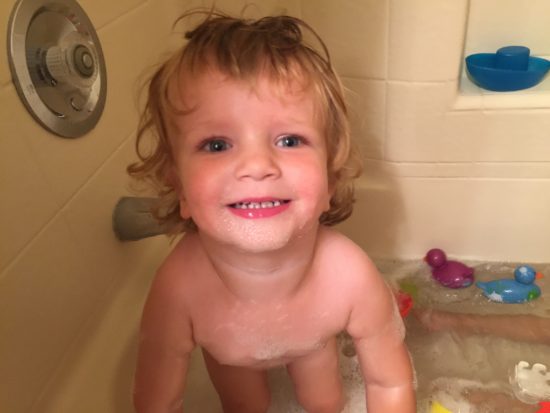 I put about three or four pumps of soap into the running bathwater to make bath bubbles. It was very bubbly, but perhaps not as bubbly as other soaps I've used. We are, however, talking about natural-ingredient bubbles here and not weird chemical ones. So there's that.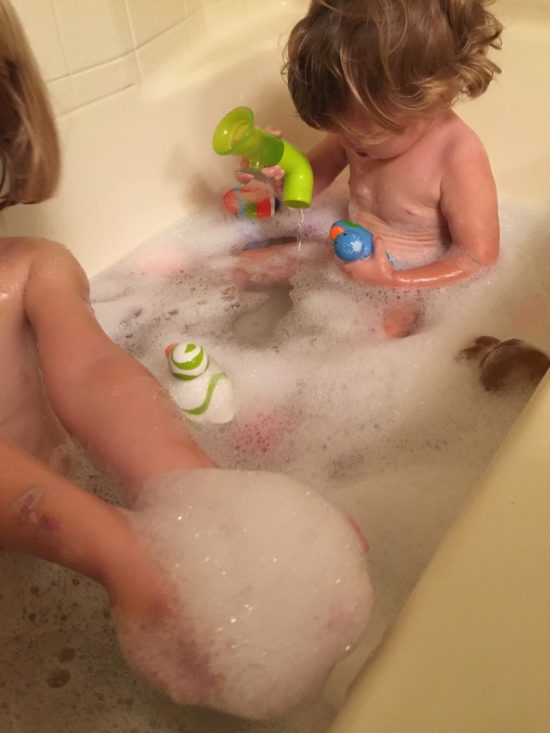 So then the kids played in the bubbles and we were in full bath time mode. When it came time to wash the kids, I noticed that the soap was easy to lather in my hands. Which is something you don't find often in natural products. So that was nice. I washed them and also their hair. The product is labeled as kids body wash, but I also washed their hair with it. Because who has time to get two bottles out during bath time? Then my kids tried to climb out of the tub, to which I said WAIT …. WE HAVE TO CHECK HOW IT RINSES.
I'm just that a dedicated of a reviewer, ya'll.
And, you know, who wants sticky kids?
So there they were, all lathered and soapy, and then I started the rinsing wars. Which went something like this:
The Kids: My eyes!!
Me: I'm nowhere near your eyes.
The Kids: My hair!!
Me: LOOK UP. NO. THE OTHER UP.
The Kids: Mehhh!
Me: My thought exactly.
I should also note that when my daughter said it was in her eyes, I asked her if it hurt and after she stopped freaking out and actually considered my question … she said no :). And the soap rinsed  well. The kids' skin did feel a little slippery at first, but after one more rinse that feeling was gone and when I toweled their cute baby booties off, their skin felt soft.
And they still smelled like berry lemon.
The next day, I was delighted to find that my 21 month old's curly hair was extra ringlet-y because the body wash was fresh and new to him, which his curly Qs apparently loved.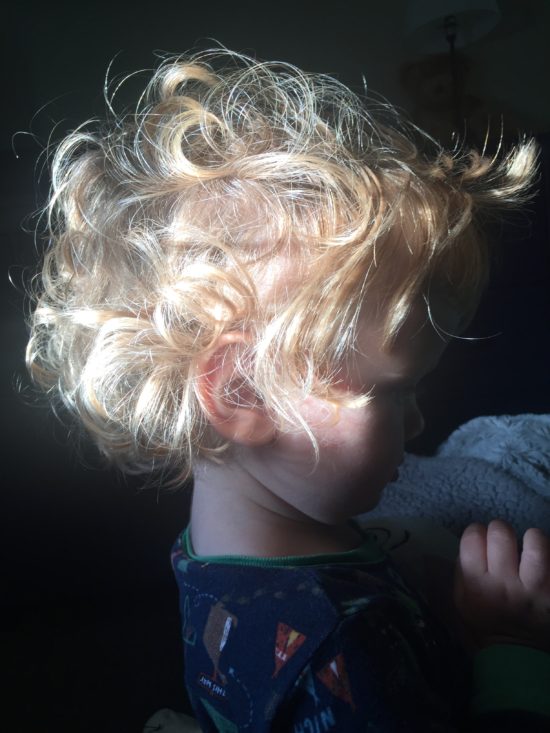 So that's our review! We were very happy with this natural product and we'd use it again.
NOTE: I was not financially compensated for this post. I received a free product for review purposes. The opinions are completely my own based on my experience. For more information, please see my disclosure.
And here's a little more info on this company:
Beautycounter utilizes multiple sales and distribution channels including more than 25,000 consultants and partnerships with brands including Target, J.Crew and Goop.
Beautycounter offers 100% ingredient transparency on their website, this is referred to as the 'Never List'. These ingredients will never be found in any of Beautycounter's products. Beautycounter also bans more ingredients than the U.S requires, eliminating over 1,400 chemicals banned or restricted in personal care products by the European Union, and then banning additional chemicals screened by Beautycounter that were found to be of concern. This means approximately 1,500 ingredients are banned! http://www.beautycounter.com/the-never-list