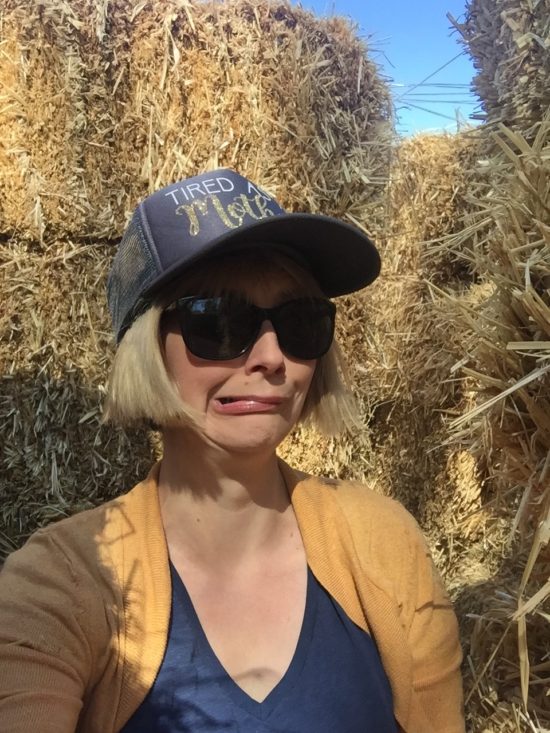 Last year, it was my goal to go to as many pumpkin patches as possible. I was a mom of two kids now and we were going to ROCK THIS HOLIDAY.
Instead, I got …
The flu,
followed by hives,
followed by the stomach flu,
followed by SHINGLES.
Being sick and having to care for babies is the WORST. Like, I would seriously rather birth a child 10 more times than have the stomach flu while nursing a baby and keeping up with a toddler.
This year, however, the cold bugs have been tame and we've already been to three pumpkin patches.  Count 'em: 1, 2, 3! Boom. Not getting sick AND going to the places.
Winning at life over here.
So over the next few days, I'll be rolling out blog posts about our experiences to these fine SLO County attractions before the big day! (Halloween, that is).
Here's a look at our first stop …. Avila Valley Barn in San Luis Obispo!
Avila Valley Barn, 560 Avila Beach Drive, SLO
I feel like Avila Valley Barn is the go-to staple for pumpkin patchin' it in SLO County. It also has one heck of a pie stand. I should also note a major bonus here and that's that Avila Valley Barn is open year-round, with different crops to celebrate each season.
Why it's fun:
You can feed the farm animals // $1 bags of leafy green animal feed available to buy
Hay rides // Friday, Saturday & Sunday// $1 per person, children age 2 an under are free
Pony rides // Friday, Saturday & Sunday // $6 per ride
Two free hay mazes (a tall one and a short one for kids)
Food for sale in the Fruit/Vegetable/Bakery Stand + in the super cute ice cream shop
Artichokes and roasted corn for sale in little stands. On weekends they also usually bbq and sell tri-tip
A gift shop with cute decor things inside the stand area
Fun Fact: Did you know the $1 hay ride/ tractor will actually take you to the Avila Valley Barn orchards located next to the barn property?? I never knew that. You buy the tickets in the pie stand area from a cashier. The farm has its U-Pick schedule here.  October's schedule usually includes picking pumpkins off the vine, but the last day for pumpkin picking was Oct. 26.
That's just for the U-Pick, though. There's tons of beautiful pre-picked pumpkins stacked up for sale up near the stand. The stack also serves as the perfect backdrop for little kid pics: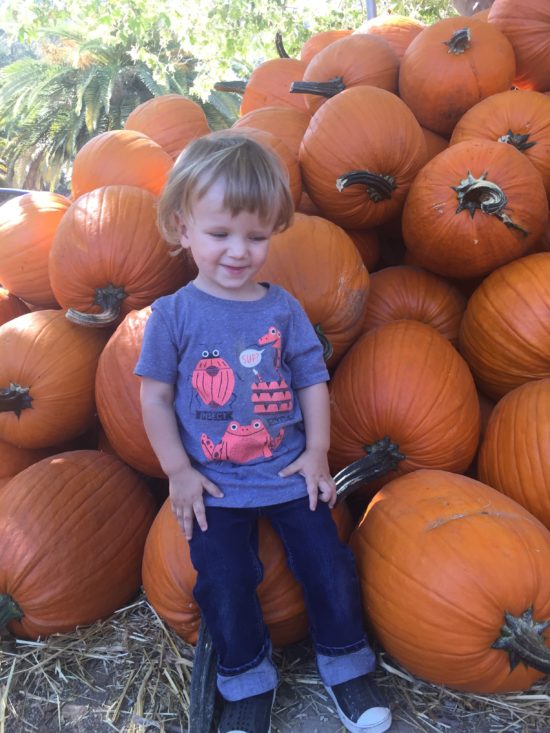 ---
Another Fun Fact: Credit cards are accepted! Which is major because I hardly ever have cash. Unless, of course, I just sold some random annoying baby toy that I can't stand having in my house one second longer. Then I have cash for like two seconds, unless I hit up a Michaels store first.
Hours: 9 a.m. – 6 p.m.
Website: www.avilavalleybarn.com
Phone: (805) 595-2816
I would normally have way more pictures with a post, but I went on a Sunday with friends knowing that I would be back there later that week to go apple picking. So I thought, "Hey, I don't need to be a psycho camera-always-out bloggin mama today, I got this!"
Aaaaaand then we all got sick. And didn't go anywhere for two weeks. So we never made it back.
Oh, and, just for kicks, here's a collage from a 2014 trip to the barn with my now three year old when she was just a tiny baby. And yes, I totally coordinated our outfits. I'm that person. I also had long hair back then. (Short hair #ftw, though. It's so much better.)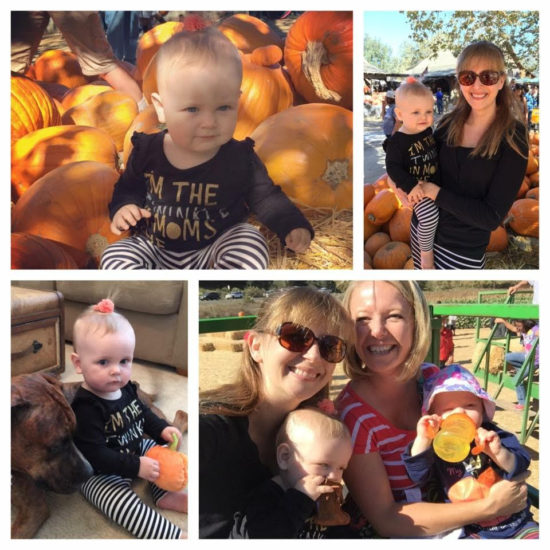 Parking: Free! And in a large dirt lot.
First on your to-do list when you arrive at the barn is to feed the farm animals. Because if you don't start off with that, your kid is going to see other kids doing it and will relentlessly ask you 400 times (give or take) if they can feed the animals yet. Luckily, the barn has got your back and provides this very handy animal feed buying process on the honor system, so there's really no lines to wait in for that. Located near the produce in the pie stand. I would get a few if you can.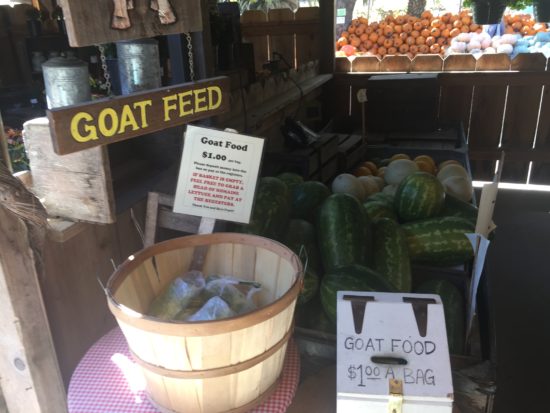 You can also buy a bag of animal food with a credit card from a cashier in the pie stand area, but it's quicker to drop a dollar in the  box if you have it.
And the animals are so fun! There are cows, chickens, goats, and something else I'm forgetting about. Turkeys, maybe? That last pic is from our earlier trip to feed the goats because apparently I just got four photos of the cow and one of my friend's children feeding the chickens. I'm not actually sure the chickens eat the goat food fyi.
After we were done feeding the animals, I legit got lost in the hay maze. I had actually never been in a hay maze before and this one was no joke: I took the kids in it with me. It was tall and kinda dark and SUPER narrow. Plus, like, really hard to navigate. But not too hard for my 3 year old who literally saved the day and found the way out like it was 'aint no thing. Good thing too because I was thisclose to crawling out the top, which I'm pretty sure is majorly frowned upon. And embarrassing.
But the kids had no idea I was freaking out. They were having fun: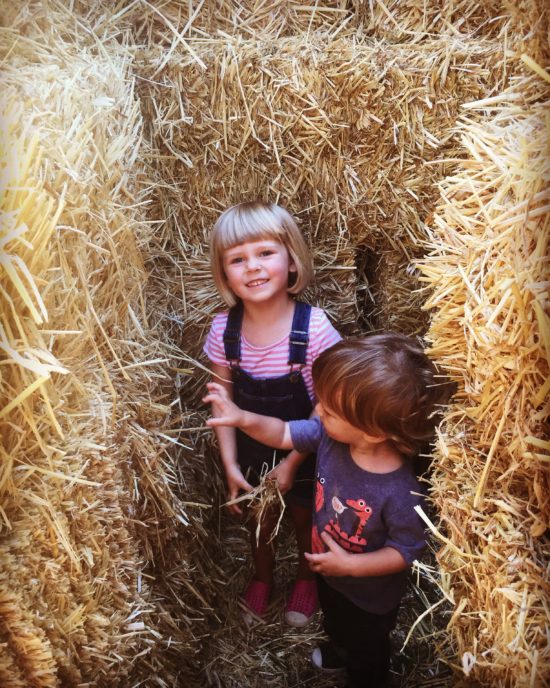 Afterward, I decided to celebrate our sweet sweet survival of said hay maze by snagging some kid + me pumpkin shots. But we ended up with the picture you get when you're excited for smiles during the season's first fall outing and your baby gives his best death stare instead: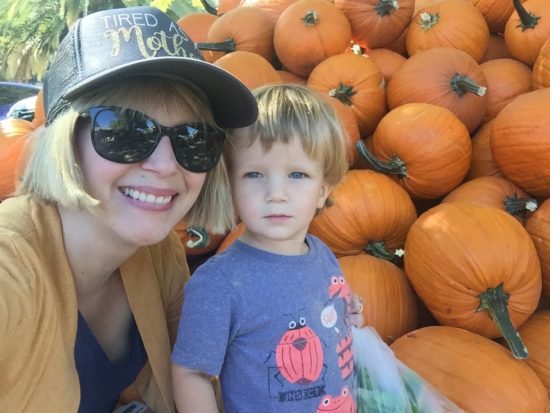 BUT THEN we got this other one when a friend and I swapped phones to take actual group pics. One of, like, maaaybe three photos where we are all three smiling AND looking at the camera at the SAME TIME. Miracles do exist!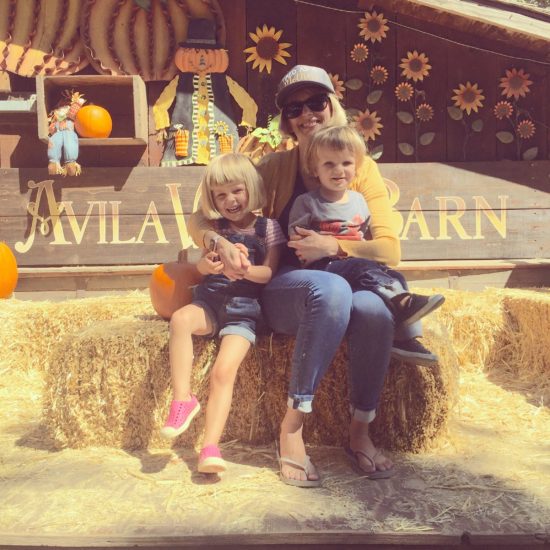 That last photo is also the token "I Went To Avila Valley Barn!!" shot because the setup is all decorated cute for fall, the name of the place is painted on a sign behind you and you climb this neat hay stack thing to get up there.
So, yeah, totally worth it to go to Avila Valley Barn for pumpkins (or any time of year). Lots of fun things to do.
For us,  my personal favorite was when my 3 year old decided to practice her best  "Don't touch my brother or I'll cut you" face: