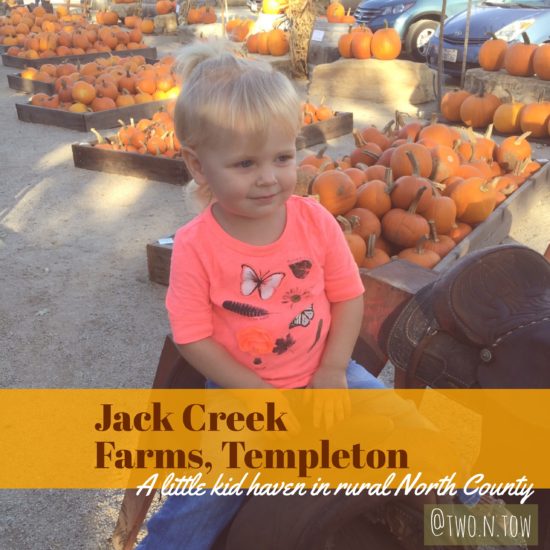 Next up in our series of pumpkin patchin it in SLO County, is the truly wonderful Jack Creek Farms in Templeton, California. It's open year-round, but is decked out all pumpkin-y in the fall. They've put a lot of time and effort into making their farm kid-friendly, including fenced-in play areas and a thoughtful layout that includes a large picnic table spot.
Jack Creek Farms, 5000 Highway 46 West in Templeton
Why it's fun (And this is all free!)
Fenced-in tire climbing garden
Wooden train play structure
Haystack pyramid to climb
Large picnic area with tables – pack your own lunch beforehand!
Several wooden playhouses all with cute farm themes
U-Pick options ( you just pay for the fruit)
Rows of sunflowers in the fall
The farm is home to the annual Pumpkin Palooza pumpkin decorating event
Fun Fact: There's apple picking here!! And apples are just of the many seasonal U-Pick options that the farm offers. You can see the schedule here.
Phone: 805-239-1915
Website: www.jackcreekfarms.com  // Facebook page.
SIDE NOTE: There's also a super cute Farmstand gift shop that has housewares and decorations and local things to taste.
It was in said gift shop where my one year old absolutely lost it. "Bull in a china shop" keeps coming to mind and I keep trying not to use the phrase because it's so cliche. However comma, it is what it is. Basically he wanted to run around like his big sister, but if I let him, he'd most definitely knock all the pretty things to the floor. Crash, bang, boom. And that would suck. So held him, and he DID NOT LIKE THAT.
I had to pay for something, though. Which brings me to this post's PRO TIP #1: Send in a friend to pay while the other friend watches the kids outside.
It's in these situations that I write about, where my kids are wild banshees, that I'm usually disappointed I can't photographically capture the true tantrum glory for you. One, because pulling out my iPhone in the middle of kid wrangling is …. pretty weird from a standpoint of what's socially acceptable . And two, it's, like, physically impossible to do all that without dropping a phone, or a child. I'm tempted to make a joke here about which would be worse.
And yet … here I am, sneakily grabbing my phone, flipping it to selfie mode, turning the phone upside down to snap a quick blur.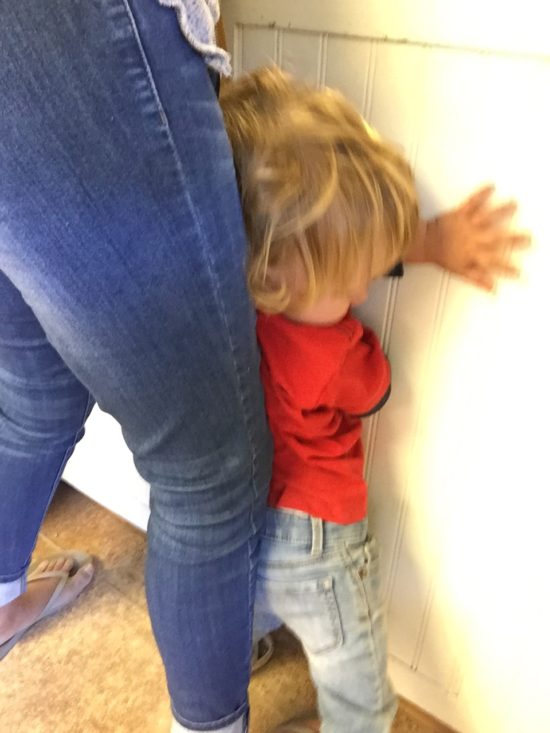 What you see here is me pinning my one year old against the cashier's counter with my leg as I'm checking out. As I'm taking this picture, my kid screaming and me basically man handling him with my legs while simultaneously trying to work the credit card machine without money flying everywhere, I know that cashier must be thinking, like, what the heck are you doing lady?! I really need a badge that says "Wait, I'm a blogger! I'm not actually crazy!" But alas, I don't.
Which leads me to … PRO TIP #2: Bring a stroller for selective strapping in occasions so you don't look like a hot mess.
Now, onto the tour ….
At the entrance of the farm, you'll find one of the first kid areas, which includes a toddler hay maze, wooden train, antique tractor, hay stack pyramid and a playhouse.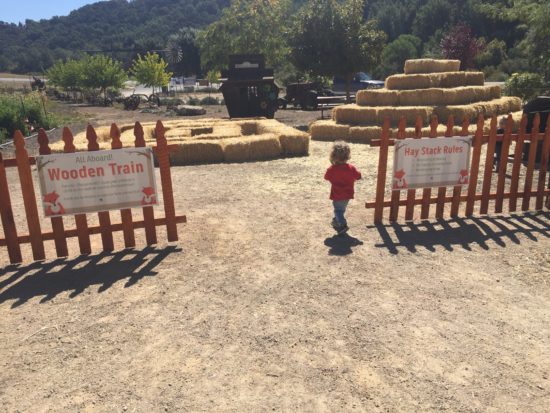 A closer look:
( I also included two pictures of my 3 year old from 2015). The wooden train is the highlight of this area and your kid will play on it for a long time. So that's awesome. And the cute wooden playhouse in this area is also a hit:
Out to the east of play area are the U-Pick tomato garden and several rows of planted flowers, including sunflowers! Which are super sweet to take kid pics with:
Then, if you go north a bit, (also next door to the play area) you'll find a FENCED-IN tire garden with a little iron bench seat in the shade for mom. Score! I capitalize fenced because anywhere that lets mom sit for a second while also keeping the babies wrangled for a sec is pretty awesome.
The tire garden itself is great, though. There's three rows of large rubber tractor tires positioned in different heights that the kids can crawl on, duck under, or jump off of (ideally pick the lower tires for that). Plus I haven't seen anything like this before locally, so it gets major points for originality and fitting with the farm theme.
After the kids get in their sufficient dose of tire climbing, the farm animals are just around the corner. There's lot to see, but they ask that you not feed the animals at this farm.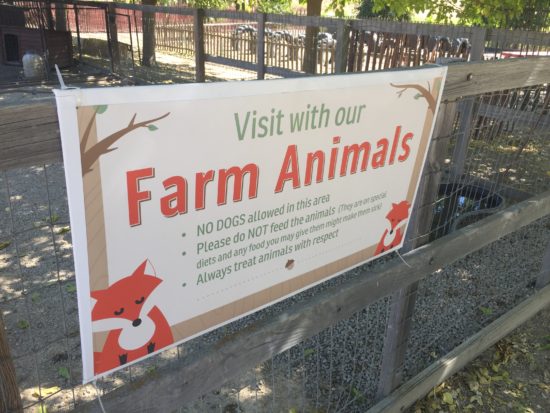 You'll first see a pen of duckies and their cute little pond. Then next to those are the fluffy bunnies and another pen over are the chickens!
Once you turn the corner to the farm animal area, you'll find a whole new bunch of attractions, including a fenced maze, another playhouse, a hay stack seating area (for field trip talks, maybe?), a photo op tractor and a lasso dummy steer. I had to look that last one up, because I remember seeing it but we didn't play on it. But it's super cowboy country and I don't have that lingo down just yet.
Similarly, the farm also "sawhorse broncos," which I also had to Google because I'm so city like that (ha). The kids didn't try that one out either this time, but my daughter did a couple of years ago when she was two and it's still one of my favorite pictures of her: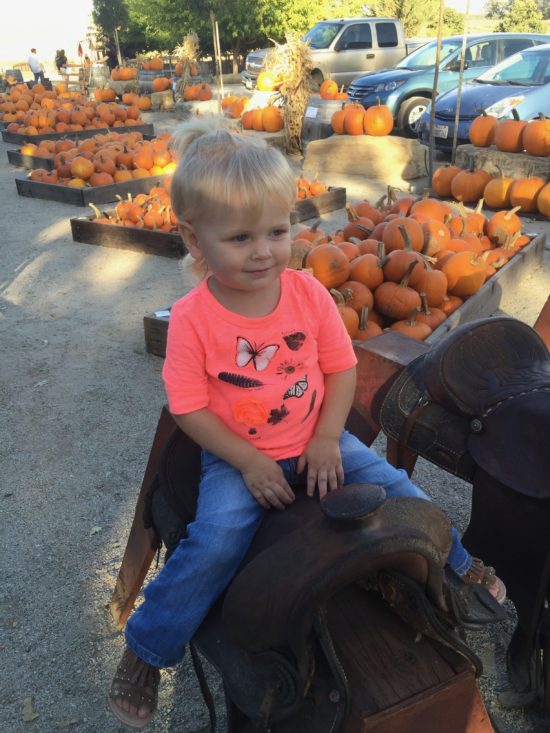 After farm animals, we took a potty break. They have portable toilets at this farm. And here's another attempt at photography while trying to manage two children in one of the potties. That had been well used.  On a hot day. ….I'll spare you the details.
When we went, the red potties were placed near the picnic area and there was another one on the west side of the parking lot.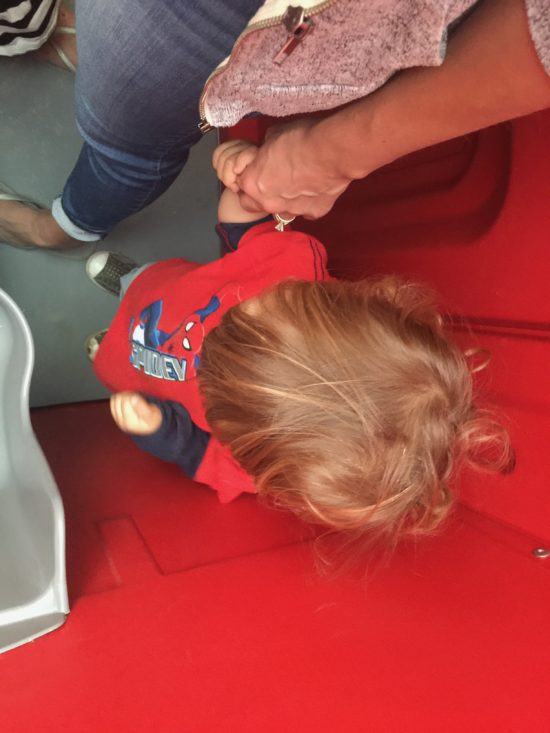 After the potty, we headed over to the picnic area, which was a nice surprise since we brought packed lunches with the anticipation of eating them in our car.
The picnic area is framed on one end with a nice hay barrel arena place for sitting. Looks like it'd be awesome for field trip gathering spot. In the background you can see a pic of another maze, I forget the name of it now. But it was made out of fencing and had a little house attraction in the middle of it. Our kids didn't do this one because it was time for lunch and then they got distracted by the goats again before we ventured in the opposite direction to go check out the apple picking scene.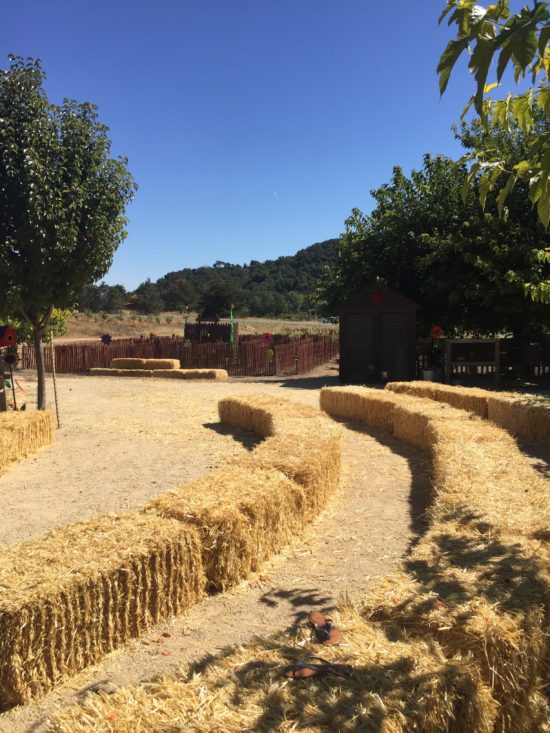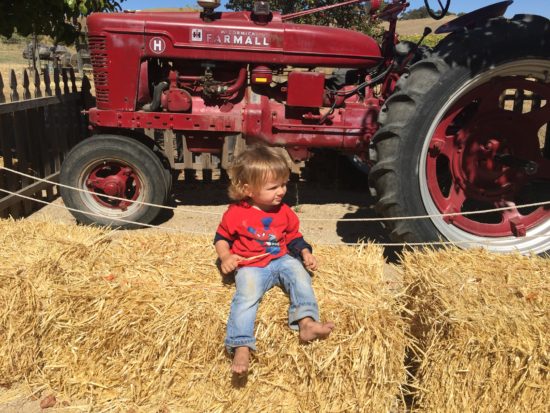 In front of the sitting area is an antique tractor that makes a good photo op. Here's mine with the baby not looking at the camera. And oh hey, look, he lost his shoes. Somewhere. Can't wait to go look for them.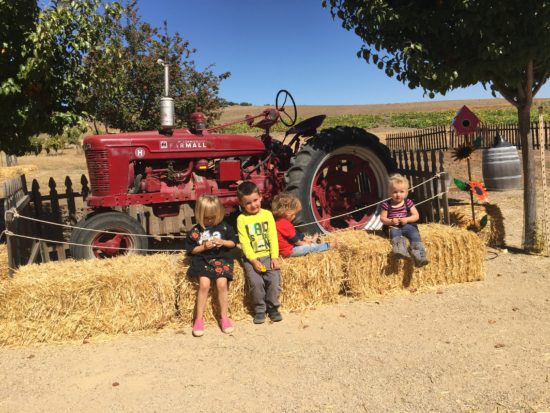 Here we're trying to get all four kids to smile. Of course both of mine are looking down. One is turned sideways. And then my friends' kids are both looking at lease. Although the middle little was smiling the whole time! For like five pictures! He's a champ.
Then uphill to the east of the picnic area, you'll see a little bridge that leads to the goats and the apple picking!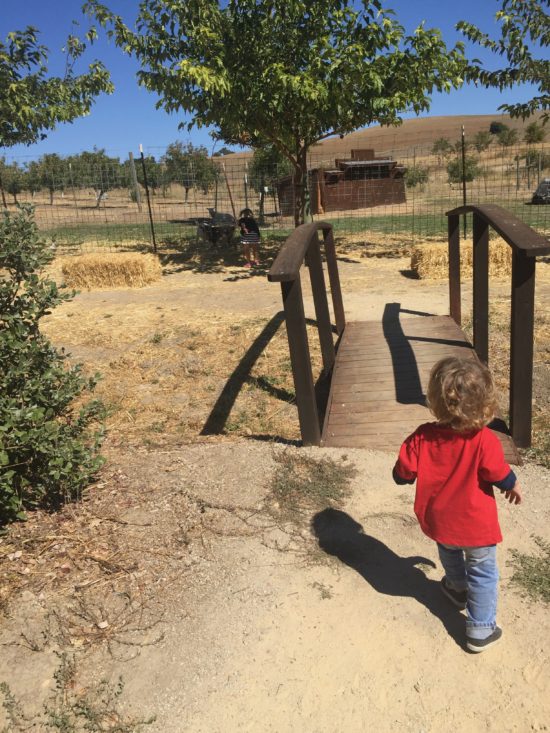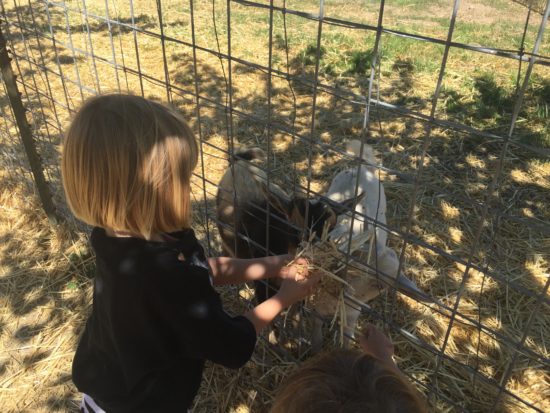 And then two more from 2015 just for kicks ….
And then from the goats area, we saw other families apple picking and went over to the farm stand cashier to ask how we could, too. The U-Pick experience is free, and you grab a bag or basket from the cashier. And then when you're done, take your apples back to the farm stand cashier and pay per pound for the fruit. They tell you where to go and what to look for in the orchard, which begins a few steps up a small hill behind the farm stand. Easy peasy.
There's also this sign out front letting people know all about it. If I had time to read signs I'd be all set. Instead, I just copy what other parents do. Ha. But here are the U-Pick selections and prices when we went: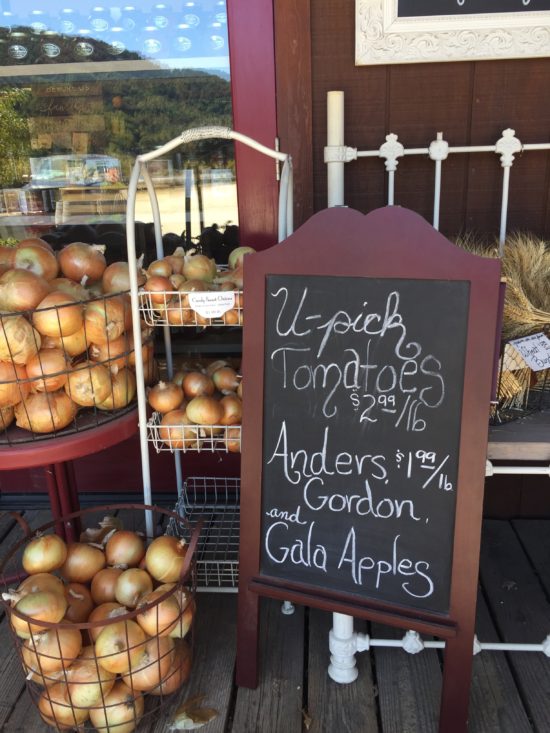 Side note: U-Pick is something that's very SLO County that I've always wanted to try but it seemed complicated to me in logistics and timing. But it was actually super easy here and I'm so glad we got to try it. At Jack Creek Farms, the apple trees you can pick from are marked with little metal "PICK ME!" signs in the ground.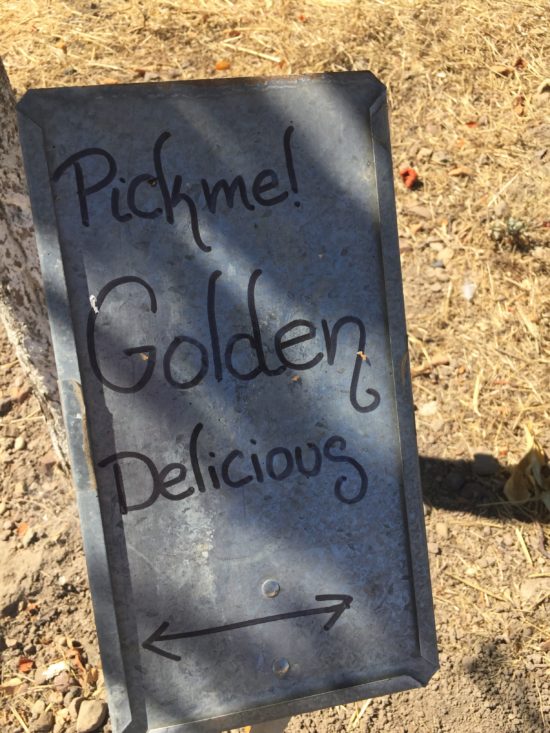 The apple trees were small and perfect kid height. The kids really liked picking apples, and I was happy the whole time because I felt like we were checking off something off our bucket list.
Another thing I really appreciated about this farm, is they put a lot of effort in sharing their story. You can read about on its website.  It includes the story of how it's a fifth generation family farm started by grandpa Miles Barlogio in the 1950s, after planting his first pumpkins along the banks of the actual Jack Creek just west of Templeton. Then he opened a roadside stand in 1960, selling the plump pumpkin crop for 25 cents each. The family's story goes on to say that Miles' father, James Barlogio, first immigrated from Switzerland in 1889 and settled near Harmony where he was a founding member of the Harmony Valley Creamery. I love it.
And that's our trip to Jack Creek Farms! Hope to see you there. Xo.
[/wc_box]
To read the next pumpkin patch in this series, head here.