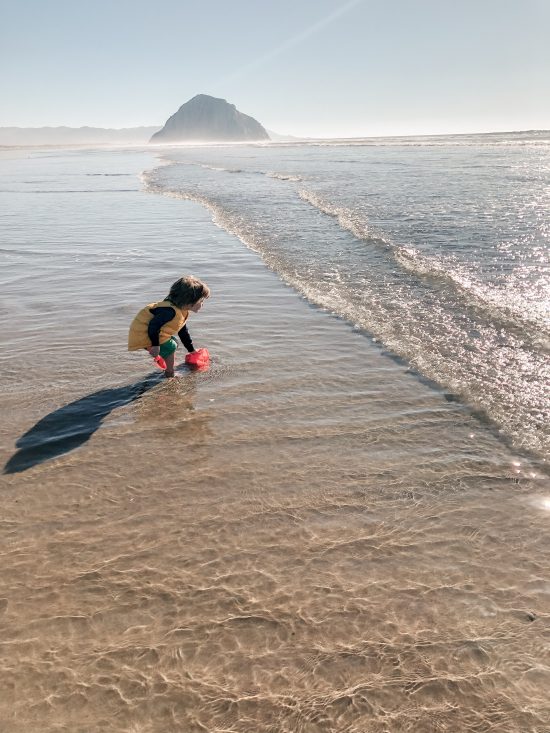 DAY 4 in our #CentralCoastTopNineWonders series takes us along the vast coastline adjacent to Morro Rock at Morro Strand State Beach.
Formerly Atascadero State Beach, the Strand is a three-mile stretch of coast featuring a distinctive array of sand dunes, habitats for the famous snowy plover and some prime sand dollar hunting at low tide.
---
And, yes, it's home to the same famous Morro Rock featured in our DAY 3 adventure!
Morro Strand is my absolute favorite beach. I love that Morro Rock is there, of course, but I also like the sand dunes and the city of Morro Bay in general. I also like that the Strand is a long and sweeping beach. It makes it excellent for walking and keeping distance from other beachgoers. Everyone has their own space there. There are always sand dollars there – and sometimes we even see horseback riders!
---
Before we had kids, Bowen lived in Morro Bay so we'd often find ourselves there on weekends. One time we drank beer and played tipsy frisbee in the surf.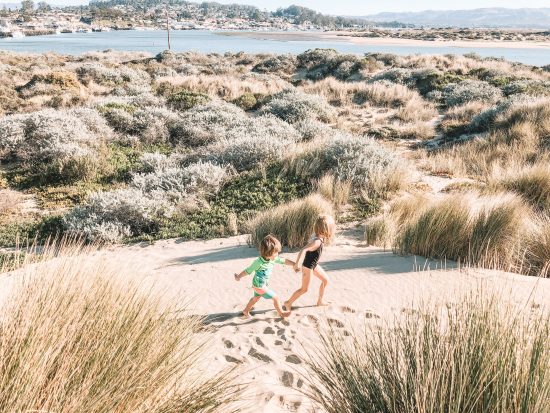 According to State Parks, Morro Strand offers:
Camping — More than 70 tent or RV spaces with fire rings are available at the entrance off Yerba Buena Street with restrooms. Campers can use the showers at the nearby Morro Bay State Park a short drive away. Camping reservations — www.parks.ca.gov/morrostrand.
Surfing — Surfers like to be in the shadow of the walk, from what I've seen.
Picnicking — Picnic tables and barbecue grills are available in the day-use area at the campground entrance. Additional picnic tables, a barbecue grill, and restrooms are available at the Azure Street and 24th Street day-use areas.
Bird Watching —From March to September areas are roped off to protect nesting snowy plovers.
Tide Pools — The north of the Morro Strand campground has some tide pool viewing at very low tides. Find snails, limpets, sea slugs, urchins, sea anemones, and crabs. The state asks visitors to not take home the critters.
Fishing — Anglers aged 16 and over with a valid California fishing license may fish from shore. Visit www.wildlife.ca.gov/fishing for fishing license information.
---
For nine days in January, I'm posting my #CentralCoastTopNineWonders series of kid-friendly attractions in San Luis Obispo County.
This is Day 4. You can search for the other Days here.