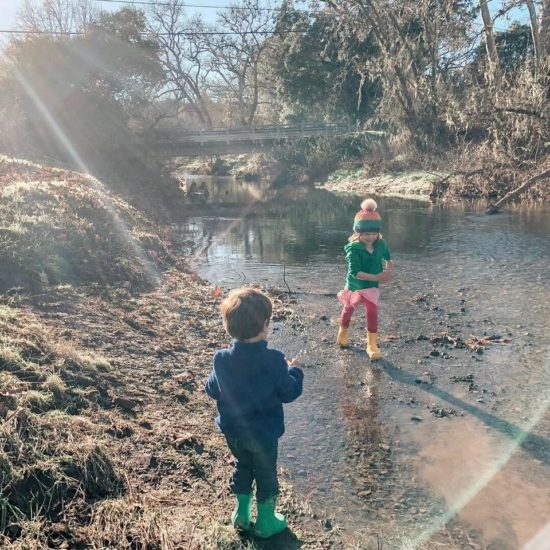 Today we explored a segment of the Salinas River Walk that offers Atascadero Creek access, picnic benches and a quaint meadow off San Gabriel Road and Hwy 41 in Atascadero. Read on for details about more trails in Atascadero, what the larger Salinas River Walk is all about and just how it's related to one of the largest National Trails in the U.S.
On the northside of San Gabriel, we found two off-shoulder dirt parking spots and a little grassy meadow with picnic benches along the shore of Atascadero Creek with dirt footpath toward the water.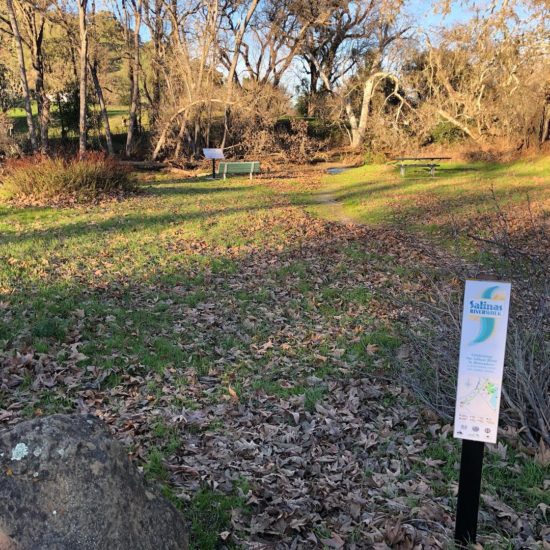 There's water access at the edge of the meadow (super shallow enough for kids!). We went during January, so the truth to that statement for future kidventuring depends on the amount of rain each year brings.
While splashing around in the creek (bring rainboots!) the kids found the biggest leaf I ever saw and … two bones 😳. It looked like a small arm bone and a rib. Hopefully animal! This adventure was all on a whim, and completely doable in an hour. Clara was sick, but not too bad, so it felt great to be outside a little bit. You know me 😉.
---
The meadow is adjacent to the northernmost point of the half-mile paved, off-road trail the city of Atascadero calls "Route 41 Multi-Purpose Pathway Project". This 8-foot-wide path runs along the western edge of Highway 41 between Portola Road and San Gabriel Road. I've only seen it while driving to the zoo and lake park, but it seems super popular with dog walkers, joggers and cyclists. This press release says a dirt trail existed there before the paved path came in 2016.
MOM TIP: The kids and I played "red light/green light" up and down it for awhile. It was a nice way to burn some energy. I also like that game because it teaches them to STOP when I tell them to.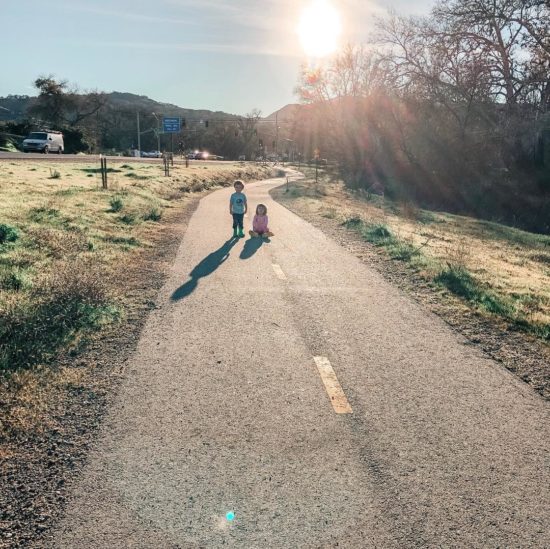 Since the meadow isn't physically located along the Salinas River (quite a bit inland, in fact), the Salinas River Walk sign in the meadow surprised me. But being along Atascadero Creek, which feeds into the Salinas as far as I can tell, apparently makes it part of the larger Salinas River Walk. Which leads me to …
---
What is the Salinas River Walk?
As a whole, the Salinas River Walk is a planned 35-mile river trail with different sections throughout the North County. When it's complete, it's designed to create an ongoing trail system connecting Santa Margarita to San Miguel. The sections aren't all connected yet, or even all in existence yet, but that's the endgame.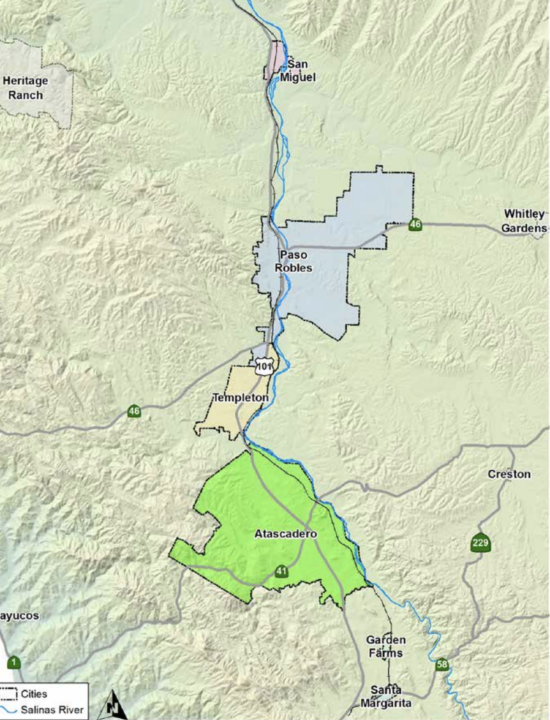 The master plan came from our area's regional transportation planning agency (SLOCOG) and the county. It's also been referred to as the Regional Salinas River Corridor Trail and the Salinas River Corridor Trail. Honestly, all the different names make it kinda confusing to research. I'm currently trying to find the number of trail segments that exist today marked with official the Salinas River Walk signposts and where they are so I can provide a list on this blog post. Stay tuned on that.
If you're a crazy researcher person like me, and you want to look up more info on project, you'll have more luck Googling the "Northern San Luis Obispo County Salinas River Anza Corridor Trail Master Plan" and several documents will come up here, here and here from different agencies.
---

By far, the most well-known Salinas River Walk Trail path is the segment in Paso Robles. In fact, when you talk about the Salinas River Walk, I would venture to guess that most people don't even realize it's a connected series of trails throughout the entire North County and not just a singular walking trail in the City of Paso Robles.
DISCLAIMER: While I do recommend getting outside with littles, I DON'T recommend walking the Salinas River Walk alone with them in any areas that are out of sight of others. We've had more than one questionable encounter with strangers on these paths. So, as always, I recommend buddying up with other adults for trail walks/hikes. In the Atascadero Creek meadow, I felt ok because San Gabriel was a pretty busy road and people could see us. So, just trust your mama bear instincts.
FUN FACT: Design documents say Paso (yay!) was first to come up the idea for a massive North County trail along the Salinas. The trail is intended to be designed for use by:
bicycle commuters between communities
hiking
bird watching
horseback riding
cycling
and others
---
FUN FACT: Much of the Salinas River Walk is also part of the Juan Bautista de Anza National Historic Trail
And it's one of the longest National Trails in the United States. According to Ken Figlioli's website discover-central-california.com, the story of the Anza Trail is:
… in the 1700s, Col. Juan Bautista de Anza  led more than 240 colonists and all their livestock from Mexico into Arizona and up through California to establish a settlement in San Francisco. Spanning 1,200 miles in its entirety, the trail is based on their original route through the Salinas River. 
Congress authorized the Juan Bautista de Anza National Historic Trail in 1990 and it's now part of the National Parks System. Here's more info about the expedition through SLO County.
And that's your history lesson for today. Enjoy!
Interested in other hiking options in Atascadero? There's a city guide for that.