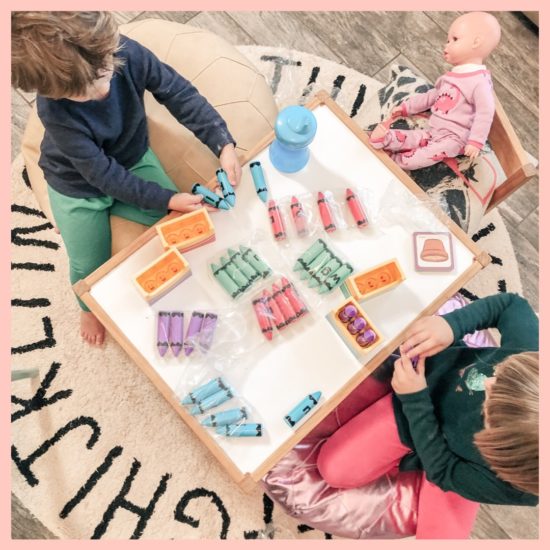 Last week, we toy tested a fun spelling activity set we were gifted by one of our favorite toy companies, Lakeshore Learning.
We received these products for free from the brand in order to review them, but all opinions are my own. For more information, please see my disclosure.
This Letter Crayons Word Building Center is made for ages 3 to 6, which is exciting to find one toy that's perfect for Clara and Wyatt's range. This toy comes with animal cards that include the word and a picture, and then four "crayon" boxes with plastic crayon toys, each with a letter printed in them, to spell what kids see on the card.
Then the little pegs click into a plastic stand made to look like a crayon box. So the idea is kids choose a card with a three letter word on one side (fox, mat, bug) etc. and a matching image on the other. Then kids look at the animal and then say what it is, turn the card over and see how to spell it, and then try to spell it themselves with the pegs.
I love the multilevel aspects of learning!
LIKES
This set is $29.99 on the Lakeshore website and is totally worth it – it's been a great learning toy for us that has offered other opportunities to switch-up playtime.
– It introduces letters and words to my 3 year old
– To my surprise, my 5 year old really started sounding out the three letter words and reading them!!
– We can make the game harder by thinking of new words to spell, or practice rhyming
– There are lots of bright colors, and sorting options
– Both kids really love clicking the crayons into the boxes. It makes a great sound!
---
We've also reviewed these other toys from Lakeshore Learning 🙂
---
About Lakeshore: Built by Teachers, Loved by Kids
Lakeshore Learning Materials is a leading developer and retailer of top-quality materials for early childhood education programs, elementary schools and homes nationwide. Since 1954, Lakeshore has offered innovative learning materials distinguished by their quality, educational merit and safety.
You can find Lakeshore on social media and the web:
---