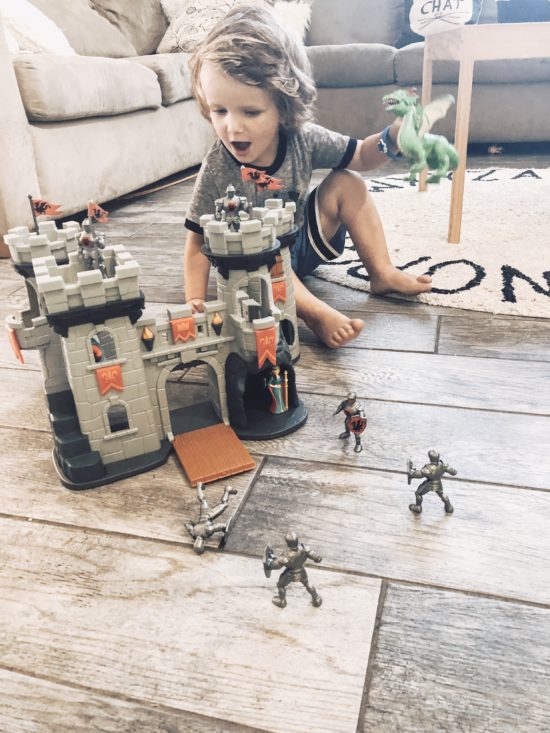 The kids and I are excited to review a pair of playsets compliments of Lakeshore Learning's at-home educational line for language-boosting pretend play. These sets are part of the brand's newly launched Gifts for Growing Minds Collection for the 2018 holiday season!
We received these products for free from the brand in order to review them, but all opinions are my own. For more information, please see my disclosure.
In this post, we'll be reviewing the Royal Kingdom Adventure Castle and the Precious Ponies Playset.  Designed for at-home educational play, we've found these sets to be sturdy and thoughtfully accessorized, all with the quality we've come to expect from this brand favorite.
And, as you know, we like to be out of the house. So when we're stuck inside, it's toys like this that make the day more fun. 
---
Royal Kingdom Adventure Castle

First, let's take a look at the castle.
What I really like about this set is it specifically comes with the recommendation to make up a story around the characters! Because, as the instructions point out, pretend play "fosters social and language development in fun and interesting ways." To me, that gives more value to the toys as teaching opportunities and not just existing as another thing to entertain the kids.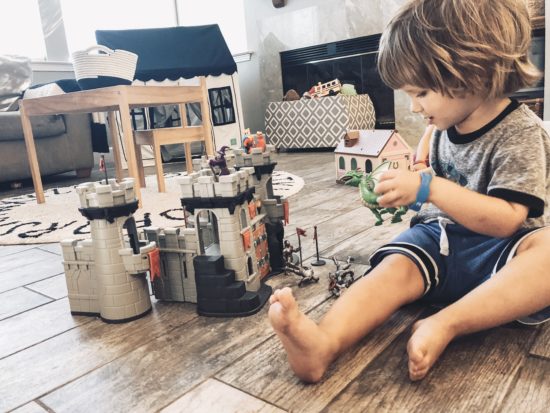 Here's the story the kids and I came up with:
This is the story of Drago.  Drago is an enchanted fire-breathing dragon with scales of green and fierce yellow eyes. He lives in the deep dark lair under the east tower. One day, Drago swooped into the castle from a stormy sky with one task and one task alone: to protect King Wyatt and Queen Clara from The Intruders. For the King and Queen, the fair rulers of The Living Room, did not know of the invaders marching in from Couch Land. But as those foreign knight journeyed across Great Tile Floor, little did they know that Drago was circling above them — ready to attack!
Lol … Don't you just love it?! Oh, what fun we've had with this castle!
---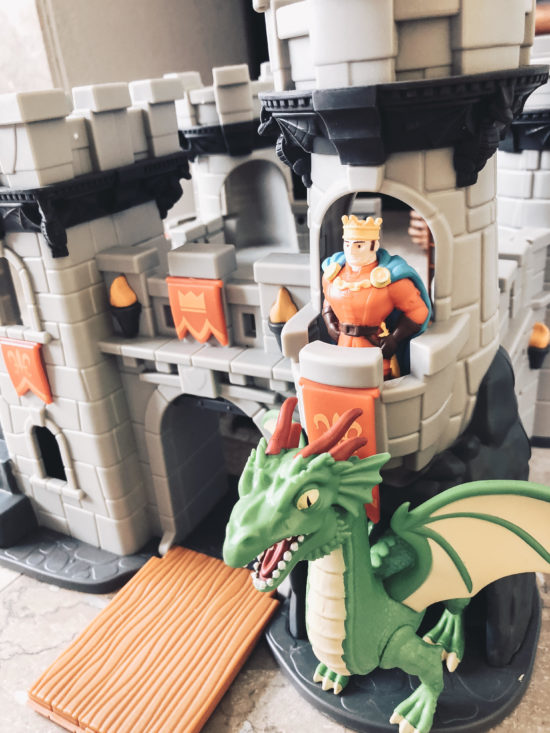 The toy itself is also just super awesome. Designed for ages 3 to 6, this set includes:
a castle

king and queen

wizard

2 guards

4 knights

a dragon

2 flags
In fact, there are enough pieces to entertain both kiddos, plus fun features like a working drawbridge and dungeon door to hide people in. 
All the pieces come with an exceptional level of colorful detail, right down to the faces of the king and queen. Plus, the dragon is quite large and we love the detail on it, too. 
You can check out this castle set for $49.99 set here.
---
Precious Ponies Playset
Next up, the Ponies Playset is also a best-bet for the holidays. Horses Lulu and Rosie (as named by a certain 4 year old I know) are the stars of this Precious Ponies Playset.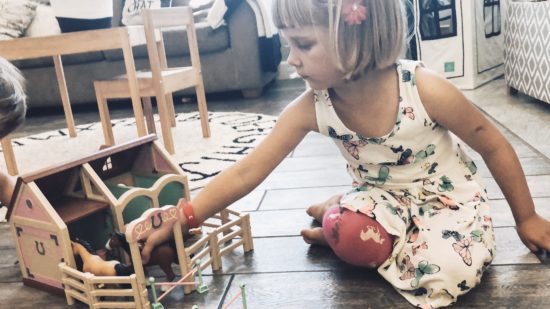 Like the castle, this toy also includes a tip sheet for enriching kids' play experience by bolstering language skills! One tip said to use positional words and phrases to describe where the horses and their accessories are such as "in" "on" "in front of" "behind" "between" "beside" and so on. Cool, right? My kids just ate that up!
---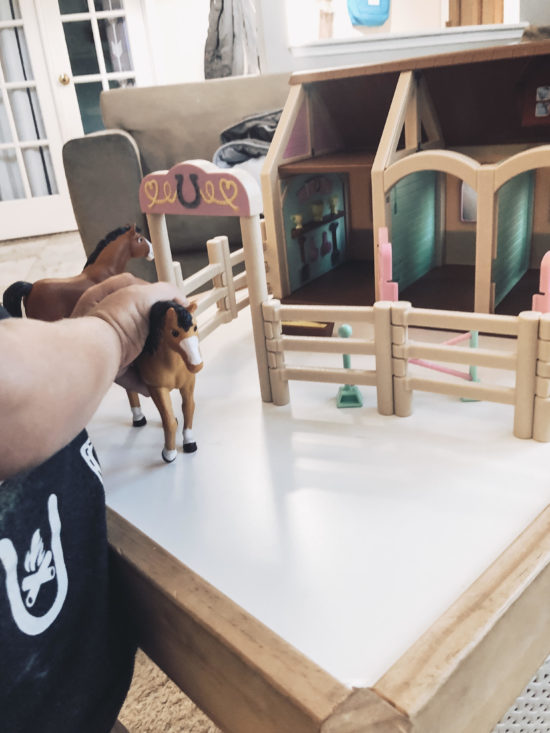 Ok so back to Lulu and Rosie …. The instructions for these also suggest helping your child build their narrative skills. So, as suggested, I told Clara that one of the horses ran away and then asked her what she thought would happen next. When Rosie "ran away", Clara was quick to point out that it would be BFF Lulu to the rescue!!
Lulu galloped through the Great Hallway and under the Towering Table where she found Rosie hiding behind … the tallest table leg in the land! That silly Rosie! 😊
---
Part of Lakeshore's Carry-All line, this set's 13-piece collection folds up inside the stable "for on-the-go fun" (perfect for us, right?). Except, we haven't actually taken this anywhere yet. But, since I like to grab a few toys from the house before we take overnight trips, it's nice to know that it's an option.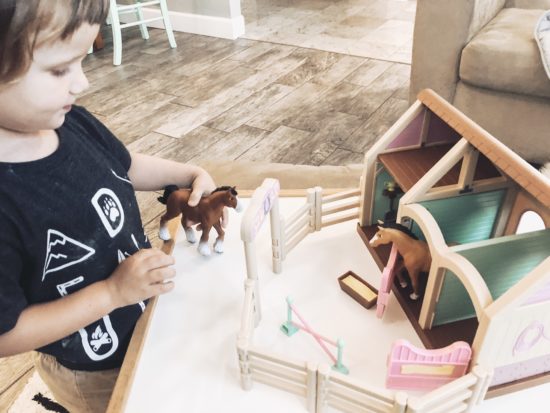 ---
The kids really liked all the details in this playset, including the foldout stable wall with all the riding trophies and gear. 
This secret door also makes a fun entrance into the stable. Recommended for ages 3 – 6 yrs, this set is $39.99 and can be found here.
---
About Lakeshore: Built by Teachers, Loved by Kids
Lakeshore Learning Materials is a leading developer and retailer of top-quality materials for early childhood education programs, elementary schools and homes nationwide. Since 1954, Lakeshore has offered innovative learning materials distinguished by their quality, educational merit and safety.
You can find Lakeshore on social media and the web:
---