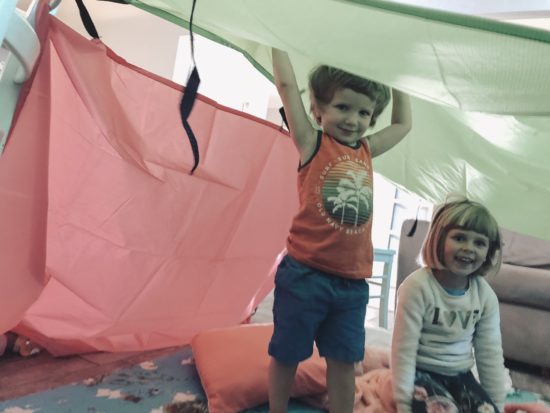 Today we're giving you our honest review of the Build Me Blanket Fort by Jumpoff Jo.
This $39.99 set is available in our Amazon Influencer shop (affiliate link).
I was compensated by the brand for this post, but all opinions are my own. For more information, please see my disclosure. This post also contains affiliate links where I earn a small commission if you click through and make a purchase.
Intended for ages 3+, the fort kit features 3 tarp-like 72" x 54" panels in ripstop polyester, nylon ties and bean bag weights. The brightly colored panels tie together in different layouts to make one large blanket fort over your furniture, campsite or maybe even at the beach. The weights make it so the fort doesn't sag.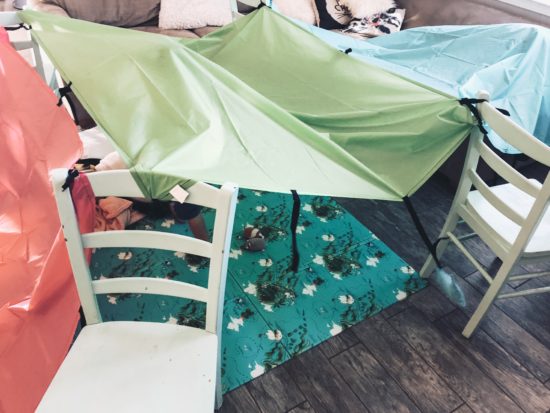 Overall, we love that the panels save our clean blankets from the wrath of our fort-loving two and four-year-olds. Since the kit involves lots of tying, though, it means our little kids can't help with setup. Which made them frustrated ( 👧🏼👦🏼: "I do it MYSELF"). I'd LOVE to see a newer version that has all kid-friendly velcro straps in place of the nylon ties so the kids could be more involved. Then the kit would be perfect.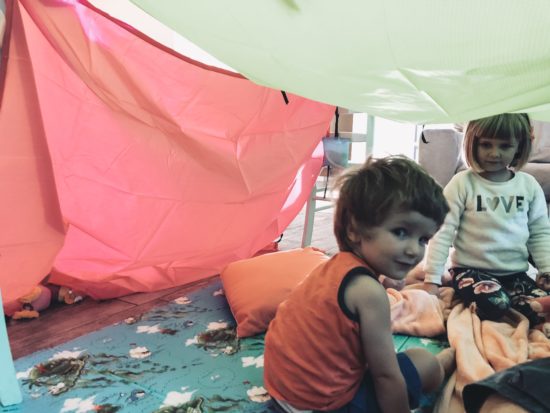 A closer look:
LIKES:
► The panels are easy to wipe down. The fabric reminds me of those fun play parachutes kids love.
► The bright colors make the fort less dark and stuffy than the ones we usually make.
► The attachable bean bag weights are awesome for anchoring the panels over couch cushions.
► Everything folds back up in a drawstring bag so we can take it places or outside. I'm also wondering if it would be fun for Clara's school? Teachers: what do you think?
DISLIKES:
► The nylon ties aren't velcro like the bean bag straps are, so the kids can't fasten them on their own, (unless they know how to tie).
► The ends of the nylon straps aren't sealed well so some are starting to fray.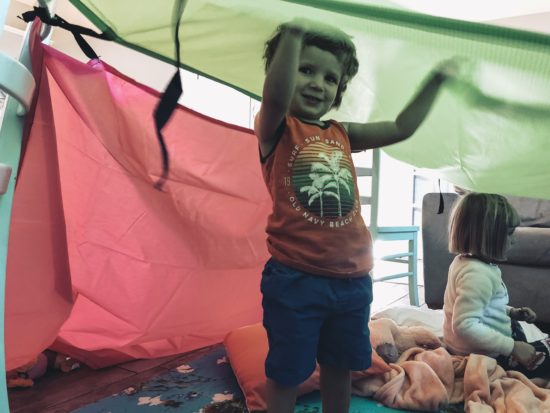 Still, this was a fun and different toy to test. Thanks, @jumpoffjo!