This post was originally printed in Paso and Colony Magazine's July 2020 editions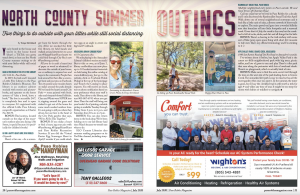 I get it. You're bored in the house and you're in the house bored (that's a TikTok you gotta watch btw), so here are five North County summer outings to do with your littles while still social distancing.
---
Grab A Free Read At The Little Free Library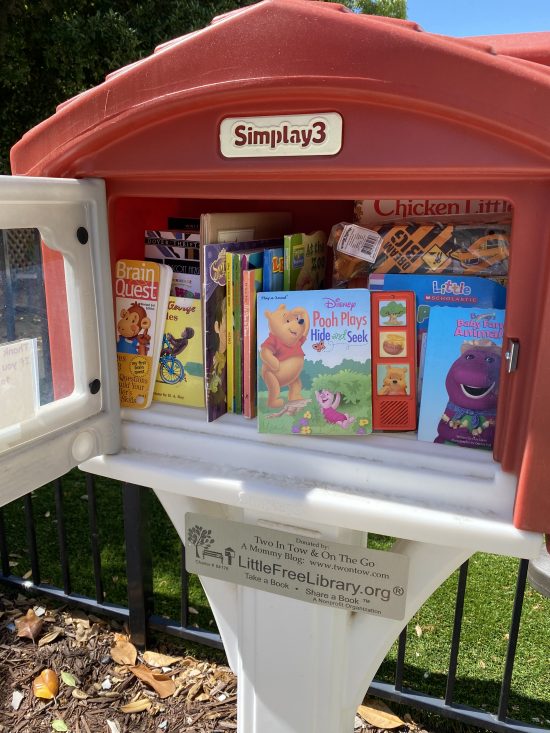 623 13th St., Paso Robles
In 2019, the kids and I donated a Little Free Library to the Paso Robles Children's Museum. The library is an outdoor cabinet stocked with stories and picturebooks, and operates on the honor system of "take a book, leave a book." The box is accessible 24/7, is completely free and is open to everyone. It's registered with the official Little Free Library nonprofit organization as Charter No. 84178. BONUS: This location,  located outside on the edge of the museum's outdoor play area facing 13th Street, is special because it's specifically for children's books!
Clara and Wyatt couldn't wait to dig into a book from our last Little Free Library visit and parked themselves right on the museum sidewalk to read it. Photo by Tonya Strickland.
---
Go On A Happy Heart Hunt, Paso Robles
Citywide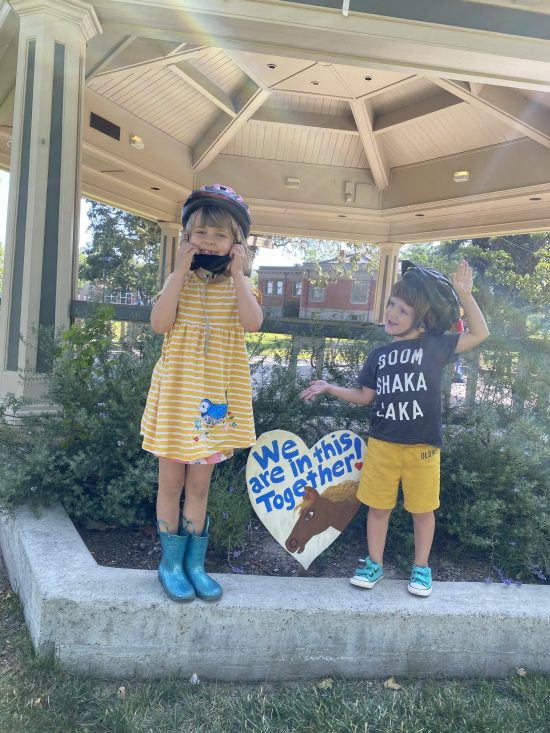 Here's a fun one – do a scavenger hunt for hearts through the city. After we stocked the little free library, we held hands and walked around downtown to scout any #HappyHeartHunt hearts we could find through City Rec's new #PasoStrong activity!
All you do is craft a heart (out of paper or wood or whatever!) to decorate the outside of your house, car or walkway to express love and hope in the community. People then look around for them like a scavenger hunt and post pics on Facebook. The city posted some wooden hearts on stakes around the park already. We've found five hearts around City Park — some painted with birds, oaks and vineyard-dotted hillsides. Clara and Wyatt were SUPER into it, zipping around the grass and stoked to get out of the house for some much needed outdoor time. I'm not going to tell you where they all are, but our fave is the heart at the City Park gazebo that says "We're All In This Together." BONUS: If you make a heart or find a heart, tag your pics with #PasoStrong, #HappyHeartHunt and Paso Robles Recreation Services. Also – if you did the Virtual Easter Egg Scavenger Hunt in April, I wonder if you could attach two eggs at an angle to create one big heart?! Lifehack.
---
Atascadero Library Curbside Pickup
6555 Capistrano Ave., Atascadero
We miss playing in the Atascadero Library's children's section so much! But to tide us over, as of June 2, library cardholders can now place up to 10 books/movies/materials on hold using the online catalog at www.slolibrary.org. Just go to the website, click on 'Curbside Holds Pickup' at the top of the homepage and 'Search the Catalog' to place requests. You will receive an email, text or phone notification based on your preference when your stuff is ready. Then drive to the library, and text (805) 867-6741 when you get there. Then staff will bring out your books! As of press time, curbside pickup is available Tuesday through Friday from 2 p.m. to 6 p.m. and Saturdays from 10 a.m. to 2 p.m. BONUS: You can also return items in the book drop. We've been holding on to our last library haul since March because we weren't sure what to do.  SLO County Libraries also summer reading programs on its YouTube channel including storytime.
---
Rambouillet Snead Trail, Paso Robles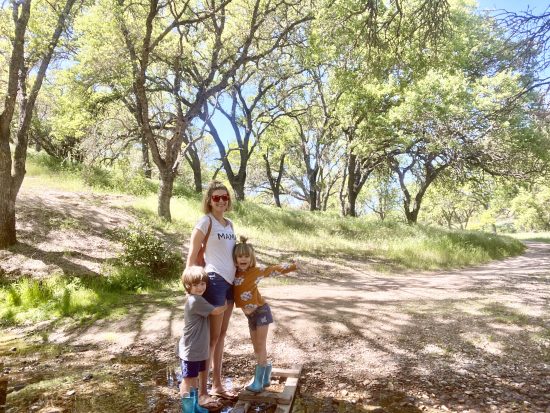 Multiple neighborhood entry points on Paso's eastside. We used Oxen Street, off Charolais Road.
Call me crazy but we've lived in Paso Robles for a decade and I only discovered the Rambouillet Snead Trail this April! Walk down one of several neighborhood entryways and it feels like a little oasis of oaks, a diverse network of little trails to explore. There's the main paved trail that goes into a hillside wooded area that branches off into little footpaths and a seasonal creek. Given that it's July, the creek is dry now but the creekbed is full of rocks and sticks and dirt and all things fun for kids. BONUS: There's a clearing in the trail midway with some sort of bike jump open space thing with short dirt mounds to ride over. That's my official terminology and I'm sticking to it 🙂
---
Apple Valley Park | Graves Creek, Atascadero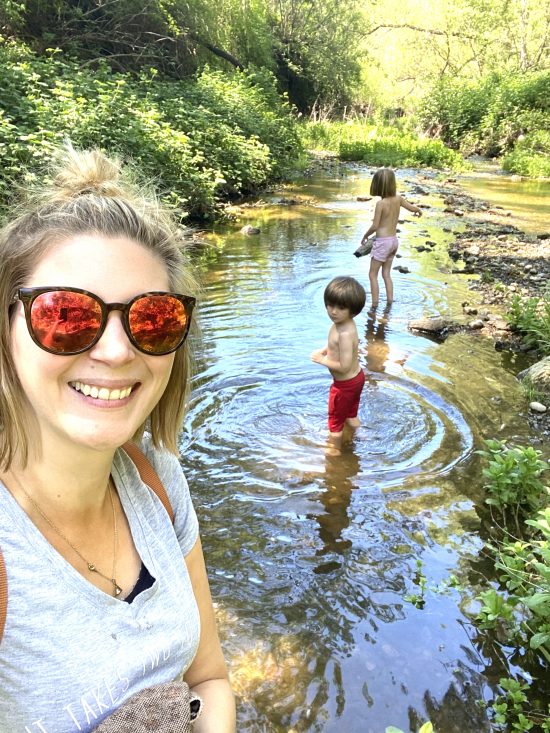 1980 San Ramon Road off Del Rio Road on Atascadero's westside.
I've written about it before, but Apple Valley Park is the cutest no-frills neighborhood park with big trees, picnic tables, and lots of grass to run and play. There's a dirt path that runs along the perimeter with lots of overhead shade. There's no playground, which is actually kind of nice.
BONUS: Make sure to find the semi-secret trail through the trees on the west side of the park leading down to Graves Creek. The unmarked dirt path is easy to miss but has all the secret garden vibes once you spot it. In the summer, the water is gone but I'd say the creekbed trail is still worth a trek for ages 4+ any time of year. It might be too steep for moms with babies or toddlers to navigate.