This article first appeared in the Oct. 1 edition of Paso Robles and Colony Magazines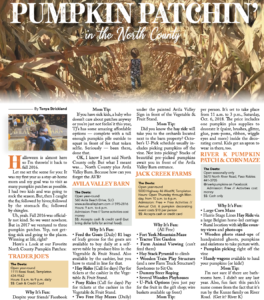 Halloween is almost here so I'm throwin' it back to fall 2016. Let me set the scene for you: It was my first year as a stay-at-home mom and my goal was to visit as many pumpkin patches as possible. I had two kids and was going to rock the season. 
But, then I caught the flu; followed by hives; followed by the stomach flu; followed by shingles. Uh, yeah. Fall 2016 was officially not kind. 
So we went nowhere. 
But in 2017, we ventured to three pumpkin patches. THREE! Yep, not getting sick and going all the places. Winning at life, right? And you can, too.
---
Here's a Look at 
Trader Joe's, Templeton
Why It's Fun: Despite your friends' Facebook photos implying otherwise, there's no shame in hitting up Trader Joe's pumpkin display for your "pumpkin patch" experience this year. 
Mom Tip: If you have sick kids, a baby who doesn't care about patches anyway or you're just not feelin' it this year, TJ's has some amazing affordable options — complete with a tall enough pumpkin pile outside to squat in front of for that token selfie. Seriously — been there, done that. 
Avila Valley Barn, Avila Beach
Why It's Fun: OK, I know I just said North County only. But what I meant was North County … plus Avila Valley Barn. Because how can you forget the AVB? 
Feed the Goats (Daily) $1 bags of leafy greens for the goats are available to buy daily at a self-serve table by produce bins in the Vegetable & Fruit Stand. Also available by the cashier, but you have to stand in line for that. 

Hay Rides (Call for days) Pay for tickets at the cashier in the Vegetable & Fruit Stand. 

Pony Rides (Call for days) Pay for tickets at the cashier in the Vegetable & Fruit Stand. 

Two Free Hay Mazes (Daily) There's a tall maze and a shorter kids maze. 

Great Family Photo Op: Find the decorated haystack pyramid under the painted Avila Valley Sign in front of the Vegetable & Fruit Stand. 
Mom Tip: Did you know the hayride will take you to the orchards located next to the barn property? October's U-Pick schedule usually includes picking pumpkins off the vine. Not into picking? Stacks of beautiful pre-picked pumpkins await you in front of the Avila Valley Barn entrance. 
Jack Creek, Templeton
Why It's Fun: So many free things,  such as:
Fort York Mountain Maze 

Tractor Tire Garden 

Farm Animal Viewing (can't feed them) 

Hay Stack Pyramid to climb 

Wooden Train Play Structure (and a new Farm Truck Structure!)

Dummy Steer Roping

U-Pick Options (you just pay for the fruit in the gift shop; wire baskets available upfront)


Mom Tip:

This farm has portable toilets.
Ps. Jack Creek's Pumpkin Palooza pumpkin decorating event will be held again this year for $10 per person. It's set to take place from 11 a.m. to 3 p.m., Saturday, Oct. 6, 2018. The price includes one pumpkin plus supplies to decorate it (paint, brushes, glitter, glue, pom-poms, ribbon, wiggle eyes and more) inside the decorating corral. Kids get an apron to wear in there, too. 
River K  Pumpkin Patch, Paso Robles
Why It's Fun: Quaint farm details galore:
Large Corn Maze 

Harris Stage Lines Hay Ride via a large Belgian horse-led carriage 

Rural location with idyllic country views and photo ops 

Wooden photo stand-ups of handpainted ghosts, pumpkins and skeletons to take pictures with. • Pumpkin picking right off the vine 

Handy wagons are available to haul your pumpkins (or kids!) 
Mom Tip: I'm not sure if there are bathrooms here. I didn't see any last year. Also, fun fact: this patch's name comes from the fact that it's run by the Kunze family on River Road. (Get it? River K). 
See ya out there!