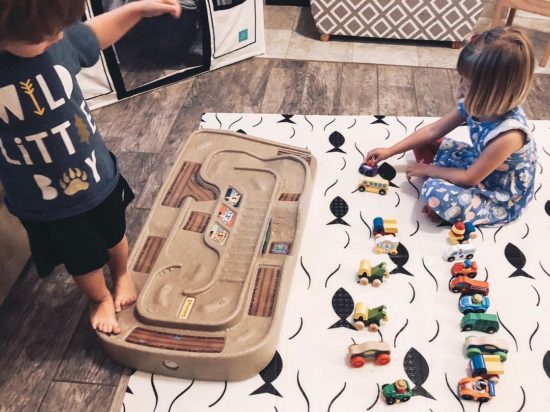 All the cool cars (and probably some teensy toes) will line up to race on the Carry and Go Track Table by Simplay3. As far as holiday gift ideas for kids go, this one is a no-brainer for its versatility, durability and fun factor.
We were gifted this toy to review. As always, all opinions are my own. For more info, see my disclosure.
---
This track table is two-sided: featuring a race car track on one side and a train track pattern on the other.
It's also our first track table ever, except it's super handy from the ones I've avoided in the past because it doesn't have table legs.
That makes it handy because one, kids can't climb up it to table height and two, can't really knock it over. Instead, you just set it on the floor, the bed or the craft table. The track, made of durable chunky brown plastic, can also go outside even. (though you don't want to get it wet because there are sticker decals on it).
---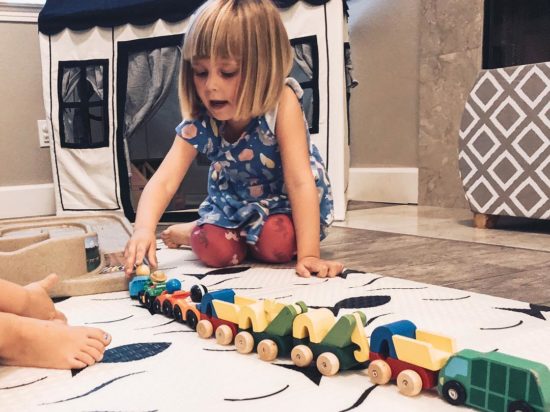 The kids raced and rolled all their different brands of cars on both sides of the tracks, and it totally worked with our existing toys, which I appreciate – nothing extra to buy.
The brands of cars we used are Melissa & Doug, some HomeGoods cars and Fisher-Price Little People racers.
---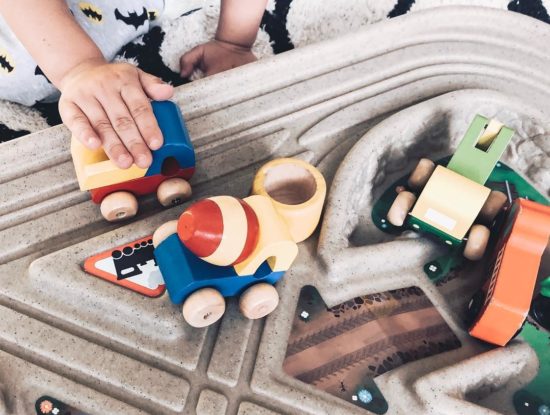 At $39.99, we say this track table makes a great holiday gift for your kiddos. You can buy this toy on Amazon (affiliate link). I think it would make a great holiday gift for kids.
---
This toy was developed by Simplay3, the third company from the founders Little Tikes and Step2. The products are made in the USA, according to its website, and includes "Grown Up and Kids Products built to offer simple solutions for Home and Play."