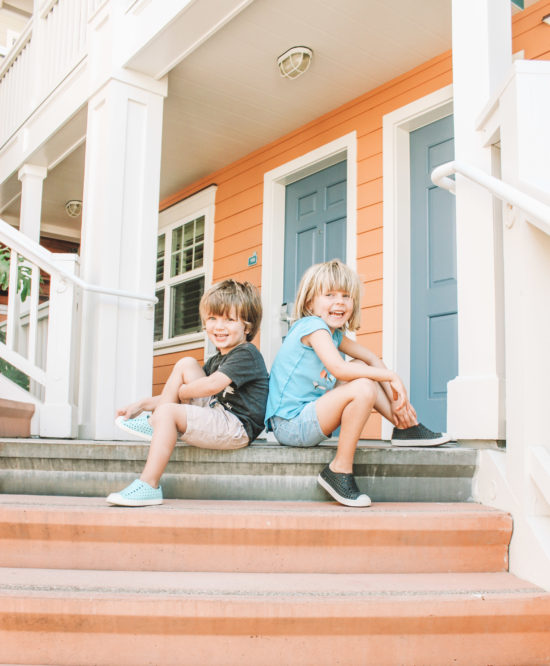 They're smiling, but these two little monkeys were just itchin' to hit up the hotel pool! We were recently #hosted by Avila Lighthouse Suites and I can't say enough nice things about the place.
This hotel in Avila Beach, California is set up as a collection of suites designed to feel like home. … If your house is a  fancy beach condo that is 🙂
No, but seriously. All that separates you from your hotel room and dipping your toes into the Pacific is some parking along Front Street. It's definitely the closest I've ever been to the water from a hotel room. We even fell asleep to the sounds of crashing waves. Swoon.
Read on for the full review.
---
---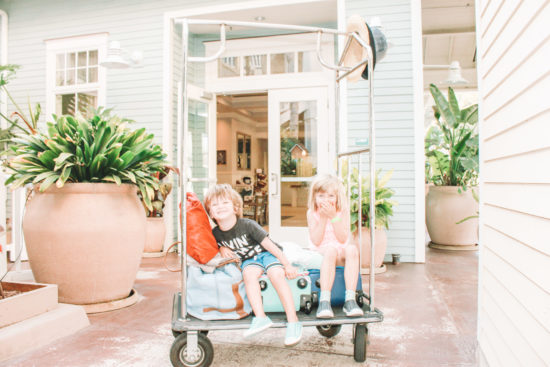 Overall, this hotel is a must for on-the-go families looking for something kid-friendly. It's perfect for children in its hotel amenities, setup, and location. But, Avila Lighthouse Suites is also special because not only are your kids' needs accounted for (and who are we kidding – they're the bosses anyway), but small touches make the adults also feel like they're on a pampered beach vacation.  Like I said, the hotel is steps from the ocean, there are complimentary white fluffy towels in the pool area and there's even a free waffle bar with whipped cream in the morning.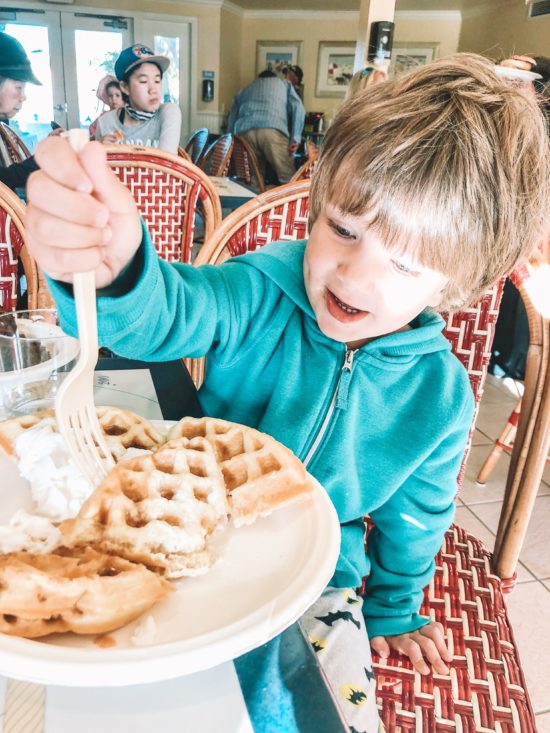 .
---
---
I have more hotel faves to share. But first, a story: Once upon a time about 10 years ago,  my aunt stayed at Avila Lighthouse Suites with her hubby and kids. She raved and raved about how the property was SO super family-friendly. In my pre-kid state, little did understand the gravity of just how cool the hotel really was.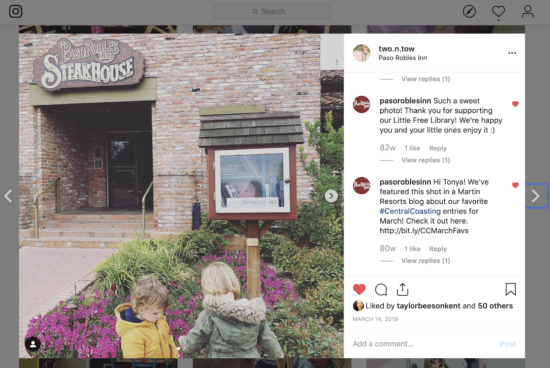 Flash forward to 2018 when I was now the proud mother of not one but TWO tiny humans and won Martin Resorts' #centralcoasting contest on Instagram. (You should totally enter than contest btw … all you do is hashtag your SLO County photos and videos with #CentralCoasting to be entered in a giveaway to win a one-night stay at a lovely Martin Resorts hotel of your choice.)  I won the contest for this photo forever ago, and, in typical me fashion waited until the very last second to go. Then, I realized the kids started school in August, not September like I thought, and emailed the marketing team to see if they'd like to collab for a review as well. And they said yes 🙂
OK, now we are all caught up.
.
---
For this review, we stayed in the Owner's Suite, which retails up to $529/night, depending on when you stay (price subject to change). I'm not totally sure, but I think this is the largest room they offer. There are cheaper suites in different sizes and several hotel specials and discounts here.
Our room had a living room, kitchen, bathroom and a whole separate bedroom with my favorite for kid travel: a shutting door!! There were two queen beds in the bedroom and a fireplace to boot. The beds were also soft and plush. For your viewing pleasure, here's the most adorable series of pictures of Clara in my bed with a mug on her head. Just because:
The kitchen had one of those fancy Keurig coffee pots that I don't even have in my own house yet. Complete with all the pods and creamers and sugars you'd want. The hotel also setup the cutest little welcome basket with a handwritten note and a bottle of wine! Such a nice touch.
Just off the living room and bedroom, was a huge balcony that was just about the largest, coolest, most scenic hangout spot ever. The balcony was complete with several adirondack chairs to take in views of the ocean and the pool. The only less than ideal thing we encountered was in this particular spot on the property, people barbequing on the beach wafted some smoke on the balcony.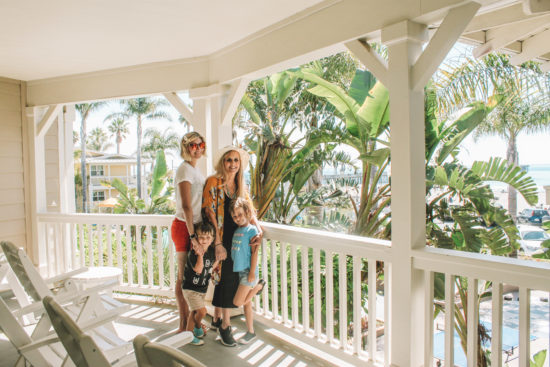 ---
A Complete List of Amenities
Hotel Features
Daily complimentary continental breakfast
Heated oceanfront pool and Sun Deck
Sun Deck Bar Service (Seasonal)
Family play areas with ping pong, life-size checkers, and putting green
Complimentary underground self-parking (1 car per suite)
Tesla Electric Car Charging station
Gift Shop with beach essentials & souvenirs
Little Free Library program (Take a book, leave a book!)
Flexible meeting and event venues
Guest laundry facilities
Complimentary hot tea, coffee, local newspapers, and computer access in the hotel lobby
In-Room Features
Complimentary Wi-Fi
37″ flat screen TV's
Digital cable with HBO
Coffee maker with Seattle's Best Coffee
Bath & Body Works toiletries
Wet bar
Microwave
Mini-fridge
Iron and ironing board
Bath & Body Works toiletries
In-room personal safe
Bathrobes
We invited Grandma Kellie (my mom … ain't she a cutie?) up to stay with us and off we went. We all arrived on Saturday and settled in the room.
Then we took a million variations of the same picture with the luggage cart for the 'gram, changed into swimsuits, took more pictures for the 'gram (including this gem of me "partying" Influencer-style in the bathtub that my mom thought up), spent a little time on the most gorgeous balcony ever, ohhh-ed and ahhh-ed at views and then hit up the pool with the kids for a sunset swim.
---
Here's all the photographic evidence:
---
The sunset swim definitely boasted all the vacation vibes. There are complimentary towels folded in the pool area, a jacuzzi, lounge chairs and the pool. We made friends with a cute little family from Ventura (my mom is from Ventura County, so that's fun). The pool was warm, the jacuzzi was even better and the whole scene was pretty. Just outside of the pool are some nice outdoor couches to chill on as well.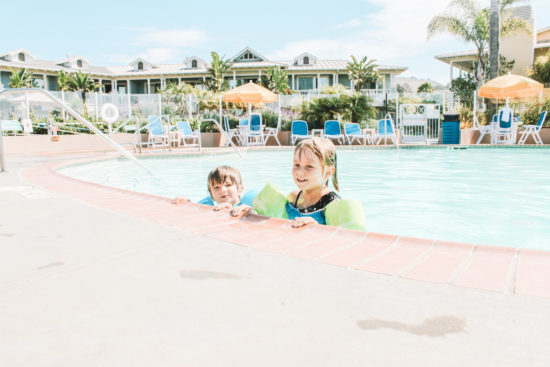 ---
On Saturday night, we all took showers and I will say that the bathtub/shower fixtures were a little confusing because there are two shower heads (one regular and one handheld one) and it appeared that different knobs did different things. But I have mom brain so I ended up filling the bathtub with the handheld spout, which the kids thought was fun anyway lol. My mom also had a hard time getting the shampoo out of the wall  dispenser unit.
On Sunday, the kids and I went to the complimentary breakfast in the galley! And, because we're nice, we're let grandma sleep in. See what a great daughter I am? 😉The breakfast had everything!!! I was so impressed. There were stations for bacon and eggs, bagels and toast, a fricken waffle bar (with whip cream!) and all sorts of fruit, cereal and oatmeal.
Can you say, yum?
---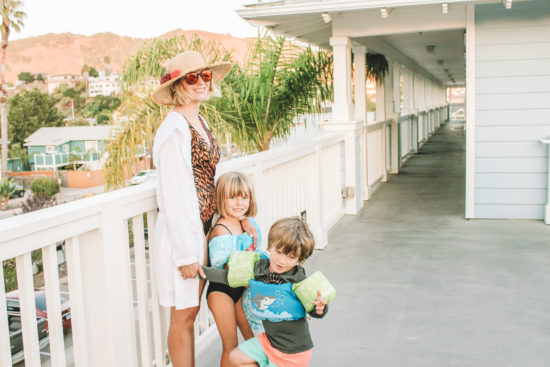 After breakfast, we hit the pool again. Because kids. The pool is ALL they talk about, right?? My mom brought her 90s leopard print swimsuit to the Avila trip for me to try on. I drank two seltzers and ROCKED that suit immediately. 😂
Totally keeping it btw.
---
Sunday was also the day we explored the Avila Beach Promenade. The hotel offers super convenient access to the promenade via your room key and a gate just off the pool area. The gate leads to this blocked-to-cars walkway and into a colorful strip of shops and eateries along the coast. I love the walking area and there are some super cute buildings and scenic spots along the way. One of our faves is The Custom House for dining out (fun fact: I had my bachelorette party here in 2011). And, as always, the beach is just on the other side.
We just had the best time. Thank you, Avila Lighthouse Suites!