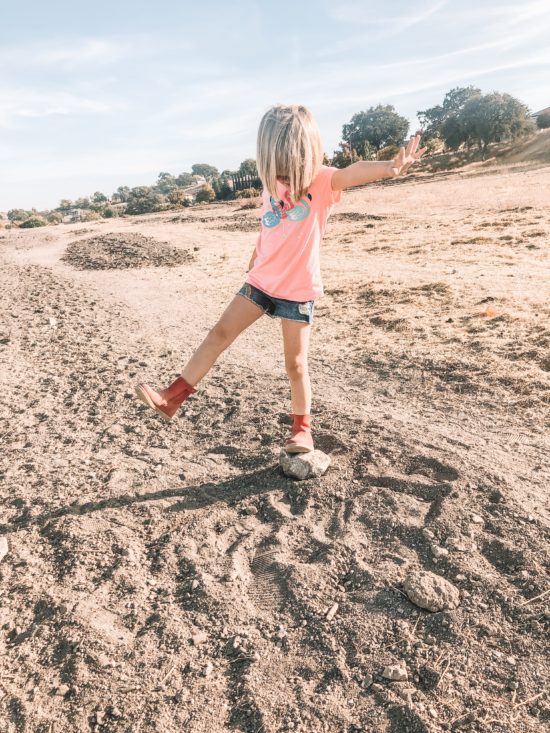 It's beginning to look a lot like Christmas. If Christmas was 80 degrees and … super sunny 😆.
I don't care though bc I'm determined to show off these matching Bobux winter boots we were #gifted to blog about.
Now if we could just get some rain …
---
We received these boots compliments of Bobux to blog about.  Like always, these gifts will never shape my content and you can read more about that over on my disclosure.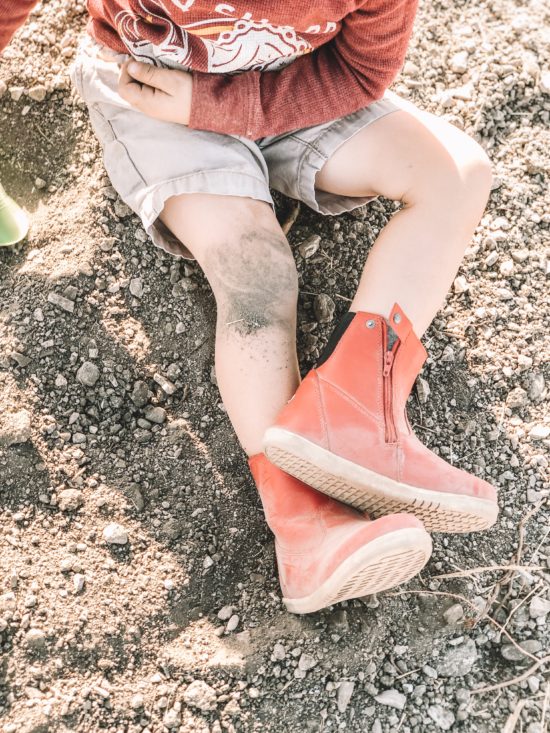 ---
Today we are reviewing the Bobux Paddington Boot in red. They are $70 for big kids and $60 for littles and so worth the money.  I've already received so many compliments on them, including Clara's teacher who said her boots "were so on point" 🙂
I like that they're made with solid materials like coated leather with a rubber finish that's water repellent and scuff resistant. The company also took the time to find child-safe and non-toxic materials and dyes tested to EU REACH standards.  I so appreciate their water-resistance for my little puddle jumpers (whenever we actually get some rain). In fact, the website says the boots will keep your kids' feet dry up to FOUR HOURS submerged in water. Whaatt?? That's just crazy cool to me.  The boots also have the cutest lining on the inside and it makes them look and feel like a quality shoe.
Here's a closer look at some features to love with these boots and a little about the New Zealand company that makes them.
FEATURES
waterproof
leather with a rubber-like finish
has a side zip
top snap closure
ABOUT THE COMPANY
Bobux is a New Zealand children's shoe company founded in 1991 by a husband and wife duo who were looking to create better shoes for their baby daughter. They started by handcrafting a pair of soft-sole leather shoes in their garage. Today, Bobux makes hundreds of different shoes for every stage of growth from baby to big kid.  The shoes are sold on Bobux.com, Zappos, Amazon and more. Their goal is to create shoes in designs and materials meant to be foot-health centric, supporting your kiddo through all their many stages.
---
PUTTING THE BOOTS TO THE TEST
Each shoe is designed on the basis " that shoes designed for children's feet need to be comfortable, functional and fun." To test this out, I took Clara and Wyatt hiking in these shoes, and on a trip to Lowes. But the Lowes trip was mostly to photograph these cute red kicks with all the Christmas trees. I really love matching the kids, so I chose red for both.
On the hike, the boots held up amazing as the kids climbed through piles of dirt, jumped rocks over a dry creek bed and trekked over crunchy fall leaves. The soles weren't slippery and all the dirt just dusted right off. Overall, we'd recommend these cute shoes to anyone!
---
SIZING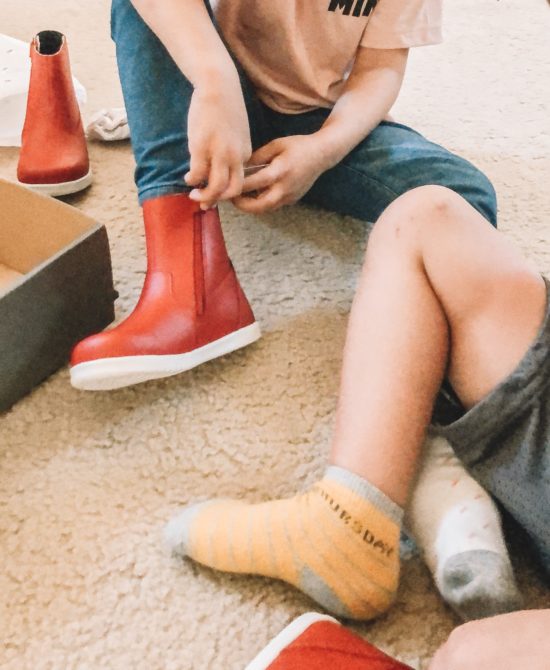 I think Bobux uses UK standard sizing. Luckily,  its website offers this handy online sizing guide complete with tips on how to determine your kiddo's perfect fit with a pen and paper. Using this guide, Clara is wearing a size 27, and Wyatt is wearing a size 26 in Bobux shoes. in US sizing, that's size 10 and size 9, respectively. Here is Clara's shoe and here is Wyatt's shoe.
I also received a press release about Bobux's smart fitting tool, StrutFit, which has some good info for you!
StrutFit reveals your child's shoe size by measuring their feet with your smartphone: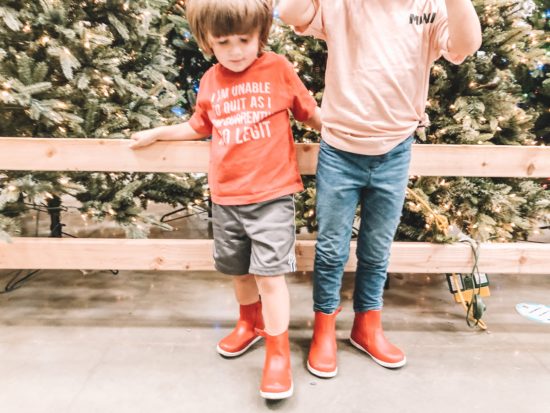 To use StrutFit, follow these steps:
1. When you see a style you like on the Bobux website, scroll down to the 'find your perfect fit' button and follow the easy steps to find the recommended size for your child
2. Use your smartphone and an A4 piece of paper and a non-carpeted floor against a wall. Place the sheet of paper on the floor against the wall
3. Place your child's foot on the paper, with their heel against the wall and take a photo from a top-down angle
4. StrutFit will then recommend a size for your child
---
This sizing landed the kids in different age categories i-Walk for toddlers and preschoolers and Kid+ for big kids like Clara (these are marked in the green and red categories below):

---