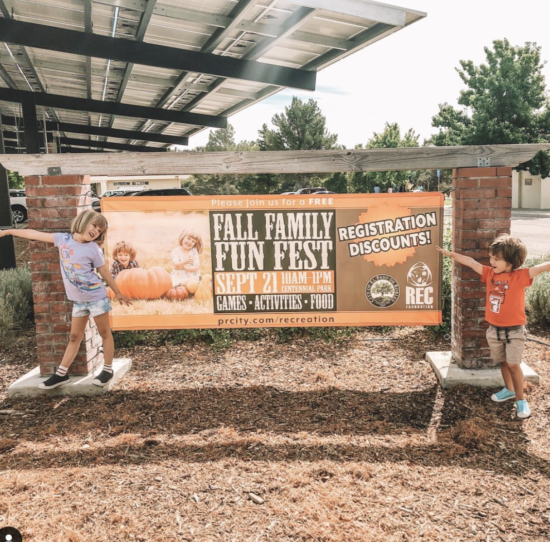 Who else is excited about checking out some new kids classes this fall? Every time a new season sneaks up on me (wait, where'd summer go?) you'll find me scrolling through Paso and Atascadero's offerings to see what new family-friendly thing we want to try.
This Saturday (Sept. 9, 2017), the City of Paso Robles is hosting an open house for its roster of fall classes during the Fall Family Fun Fest at Centennial Park. So basically you get to try a bunch of classes for free! This is something I totally appreciate too because sometimes I think a class will be awesome for us so I shell out cash for it. But then I get there and realize it's too much to keep up with by myself with two kids or my 3 year old isn't into it. But then we're stuck and then I have the mom guilt of teaching my kids not to be quitters.  But at this event we can just try it out first! Saves me money and time. And a little less mom guilt, which I think we aaaall need. Plus there will be 10%, 20% and 30% off discounts (the coupons will be random and hidden in plastic pumpkins you'll receive) when you register for fall classes on site – good for that day only. (Not for the mini classes, those are really free).
Centennial Park, located at 600 Nickerson Drive, is also home to the city's recreation center. So while like most fall festivals, there will be fun outdoor things like eating FREE pumpkin orange slushees, zipping down a FREE 18-foot inflatable fire truck slide (my kids are going to LOVE that) and noshing at the FREE popcorn bar …. there will ALSO be FREE mini classes being held inside for anyone to try! Each mini class is about 30 minutes.
Did I mention everything is free? Because I'm pretty excited about that part. All thanks to a sponsorship by the Paso Robles REC Foundation and Ameripride. Thanks, guys! The only thing that isn't free is the face painting by Freckles the Clown, which costs $5-$10 (probably bring cash).
Here's a quick look at all the fun free stuff:
Free balloon creations by Captain Morgan's Balloons
Free pumpkin games
Free hot dogs
Free pumpkin slushees
Free munchies at the popcorn bar
Free inflatable basketball game
Free Paso Rocks art activity
Free display of the Paso Robles Police Department cars and trucks. The department will also be giving gifts (super curious what they will be!)
Free display of the Paso Robles fire trucks and their giant inflatable slide.
Another fun tidbit from this event is the city tells me that people of ALL AGES can try ANY class during the festival. So, if mama wants to shake her booty in Zumba, her kids can, too.
Here's the whole list of mini classes to try from the Paso Robles Fall Family Fun Fest Online Schedule:
11 a.m. —3 p.m.
Kidz Love Soccer • Centennial Park Courtyard (click here for our review of this class)
11:30 a.m.— noon
Fun-Gility/Dog Training • Kathy Kropp • Centennial Park BBQ Area
Kindermusik • Nancy Knox • White Oak Room
Cartooning • Ray Mullikin • Live Oak Room
RV Workamping • Don & Joyce Wells • Centennial Park Lobby
Noon—12:30 p.m.
Line Dancing • Tina Scarsella • Banquet Room A
Children's Paper Crafts • Beryl Reichenberg • Live Oak Room
12:30—1 p.m.
Family Yoga • Vanessa Orr • Banquet Room B
1-1:30 p.m.
Zumba • Tiffaney Henry • Banquet Room A
1:30—2 p.m.
CaliKids Fitness (Beginning Tumbling & Gymnastics Skills) • Brittney Jones • Banquet Room B
2—2:30 p.m.
Millennial Tennis • Scott Cleere • Centennial Park Tennis Courts
My kids are ages 1 and 3, so we will be looking at:
– Kindermusik for babies and kids with instructor Nancy Knox at 11:30  a.m. ( I've written about Nancy's class before for the newspaper).
– Family Yoga for ages 1 to 5 with instructor Vanessa Orr at 12:30 p.m.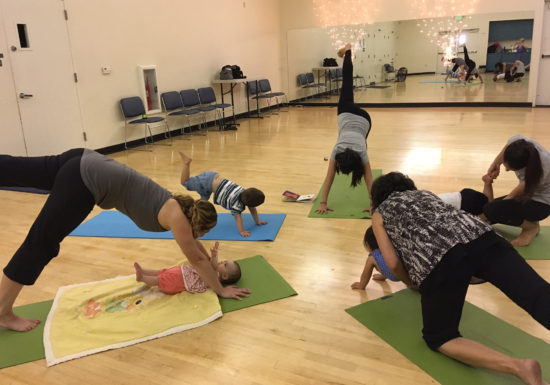 – CaliKids Fitness' Beginning Tumbling and Gymnastics Skills for ages 3 to 4 and 4 to 6 with instructor Brittney Jones at 1:30 p.m.
But when it comes time to officially register for the class through the city, age limits apply again. And those age limits are:
Cartooning: 9+
Zumba: 13+
Tennis: 18+
Line dancing: 18+
Dog training: 12+
Kidz Love Soccer: 2+
Kindermusik: newborn +
Papercrafting:  6+ (kids younger than 6 can take it with an adult participant)
RV workamping: 18+ (this one will have a display table and people talking about their experiences with a fun trend where people combine work or volunteering with RV camping in various locations. The actual class this fall is a workshop to explain the world of workamping and how to get started.)
For more info on the city's classes, see the fall activity guide, or sign up for the city's classes online.
…..I'll be there with the kids on Saturday with our NEW business card magnets, so make sure to say hi!