New playgrounds are coming to Paso Robles! Super stoked on this one, you guys, because we are always going to parks.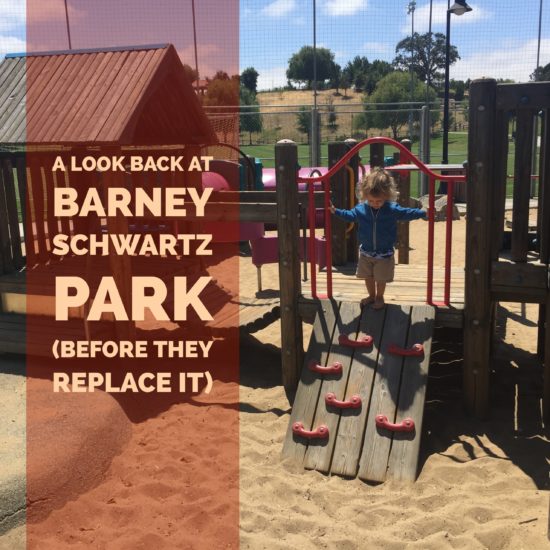 The new playgrounds include …
The bottom half of Barney Schwartz Park at 2970 Union Road off Highway 46 East.
Barney Schwartz has three playgrounds total, one up top on the hill and two down below by the sports fields. The park is 40+ acres and includes a man-made lake, several bathroom structures, water fountains, benches and picnic tables.
The bottom pair of playgrounds are getting replaced:  The tot lot (ages 2-5) and the bigger kids' one (ages 5-12) . As far as I know, the top playground by the lake is staying the same.
And …
Larry Moore Park in the Riverbank Lane neighborhood behind Walmart.
And this one is basically a bonus park for us since its current super sad play structure from the 1990s is so pared back we literally never go there. Hello, stairs to nothing! For us, this park has never been about the playground but for strolling the Salinas River Walk.
FUN FACT: Recognize those tall flower features? Yep, they're the same as the ones at Emerson Park In SLO: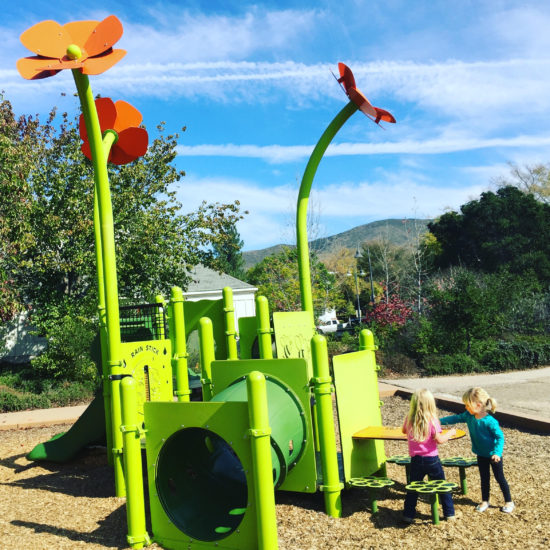 But back to Barney …
The play equipment at Barney is 15 years old already! You can't tell so much on the tot lot side. But the fort-looking side for bigger kids already has boarded-up parts, broken and frayed climbing netting, worn out wood and I heard a few older kids saying the gliding handles are too difficult to scoot. Boo.
So the nonprofit REC Foundation (the folks behind the Summer Concerts in the Park series) donated $250,000 for new play equipment.
The city tells me construction on the replacement playground will begin within the month. I went over there with the kids a couple weeks ago, and workers had already started replacing the benches.
Some History
While we're happy about both parks getting fresh play equipment, I feel like we should give some throwback love to Barney Schwartz  before its purple plastic and log cabin vibe is gone for good.  It's also a good time to reflect on some history about the park from The Tribune, since the park's beloved matriarch, the late Mary Studer Schwartz, passed away this June at age 90. –
Mary Studer Schwartz — together with her late husband, Dale, a Paso Robles councilman and philanthropist who died in 2006 — … raised money to help create Barney Schwartz Park near Union Road and Highway 46 East. It opened in 2002 and was named after Dale's brother, a longtime Paso Robles mayor. The brothers also served on the Paso Robles City Council together and co-founded the Paso Robles Golf & Country Club.
Here's more info on Barney's life.
Park Faves
We love this park. But beware: for whatever reason there are TONS of ants here. So forget laying a picnic blanket down on the grass. Anywhere.
Despite that, we have a lot of memories at the bottom tot lot playground.
My daughter learned to walk at this park. Some of my first outings as a new mom took place here.  My firsts with my daughter as a baby, and then two years later during my totally nerve-wracking first outing after her brother was born and now I had two babies to entertain.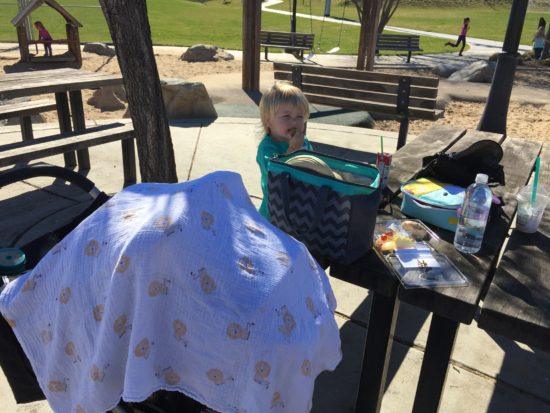 Here's a list of our park faves:
The Purple Tunnel
Here's my daughter playing in this tunnel over the years. Excuse me while I sit in the corner and CRY at the realization of how much  older she looks now.
The Wobbly Foot Bridge
How many of us were like "oh, cute! a bridge!" the first time we saw this bridge only to find out our toddlers were just going to topple down it? But then they were so proud once they mastered it after all their cute baby practice.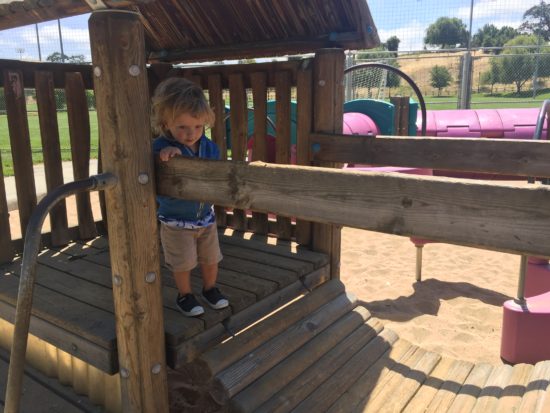 The dual steering wheels
These are so simple, but always a major go-to for my kids. Here's a shot of them both enjoying it a couple of years apart when they were about the same age. Because memories.
Tot Lot Slide
There's two spots to slide, side-by-side. It's just a little too steep and the kids always land square on their butts at the bottom. But they still laugh and go again.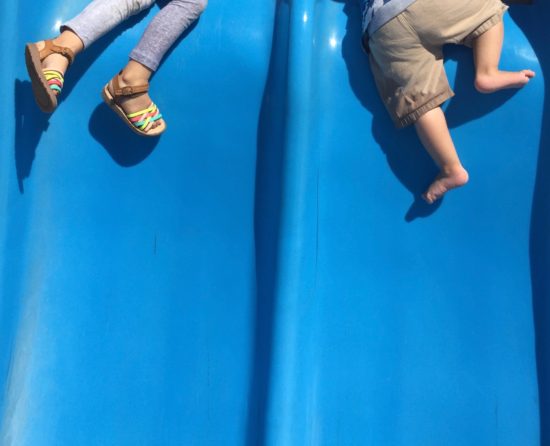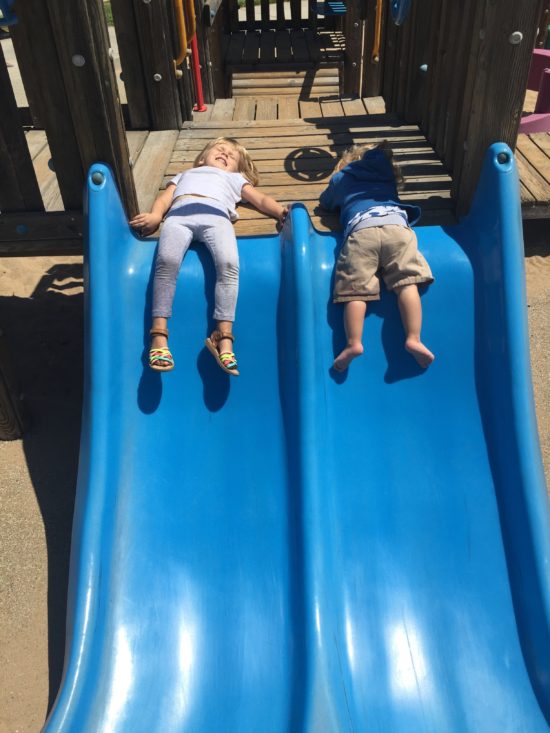 This Water Thing
How cool is this contraption? It's a spout with a foot pump over by the picnic area in between the two playgrounds. I'm not sure what it's for, but the kids love playing with it. And they need me to step on it, so it's nice that they can't just mosey over there and douse theirselves whenever they want.
To cap off our review, BIG shoutout to the top playground and lake. It's awesome.
We love the little turtles who peep their heads out of the water, the ducks, and the little waterfall. We also do the kids fishing derby there every year.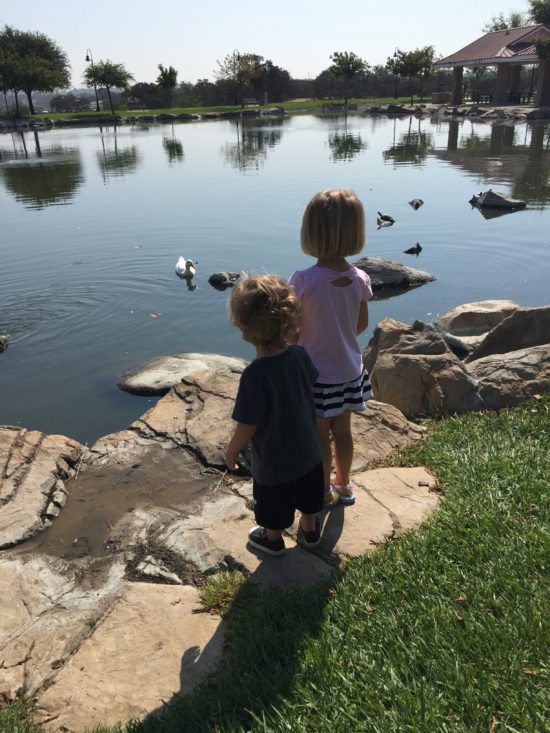 See you there!
xo