This article originally appeared in the March 2018 edition of Paso Magazine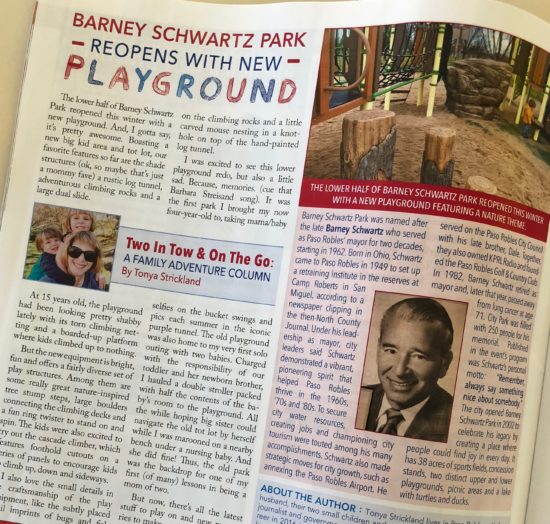 The lower half of Barney Schwartz Park reopened this winter with a new playground. And, I gotta say, it's pretty awesome. Boasting a new big kid area and tot lot, our favorite features so far are the shade structures (ok, so maybe that's just a mommy fave) a rustic log tunnel, adventurous climbing rocks and a large dual slide.
---
At 15 years old, the playground had been looking pretty shabby lately with its torn climbing netting and a boarded-up platform where kids climbed up to nothing.
But the new equipment is bright, fun and offers a fairly diverse set of play structures. Among them are some really great nature-inspired tree stump steps, large boulders connecting the climbing decks and a fun ring twister to stand on and spin. The kids were also excited to try out the cascade climber, which features foothold cutouts on a series of panels to encourage kids to climb up, down and sideways.
I also love the small details in the craftsmanship of the play equipment, like the subtly placed fossil imprints of bugs and fish on the climbing rocks and a little carved mouse nesting in a knothole on top of the hand-painted log tunnel.
I was excited to see this lower playground redo, but also a little sad. Because, memories. (cue that Barbara Streisand song). It was the first park I brought my now four-year-old to, taking mama/baby selfies on the bucket swings and pics each summer in the iconic purple tunnel. The old playground was also home to my very first solo outing with two babies. Charged with the responsibility of our toddler and her newborn brother, I hauled a double stroller packed with half the contents of the baby's room to the playground. All the while hoping big sister could navigate the old tot lot by herself while I was marooned on a nearby bench under a nursing baby. And she did fine! Thus, the old park was the backdrop for one of my first (of many) lessons in being a mom of two.
But now there's all the latest stuff to play on, and new memories to make. So there's no time for tears. Well, maybe just a few.
Here's a link to the full story.
---
Meanwhile, check out the beautiful cover for the March 2018 edition of PASO Magazine. If you're interested in checking it out but you're not from the area, you can flip through the digital Online Reader edition here.
If you are in Paso Robles, the magazine should be mailed for free to your house. If you're visiting or just want an extra copy, you can pick one up for free at the following locations.
For my out-of-town family, or anyone who is just super cool, you can subscribe to the magazine to be delivered to other areas for $26.99 a year, by signing up here.
---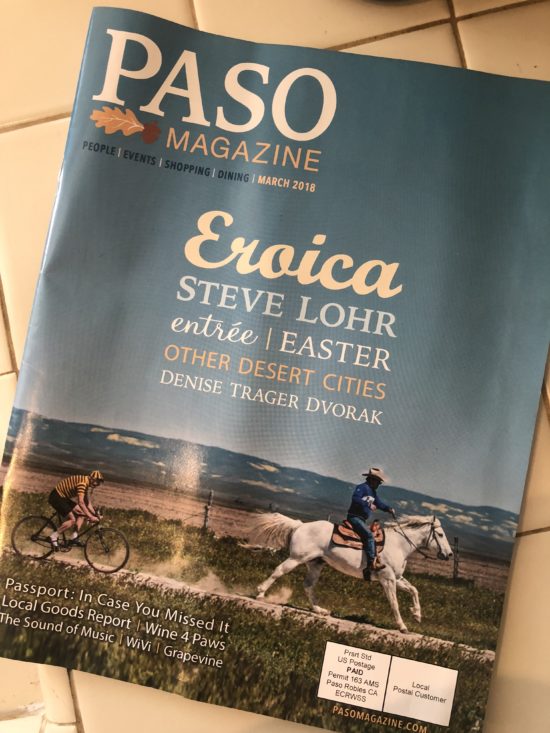 In other news,  the March 2018 edition,
publisher Nic Mattson gave us a very sweet shoutout!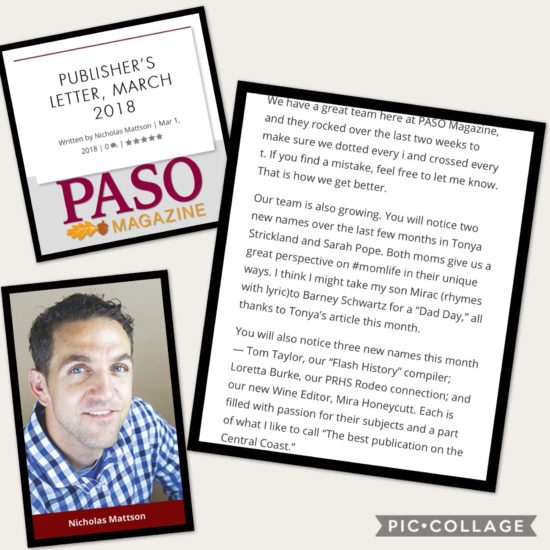 ---
Here's a closer look at the text. We're so happy to be growing with this magazine!
---
We have a great team here at PASO Magazine, and they rocked over the last two weeks to make sure we dotted every i and crossed every t. If you find a mistake, feel free to let me know. That is how we get better.
Our team is also growing. You will notice two new names over the last few months in Tonya Strickland and Sarah Pope. Both moms give us a great perspective on #momlife in their unique ways. I think I might take my son Mirac (rhymes with lyric)to Barney Schwartz for a "Dad Day," all thanks to Tonya's article this month.
You will also notice three new names this month — Tom Taylor, our "Flash History" compiler; Loretta Burke, our PRHS Rodeo connection; and our new Wine Editor, Mira Honeycutt. Each is filled with passion for their subjects and a part of what I like to call "The best publication on the Central Coast."
After a month like this, I gratefully and humbly confess that I could not do this without you and I'm honored and privileged to work with you all.
---