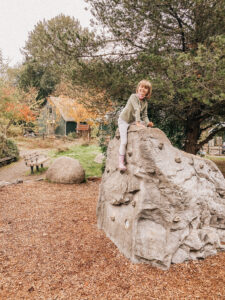 Yesterday we hiked – in the rain! We came prepared with waterproof jackets, so this California girl actually thought it was pretty magical. 
This kidventure started at the Tacoma Nature Center. We met up with new school friends there to explore its forest-inspired Discovery Pond playground, where all its play structures are designed to look like boulders and trees. There's a treehouse, climbing rocks and a metal slide inside a hollow log! All made complete with slatted bridges and little creeks to explore. 
---
---
On the other side of the playground, across the parking lot, is a 70-acre nature preserve to hike the wetlands and forest. Lastly, there's an interpretive nature center on site with kid exhibits but it closed right when we got there bc we are late birds (no shame!). TIP: there's a public porta potty to the back parking lot. The colors of fall are also in full force right now!
---
 Tacoma Nature Center & Discovery Pond  1919 S. Tyler St., Tacoma