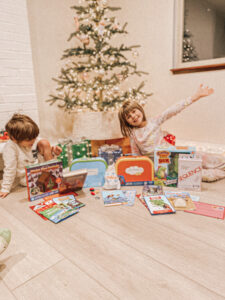 From learning activities that show children the world to family-friendly board games and a magical story: here are some quick-hit buys for the kids this holiday.
---
This post is sponsored by BabbleBoxx. Check out my disclosure for more details.   
---
Travel SEQUENCE from Goliath
Goliath is a family-friendly game company that brings me back to our original toy testing days when we tried its SEQUENCE for Kids back in 2018, which remains a major fave in our house! This time, we tried Travel SEQUENCE. The kids immediately recognized the "SEQUENCE" name on the box,  except it's in a smaller portable format for slightly bigger kids ages 7+.
Play a card from your hand and place a peg in a corresponding hole on the game board and four in a row wins! Wyatt will be 6 this month, but the concept is easy enough and with just two players, I can team up with him if he needs help.
Shhhhh – Since we're into family games, I even played it with Bowen while the kids were in nature class! Don't tell them, OK? 🙂
Overall: It's a fun and no-frills kiddo game that doesn't require batteries. Win!
---
Game-A-Saurus Rex from Goliath
Game-A-Saurus Rex is a brand new gameboard title for us. Not really knowing what to expect, I was delightfully surprised it fit in the preschool game genre and featured a plush toy, The concept lets you pick from 10 different games to play on a gameboard that's a piece of cloth.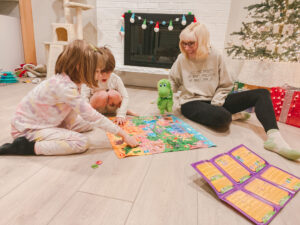 The games are easy to understand with a few simple instructions and straightforward pieces (tokens and spinner). I didn't have to struggle explaining any complicated instructions which I always appreciate. Of the 10 choices, Clara suggested the "Do You See What I See?" option. I. drew a card from the deck, which had a shape/animal on it. Then the kids pointed to the shape/animal on the board they thought I was thinking about after I described a few clues about it. Small thrills for guessing right with some descriptive learning to boot.
Overall: 10 games in one? Yes, please. Plus, cleanup is easy because all the game pieces and board can fold up into Rex's pocket.
---
Little Passports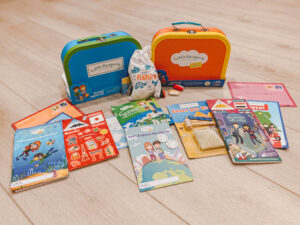 Being Two In Tow & On The Go, I'm pretty sure the Little Passports line of learning kits was made for us. It features different themed activity kits in geography, culture, science and art.
We got two of the World Edition boxes for ages 6-10 on Brazil (and the Amazon rainforest!) and Egypt. They each came with an adooooor-able little suitcase filled with crafts, activities, souvenirs, collectible coins, and stickers for pocket-sized workbooks. The kids especially liked an excavating activity where they used plastic digging tools to dig out a Sphinx toy from a sandy pyramid the size of their palm!
---
---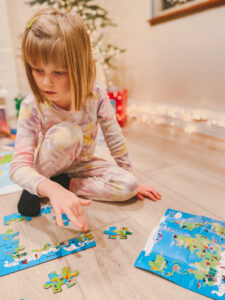 Even an original chapter book featuring pen pals Sam and Sofia. We spread all the materials out and goodies like a special passport, world map poster, and coin collecting board to let the kids explore the different countries and cultures. 
Overall: Great together-time gift to help them learn more about the world.
PROMO CODE: from 11/22-12/10, save 15% off all subscriptions with LITTLEPASSPORTS
---
The Beatryce Prophecy by Kate DiCamillo
The kids and I have been exploring longer chapter books with pictures instead of the large-format picture books, and. The Beatryce Prophecy seems like a good candidate! We haven't read it enough to review it just yet – but it's a #1 New York Times Bestseller and features a modern fairy tale/fable storyline with a strong female lead. The tale ties in themes of friendship, humor, the power of storytelling, and magic.  It's written by Kate DiCamillo, a two-time Newbery Medal winner; illustrated by Sophie Blackall, a two-time Caldecott Medal winner; and published by Candlewick Press.
---
The Synopsis:
In a time of war, a mysterious child appears in the barn at a monastery. A monk finds the girl, Beatryce, curled in a stall, wracked with fever, coated in dirt and blood, and holding fast to the ear of Answelica the goat. As the monk nurses Beatryce to health, he uncovers her dangerous secret: the king of the land is seeking such a girl, and Brother Edik, who penned the prophecy himself, knows why.
And so, Beatryce ventures into a dark wood in search of the castle of one who wishes her dead. But she knows that, should she lose her way, those who love her will never give up searching for her, and to know this is to know everything.
Overall: They had me at acclaimed writer and illustrator.