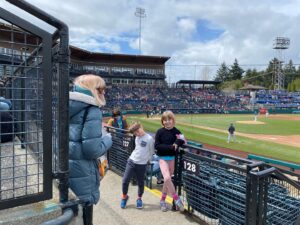 Remember that time I told you I wasn't particularly sporty? Well, I can now say the tides, they are a turnin'. Because I've been to what (I think) is my very first professional baseball game!
Yep, that's right. Bowen and I took the kids to see everyone's favorite minor league baseball team, the Rainiers, at Tacoma's Cheney Stadium. And it was surprisingly family-friendly!
Read on for the full list of everything kiddo approved there.
---
NOTE: This story was published in the April 13, 2023 installment of our Gig Harbor Now column as original content.
---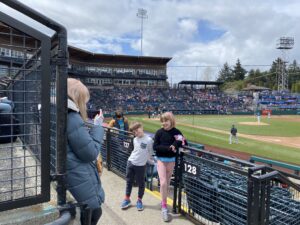 First off, did we love the game? Yes! Did we watch the whole thing? No. Lol. But hear me out. In a different world, I would've gladly sat alongside my husband Bowen and drank beer from giant plastic cups — living our best lives. But in the parenting world, I was pretty much all over the place.
Here's the season's 2023 schedule and ticket info for games now through September.
Our day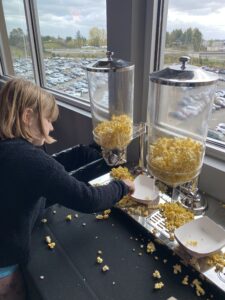 First, we had to check out what cool free things we could get from our friends' special tickets to the Summit Club (Cold water bottles! Soda! Popcorn from neat turn-style cereal dispenser things!) You guys, there was even free booze. Swoon. (The Summit Club is a 4,000-square-foot members-only box of premium fanciness on the stadium's third floor).
Second, after we left the club, we had to scout the food situation downstairs, stand in line for two popcorns, two cotton candies, and 5 hot dogs, spill the popcorn, clean it up, find our seats, sit down for four seconds, shove food in our faces, fall victim to distraction yet again when a certain someone has to go potty, find a restroom, discreetly panic waiting outside for 7-year-old Wyatt to do his business in the men's restroom because he's too old for me to drag him into the women's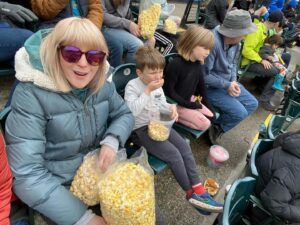 restroom these days, walk back to our seats, get lost on the way, spot a surprise playground (!!!), talk about the family-friendly awesomeness of Cheney Stadium, find our seats, whisper-yell to daddy about our playground find, watch two minutes of I don't even know what inning, and then …
Third, you guessed it, we had to hit up the playground. Whew! What a day. And that was only an hour of it.
---
The playground
The playground is a red, blue and silver collection of climbing fun located in the Family Pavilion behind the stadium's grassy berm/first base side. Built in 2016, the playground has two parts: a main structure for kids ages 5 to 12 and a smaller activity cube climber for kids ages 2 to 5. Really, though, everyone was playing on everything there, no matter their exact age. Park rules signs on site say kids up to 17 years old are even welcome to play.
☞ Continue reading this story (for free) over on Gig Harbor Now to see what the best options are for big kids and little kids at the playground, game specials on "Smile Sundays" and all the 411 on whether diaper bags and strollers are ok!