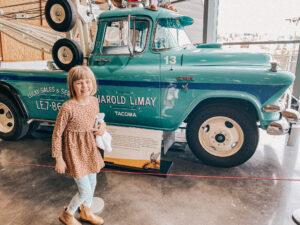 This spring, the kids and I visited Lemay-America's Car Museum in downtown Tacoma for the very first time – after it stood idling on our South Sound bucket list for nearly a year. After thoroughly exploring its 165,000 square feet of shiny chrome, vintage curves, and even an old-school slot-car track – I wondered what the heck took us so long to get there! 
Here's a closer look at why we went for the cars – but stayed for the fun.
---
This post is the first of a sponsored three-part series on LeMay-America's Car Museum.
For more information on these types of posts, see my disclosure.
---
KIDS GET IN FREE DAYS
🛻⚙️🚚 🔧 🏁 🚙 ⛽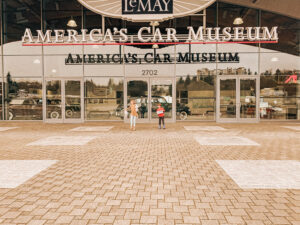 Don't miss the museum's Family STEAM Days from 11 a.m. – 3 p.m. every third Saturday each month where visitors age 18 and younger get in FREE. Includes special activities and regular museum exploration. Catch the next Family STEAM Day Saturday, June 17, for its Race Day theme featuring race cars; talks about the fuel efficiency of the future; and a super fun Race Car Scavenger Hunt.
---
KNOW BEFORE YOU GO
ADDRESS: 2702 East D St., Tacoma, WA 98421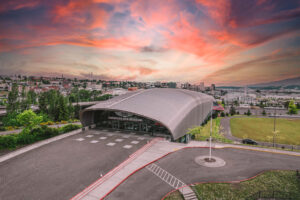 SUMMER HOURS: (beginning May 25) Thursday to Sunday 10 a.m. – 5p.m., and  Monday | 10 a.m. – 8 p.m.
TICKETS: Adults (ages 18-64): $22; Youth (ages 5-17): $16; Children (4 and younger): Free.
Buy admission tickets online here or when you arrive at the museum. Timed entry is not required. Tickets purchased online can be printed at home or displayed on your phone with the barcode from your confirmation email. (Also see: Ticket Packages & Deals).
PARKING: Visit here
PHONE: 253.779.8490  |  EMAIL: info@americascarmuseum.org
SOCIALS: Instagram: @lemayacm // @AmericasCarMuseum
---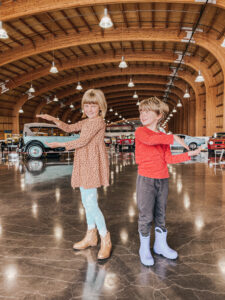 The moment we stepped into the museum (which, fun fact, was artfully curved by L.A. architect Alan Grant to resemble a hot rod hood scoop cruisin' along Tacoma's urban skyline) the kids quickly began picking out their four-wheeled favorites as we explored its automobiles throughout the eras.
DID YOU KNOW?
The car museum is set up just like a regular museum – with gallery spaces and exhibits in fun layouts and informative signage. Ten exhibits are currently on display, each bringing special focus to an important moment in automobile history or engineering, such as the 75th anniversary of the Porche! That exhibit is going on now through January 2024).
Unlike other museums, you can see the cars that aren't on exhibit here. Thanks to the building's unique four-story parking garage design, its "open-storage system" invites visitors to walk through the aisles of its entire collection. That's about 250 vehicles plus another 10 dozen or so on loan from private collectors. Fancy, right? We thought so.
The museum's biggest collection, of course, comes from the fam on the sign – the late Harold LeMay of Spanaway Wash and his lovely wife, Nancy. This local business duo made their millions growing a couple of trash trucks into the largest garbage and recycling company around.
In fact, Harold and Nancy had a passion for all kinds of cars and trucks (and they were super cute about it, too). They also had businesses in towing, trucking, and sales. Elsewhere, as a hobby, they bought and stored enough vehicles and automobile memorabilia to land them a 1997 title in the Guinness Book of World Records for the "Largest Antique Car Collection." How fun is that?!
---
I'm a big fan of verification, but Guinness' online database is super finicky. So I went straight to the source. Here's the official listing in all of its 90s glory:
---
Sadly, Harold passed away in 2000 at age 81, but Nancy and her family continue to show other parts of their personal collection to the public.
---
The Exhibits
The museum's first exhibit we stopped to see opened up just beyond the lobby, leading into the extra-fancy top-floor Showcase Gallery. This room, if one can call it that, is an expansive indoor space that's likely the museum's largest, boasting full-scale northern windows overlooking downtown Tacoma all the way to the sweeping shoreline of Commencement Bay. The room's distinct curve reveals an intimate look at what drivers on the freeway don't see: a warm and wooden interior beneath that famous gleaming aluminum rooftop.
The gallery ceiling towered high as perfectly spaced spotlights reflected down onto the polished flooring underfoot, reminiscent of the glitter and sparkle of the lighting at a high-end jewelry store.
My first thought, as a spectator: "Wow, what a nice surprise that a car museum, or any museum for that matter, could feel so beautiful, open, and welcoming."
My first thought as a mom, meanwhile, came from the hot mess monkey circus otherwise known as my parenting brain which unabashedly shouted into its bullhorn: "Ladyyyyyy, this place is waaaay too fancy for your kids."
My stinker-pants imagination soon tossed around images of chocolate-finger smudges against picture-perfect window glass; knocked over displays and that *special* moment when a certain pair of someones discover a car horn.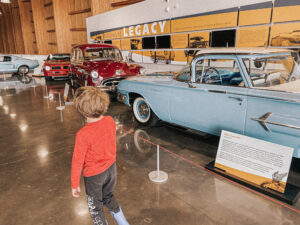 Luckily, the kids were perfectly behaved. There was no chocolate catastrophe, no priceless race car relics harmed.
All I can say is thank goodness the museum's employees and volunteers are some of the best.
Maybe it was the visual cringe taking over my face as my worries began to show or simply some old-fashioned been-there-done-that, but these the professionals there reacted with nothing but calm, family-friendly vibes and suggestions on how to entertain their youngest patrons.
And for that, I give this museum a 10 out of 10 as an awesome kiddo destination.
A closer look at all the things we loved:
And, I gotta say, we experienced a ton of kiddo entertainment after that. In fact, in the name of childhood fun and learning, the museum dedicates an entire section to the Family Zone's toy car racing, art-creating activity center. On the way there, make sure not to miss the Speed Zone, where two race-related activities are available for an extra fee. More on that below.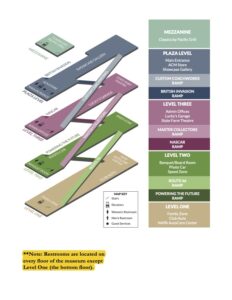 The are several maps posted on the walls inside the building (as well as next to each elevator) so you know where to find all the cool stuff, including that special exhibit you came to see or the Family Zone if you read my blog and have kids!  building is unique in its long, parking garage design that spans more than 1.2 times the length of a football field. As described in the Seattle Daily Journal of Commerce, vertically stacked ramps connect each of the museum's four floors on both sides of the building in a racetrack-shaped path that designers intentionally made to save on costs and to creatively fit in the car theme. The ramps were made to be walkable.
While cars are inherently fun on their own, the entire section of the museum's first floor dedicated to the playtime and experimentation children love certainly helps.
Appropriately titled the Family Zone and the Speed Zone, a quick elevator ride or a jaunt to the first floor is not to be missed. Here's a closer look at these two areas:
1. THE FAMILY ZONE
The Family Zone is an entire area of kid-focused activities for families of all ages. Play pretend, trace your car of the future on a light board, and plan a road trip across the U.S.
The kids and I spent the most time in this section! It's definitely the museum's main kid attraction.
---
▶Giant U.S. Roadtrip Map 
In this oversized map of the United States, kids can travel the country along toy tracks,  pushing toy cars along the highways and byways.
My kids embarked on this imaginary road trip more than once during our visit as they explored various states and learned about their landmarks, history, and unique attractions. The kids were quick to point out the locations of Washington and California, as well as crawl under the map and pop back up through the circle cutouts. The holes are there so kiddos can access toy car tracks across the midwest without having to have crazy long arms, haha. with the was a playful way to foster a love for travel and geography.
---
▶Built for Speed Pine Derby Track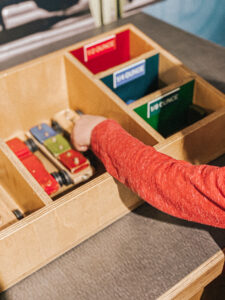 "Race pinewood cars down a track and experiment with the science of speed."
Here, the kids experimented with little pinewood derby cars. These little derby cars start odd with six pegs so blocks can slide right over them to test how weight affects the cars' speed down a slanted chute track. We liked how there were lots of different weights and sizes to choose from, and that they were color-coded by the number of ounces each weighed.
---
PRO TIP: Did you know …. not just for kids but the museum has a café with seating that overlooks the impressive top-floor gallery and museum admission is not required to eat there!
[/wc_box]
▶Art Station
Clara loves to draw (Wyatt too, but a little less so) so when she saw a light box for tracing she got super excited. The station includes clear films with outlines to trace onto white paper to design the car of the future. Clara's was red and had her driving it!! (Hopefully, those days are WAY in the future haha). Wyatt drew one too!! His had lots of blue on it, which is his favorite color. No one is driving his. Wah-oh!
2. SPEED ZONE
EXTRA FEES: The Speed Zone has two activities that cost extra on top of your admission ticket. The first is a Formula 1 Racing Simulator that looks like one of those video game seat boxes you see in arcades. The second is an electric Slot Car Circuit where you use remote controls to race mini-model cars.
Both are open to the public but for an extra fee. Worth it? My vote is YES! You can buy extra tickets for the following:
▶ Formula 1 Racing Simulator
We didn't do the racing simulator, so I can't tell you what that was like. But here's someone's YouTube video about it. Online, it's described as an activity to "test your driving skills on upgraded CXC racing simulators." (Which, according to the internet, is the manufacturer of these attractions.)
The museum website also mentions that "height restrictions apply for Racing Simulators." Which … I'm kind of confused about. Do they mean you could be too tall for it somehow? I'll find out.
Racing Simulator ticket: Member $5 | Non-Member $10
▶ Slot-Car Track Circuit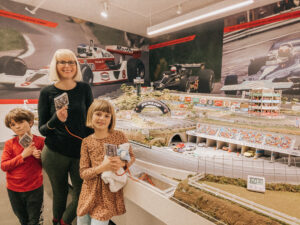 Slot-Car Circuit: Member $4 | Non-Member $5 (I don't see online where you can actually buy these tickets. It's mentioned several places but then disappears at checkout. Stay tuned while I investigate).
I'm a mom who's really just a big kid at heart. So it comes as no surprise that I majorly geeked out over the slot car track. The electronic miniature raceway is an old-school throwback popular with the pre-video game generation, plus many hobbyists today.
To be honest, our museum visit was the first time I'd even heard of a slot car. I was a 1980s kid with an Atari and an OG Nintendo console, so perhaps I'm not the pre-video crowd. Or, I just wasn't that into racing cars 🙂
Regardless – I now know that slot cars are small electric model cars that pop into parallel slots cut into a track and move via hand-held controllers the players use. The slot design ensures that cars stay on the track.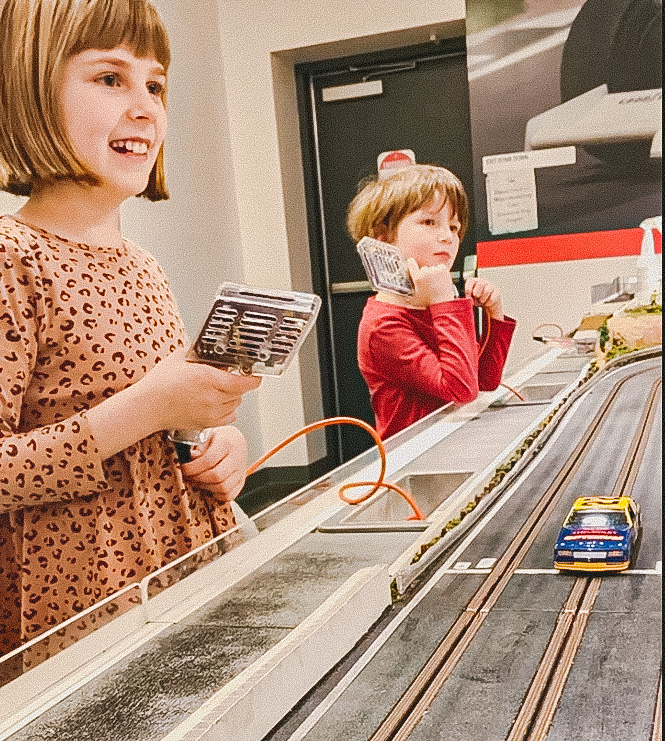 Clara and Wyatt got a HUGE kick out of this track, which was custom-made in 2012 (when the museum opened) and adorns the museum logo on several of its miniatures. The whole elaborate scene takes on a very diorama box-feel of tiny people with tiny flags crowding around tiny trees and buildings. According to an interview with the American track maker Slot Mods that built the attraction, the LeMay track is a 12-by-20-foot four-lane design featuring track sections from the real-life raceways Laguna Seca, Watkins Glen, Daytona, and Road Atlanta. 
The kids loved racing one another and controlling the speed of their cars. I enjoyed looking at the detailing of the little miniatures the most 🙂
---
Until Next Time!
A few more cool things happened, but that's a story for another day since this trip is a three-part series 🙂
As this first day drew to a close, I found our museum experience provided a perfect balance of education, entertainment, and hands-on experiences — so we'll definitely be back!
Stay tuned for the next LeMay article with more fun facts in our upcoming second installment.