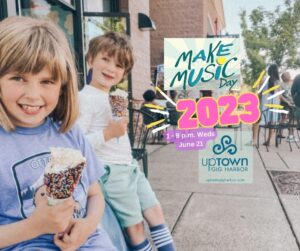 Make Music Day Gig Harbor is back and has some new family-friendly fun just in time for the last day of school Wednesday, June 21!
The international event, popping up in cities worldwide for the summer solstice, invites the public to a day of free music and jam sessions. Locally, live music is planned from 1 to 9 p.m. at Uptown Gig Harbor, our favorite fancy shopping center at 4701 Point Fosdick Dr.
---

As you may recall, Clara, Wyatt and I shared about this event last year as an event partner. So mosey on over there for a bit of time travel to read up on how this cool event came to be. Then come back and see what's new!
(This new post isn't sponsored, I'm just sharing bc we love it).   🙂
OK, now that we're back in the present, first things first: TODAY (Weds June 21) is Peninsula School District's LAST DAY OF SCHOOL before the summer break. Woo hoo!
Most kids in Gig Harbor get a half day w/ a 12:15 p.m. dismissal – making lotsa time to ditch the heavy backpacks, grab a snack and drive on over to Uptown (where there's plenty of free parking) to shimmy and shake in the afternoon Make Music Day Pizza Box Parade!
The parade is super casual and great for all ages – but you know kids especially will get a kick out of showing off their instruments from home! Even simple ones like shakers, wooden spoons, toys, whatever! People can also grab a complimentary pizza box from Make Music Day volunteers for drumming on as everyone walks together through the promenade, past the water fountain, over the walkways, beneath a (hopefully) sunny sky, and out toward the movie theater at Uptown.
Now in its third year, FEST4ALL Make Music Day is organized by my Gig Harbor friends (Seriously, I see these gals everywhere!) Amanda Gresham and her mama Barbara Hammerman, and their Gig Harbor-based nonprofit United by Music North America; plus it's hosted by lovely Uptown Gig Harbor.
---
2023 Schedule Highlights
📣 Here's the music schedule. I pulled out some kid-specific faves I think families would enjoy.📣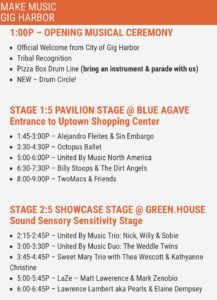 🎶 1 – 1:45 p.m. Fest4All Make Music Day Gig Harbor Opening Ceremony. Kickin' things off with the delightful sounds of Ukuleles to welcome everyone to the pavilion plaza. Let their enchanting melodies guide you into the heart of the celebration as the Pizza Box Drum Parade begins after!
🎶 Afternoon: Find the SHOWCASE STAGE on the Make Music Day Map (hint: it's located in front of the Greenhouse Restaurant) because it's the spot is perfect for sensory-sensitive friends of all ages to take in the quieter, laid-back tunes of the acoustic variety.
🎶 Afternoon: Look for these twin sisters from Spokane!  Kelsey and Marissa Weddle, also known as The Weddle Twinsm, take the stage with energetic songs and captivating choreography. They'll surely get your feet tapping and your heart singing!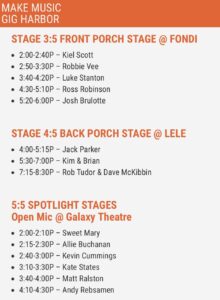 🎶 "3 & 6 p.m. *NEW* Drum Circle – BYO beats or use on-site percussion, jugs & steel drums!" Jam to the beat of the all-new Drum Circle near Panera for a more interactive experience and join in on the joyful beats of a percussion sesh.  
🎶 Evening: Dance to the upbeat & amplified vibes of the full band of United by Music North America on the main Pavilion Stage by Blue Agave. The musicians are to deliver an unforgettable performance they've rehearsed just for you! 
🎶 🎶 🎶 🎶  🎶 🎶 🎶 🎶 🎶 🎶 🎶 🎶 🎶 🎶 🎶 🎶 🎶 🎶 🎶 🎶 🎶 🎶 🎶 🎶 🎶 🎶 🎶 🎶 🎶 🎶 🎶 🎶 
Make Music Day celebrates the June 21 summer solstice and the feeling of community. All vibes we felt while attending last year – and we highly recommend it!  So, how 'bout it? Let's make some music together! 🎶🎉
---