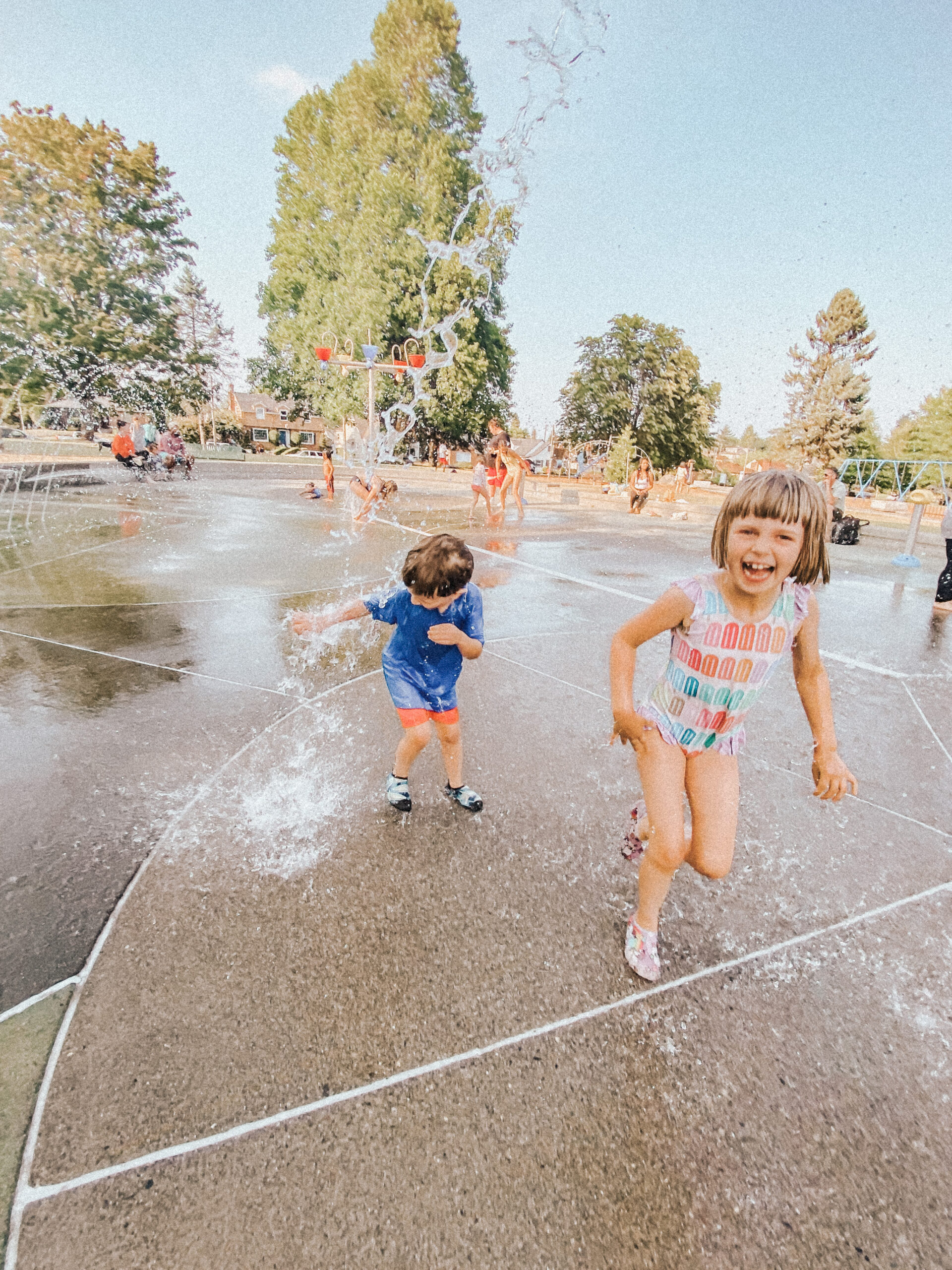 Is it just me, or is "sprayground" just the coolest play on words ever?! WAY more fun than the regular 'ol splash pads.
Well, Metro Parks Tacoma came out with a reminder last week to visit its ten spraygrounds before the water goes off on Oct. 1, 2023.
Here's a closer look at all ten locations  – plus some splash pad hygiene tips from the CDC.
---
NOTE: All Metro Parks Tacoma spraygrounds are open seven days a week from 10 a.m. to 8 p.m., unless otherwise posted, through Sept. 4. After that, a reduced schedule kicks in with the same operating hours but on weekends only for the last remaining days of heat from Sept. 9 to Oct 1. Sprayparks go off for good until May 2024.  
---
Tacoma Spraygrounds: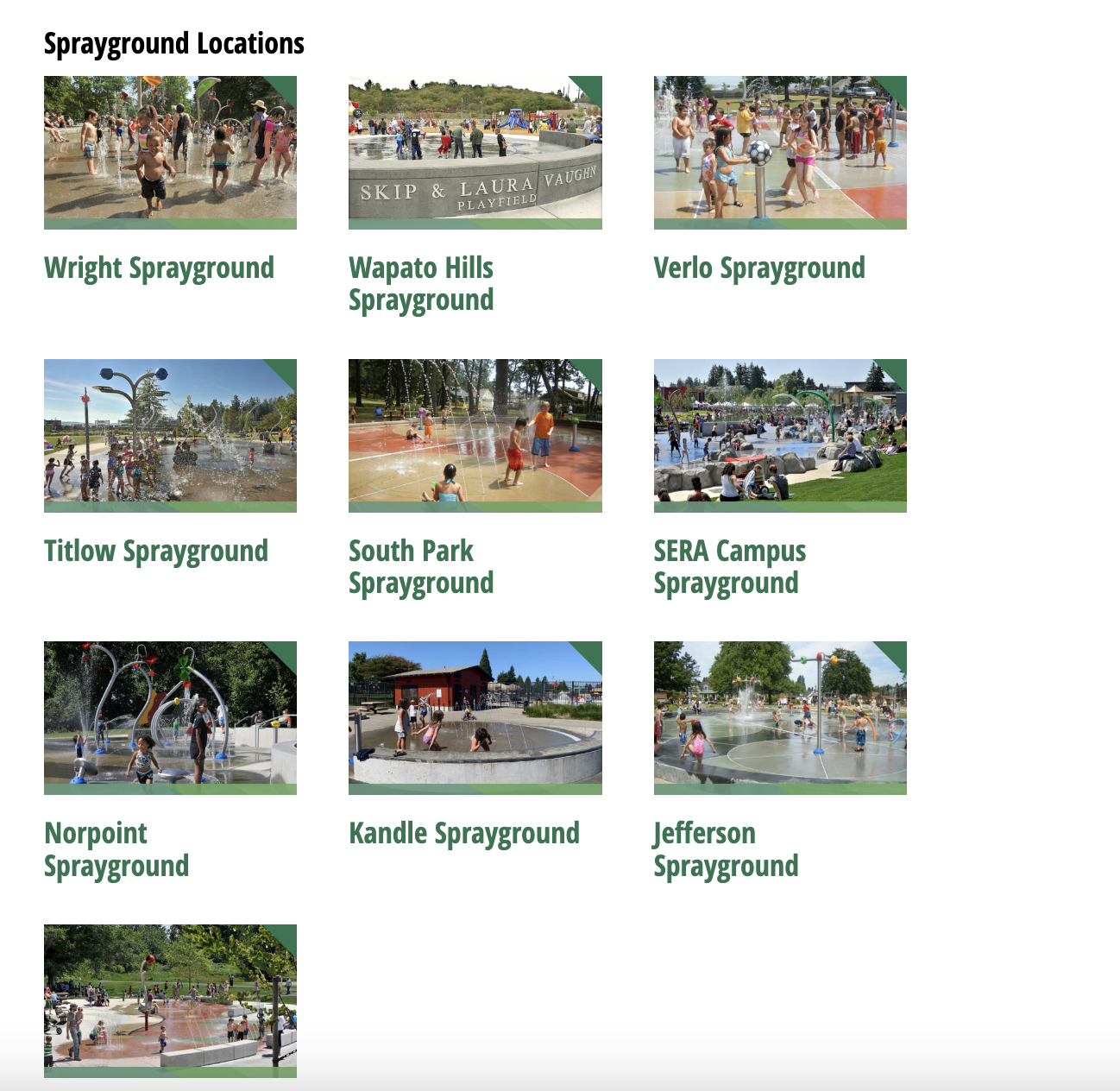 ---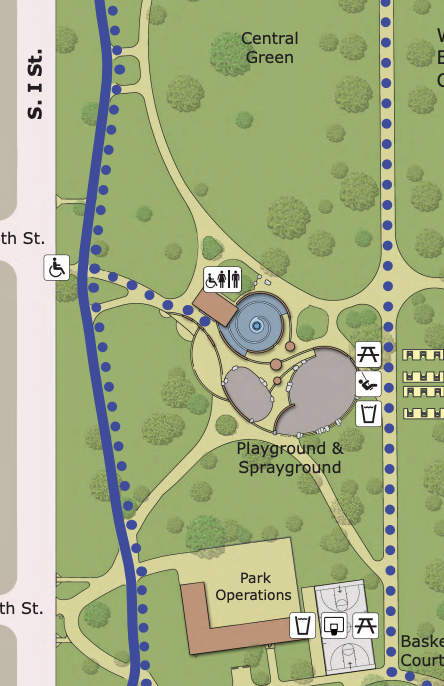 501 South I St., Tacoma | Decently large Sprayground located directly near the regular playground within a huge 27-acre park. The site has a "Central Park" vibe with 600+ trees amid a densely urban district, grassy slopes, a pond with ducks, a historic glass arboretum, and restrooms. Often times there's homeless folks in the park, but overall it's also populated with families and other kids. We've been here and recommend it.
6500 S. Sheridan Ave., Tacoma | We haven't been here yet. Stay tuned!
4321 McKinley Ave., Tacoma | We haven't been here yet. Stay tuned!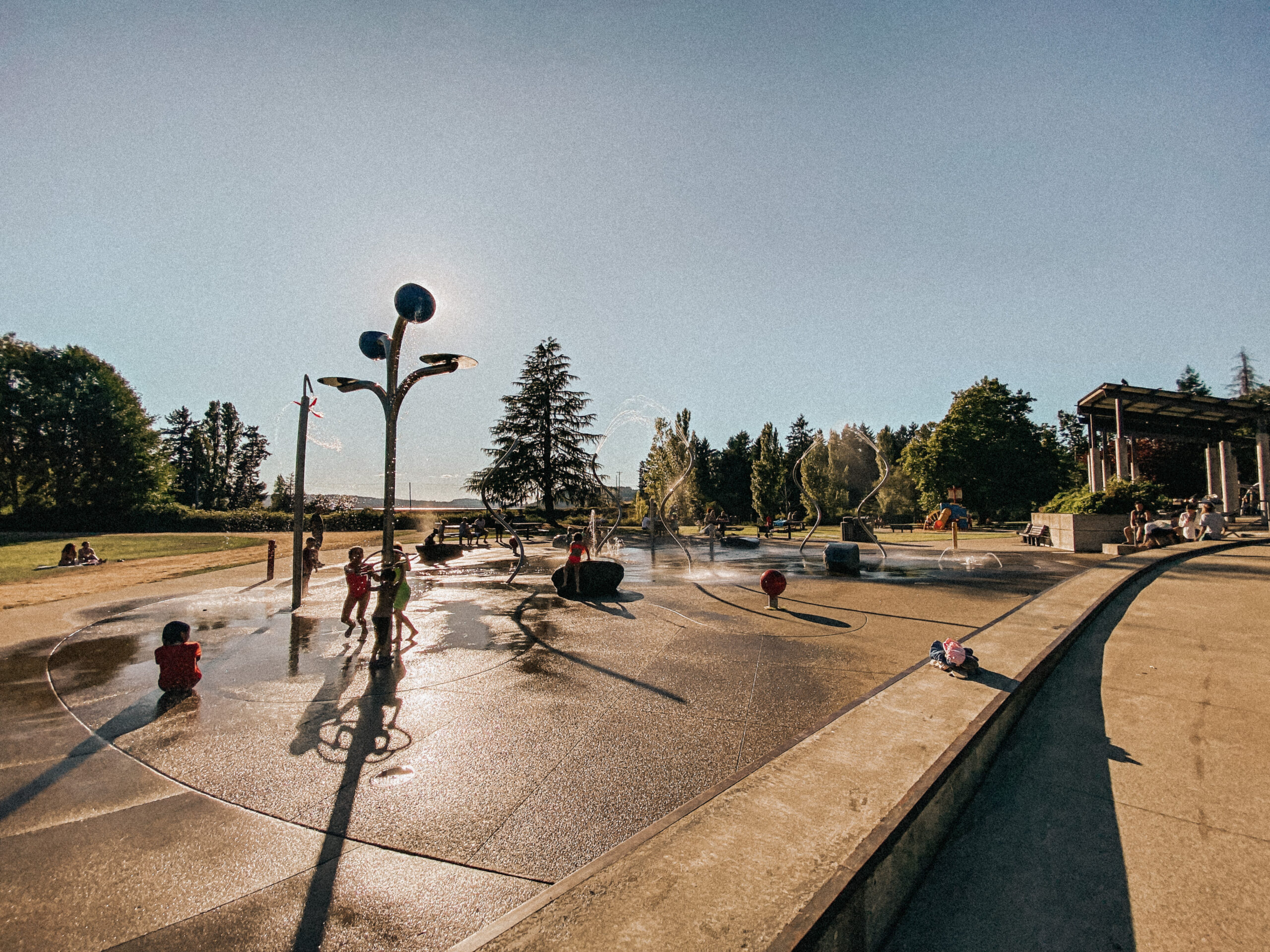 8425 6th Ave., Tacoma (close to University Place) | We went here for the very first time just last week! The large sprayground is directly next to two regular playground structures, restrooms, and picnic areas. Beach trails are accessible across the grass next to an active train crossing. When the trail rolls through, it's loud but cool!
4851 South Tacoma Way, Tacoma | We haven't been here yet. Stay tuned! Ps. The website says it's also the site of the Asian Pacific Cultural Center.
2323 N. Shirley St., Tacoma's north end | We haven't been here yet but … I'm not sure I'm even going to – lol. The website says this sprayground is located right outside the gates of Kandle Pool. IDK about you, but my kids would lose their minds with sadness if I brought them here and not to the pool. Except … the pool seems like a lot to tackle. Not only is it first-come, first-serve, crowded, and only open at certain times but it's also a wave pool. Crowded wave pools are a no-go for me because visibility in them is low. The pool also charges admission fees which isn't a dealbreaker but is worth pointing out so you don't show up unprepared. While I personally haven't braved that chaos, local blogger Raising Tacoma and her boys have, and she says good things about it.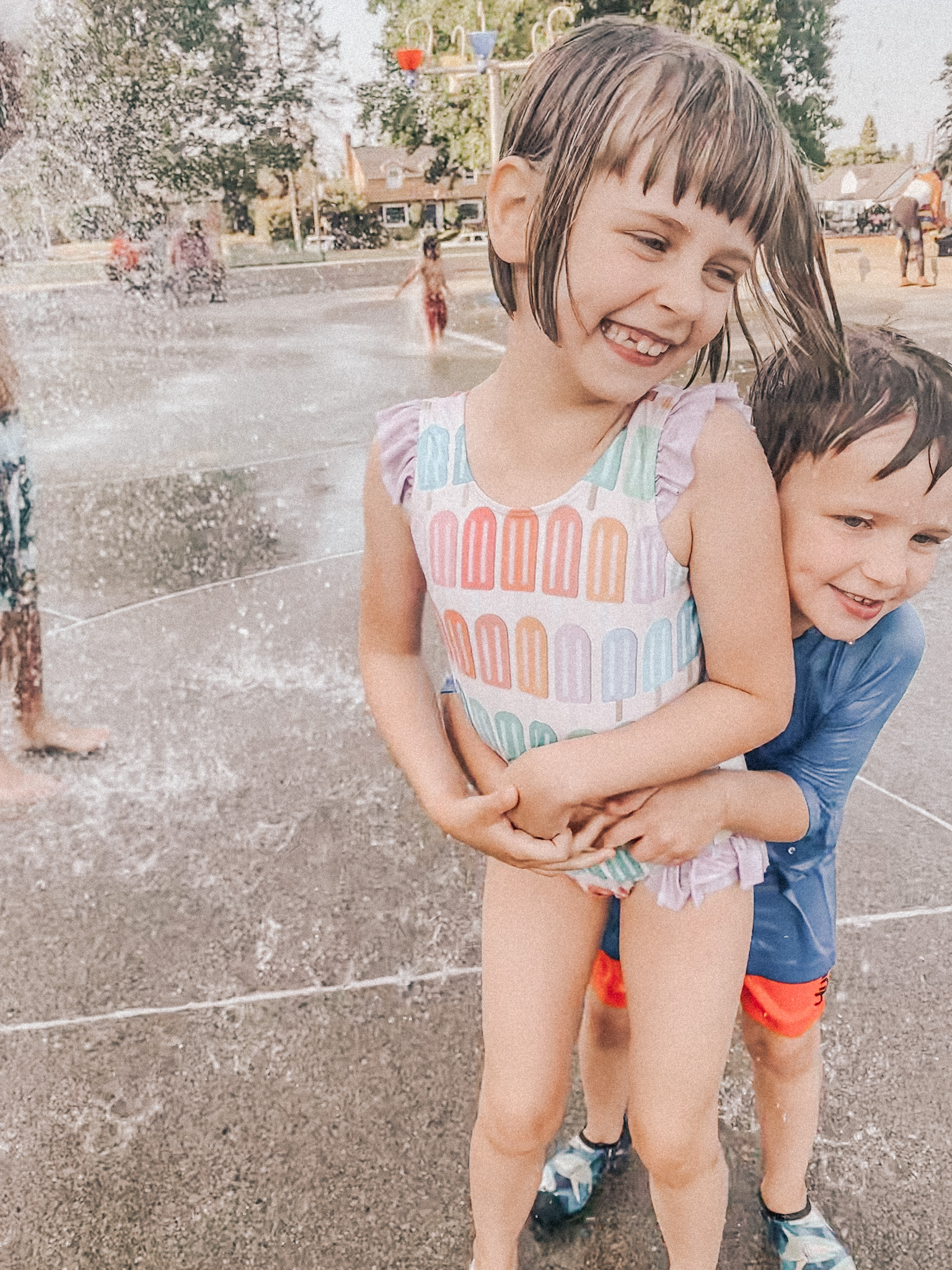 801 N. Mason Ave., Tacoma | This was the first big sprayground we went to after moving to Washington (and after only having experience at Atascadero's mini splash pad). I think it's one of the largest on this list, and the kids had a blast, but I don't feel entirely confident about the overall safety of this particular area, however, and we haven't been back.
4818 Nassau Ave. NE, Tacoma near Dash Point| We haven't been here yet. Stay tuned!
1201 S Puget Sound Ave. Tacoma | We haven't been here yet. Stay tuned!
---
Safety tip: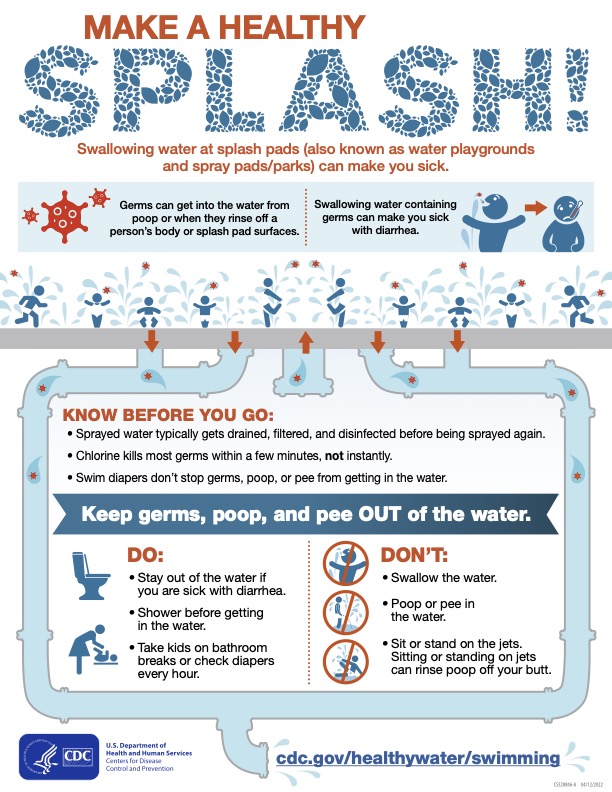 REMEMBER: to tell your kiddos not to drink the sprayground water coming out of the jets, spouts, puddles, etc. According to the CDC, splash pads across the country can spread germs and make users sick. That's because the water isn't always disinfected to the extent public swimming pools are. At MetroParks Tacoma, the agency says on its website that the "water at our Spraygrounds is recycled and sanitized through filtration and UV light." Even still, sprayground tots and their grownups should take their own steps to stop the spread of germs. Think about it, how many littles with diapers use these attractions? I've seen a ton! And how many kids sit on the jets and laugh and laugh? Yep, I've seen that, too. Mine even do that! Turns out, when people play in splash pads and sit on jets or go in with their shoes on or are unshowered prior – ALL those germs, traces of poop/pee, and dirt can rinse off their bodies and get recirculated onto the splash pad surfaces and water flow. Yep, that's right.
They call it a spraypark but how about a "Bidet Park"?!
😀
Anyhoo …. I'll be reminding my kids to not put their mouths on stuff for sure from now on! Bleh!
---
NOTE: The Metro Parks Tacoma website (at the bottom of this page) states that "the water at our Spraygrounds is recycled and sanitized through filtration and UV light. At Jefferson, for example, there is a 3,000 gallon tank underground that is continuously (24/7) being circulated, filtered, and treated."
"… The system is designed to turn off if chlorine levels fall below the prescribed level. Once a week the tank is totally emptied, cleaned and replenished with clean tap water. And just before the water goes out to the spray pad it passes through a Ultra Violet (UV) filter that instantaneously kills any bacteria or bugs."
---