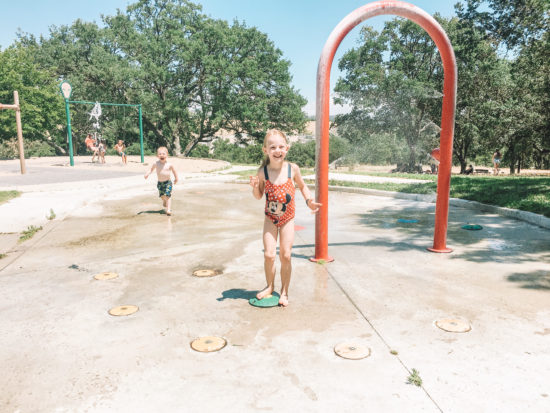 The Heilmann Park Splash Pad is the only FREE splash pad in the North County. It's located at  the larger Heilmann Regional Park & Playground (which I wrote about here) at 9400 El Bordo Ave. in Atascadero.  The splash pad is situated right by the restrooms off the big kid playground. The waterplay spot super small, but very popular with littles.
I haven't confirmed the schedule with the county … but anecdotally, the splash pad is on in the hotter months from about Memorial Day to Labor Day. Readers on my Facebook Page say the splash pad is officially on for summer 2019. One reader even said the splash pad was on as early as April this year.
---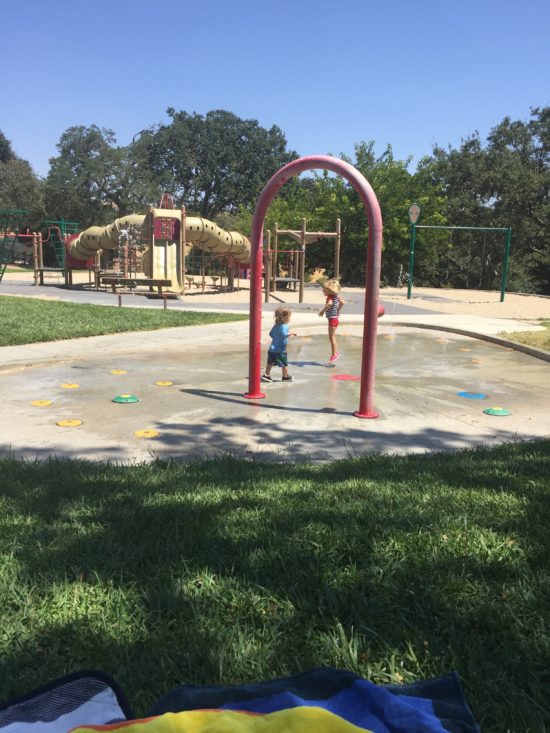 The splash pad features water shooting up from the ground and through the red arch. It's on a timer from 10 a.m. 5 p.m. daily. Kids activate the water by stomping on the green floor discs with yellow in the middle. That's one of their favorite parts, actually! Stomping over and over. 🙂
This is a great spot to have a playdate with friends as well. You have the park right there, you might have a sec to actually sit and talk and the kids are fairly occupied with the splash pad for awhile. Plus, the bathrooms are right there. Remember to bring towels and change of clothes for the kiddos if they want to go to the playground after being wet! There's sand at this playground.
---
From my experience of going here after Wyatt was born, I appreciate that the splash pad is next to a big grassy hill for parents to lay down a blanket and sit with their babies, while the bigger kids splash like 10 feet away.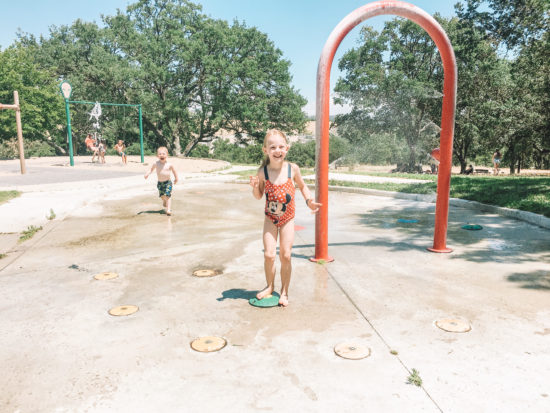 The ground isn't particularly slippery, but I still recommend kids wear a pair of water shoes while playing here. Kids totally wear swimsuits, too, but clothes are also fine. It's overall pretty chill there.
---
Here are some scenes of us going here for playdates over the last few years. And OMG look at baby Wyatt!!
See you there!