This post is sponsored by BabbleBoxx.com on behalf of USGA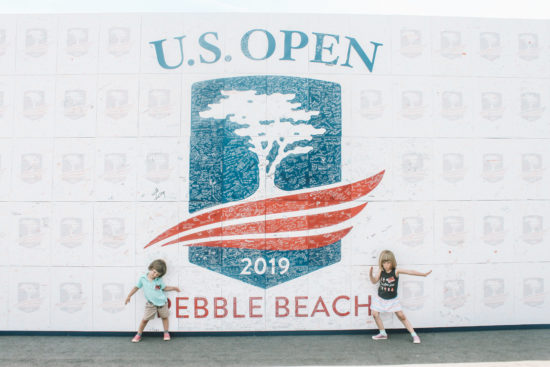 A putting green dotted with glittering hula-hoops, skee-ball type chipping games under an expansive shade tent and one seriously creative coloring wall give just a glimpse of all the awesome complimentary activities the United States Golf Association has for kids all week at the 119th U.S. Open in Pebble Beach, California.
I appreciated the specific and thoughtfully-crafted activities just for kids here. It made the entire event experience better for everyone. Read on as we share all the deets on what the USGA is offering during the first-ever Junior Experience with First Tee and LPGA*USGA Girls Golf.
---
Before I get into all the fun kid stuff the U.S. Open has for its youngest fans this year, or what the First Tee is (spoiler alert: it's a youth nonprofit  — not a golfing verb like I thought, lol), let me set the scene for you: On Sunday, Daddy and the kids and I road-tripped about two hours north to scenic Monterey.
---
We were there as one of the official family bloggers for the U.S. Open golf championship taking place June 10 to 16, 2019 at the historic Pebble Beach Golf Links course. Needless to say, the kids were ready to strike a pose and have some fun:
Boasting 18 holes of seriously stunning coastline atop the rugged Monterey Peninsula, this public golf course celebrates its 100th birthday this year and hosts the U.S. Open for the sixth time.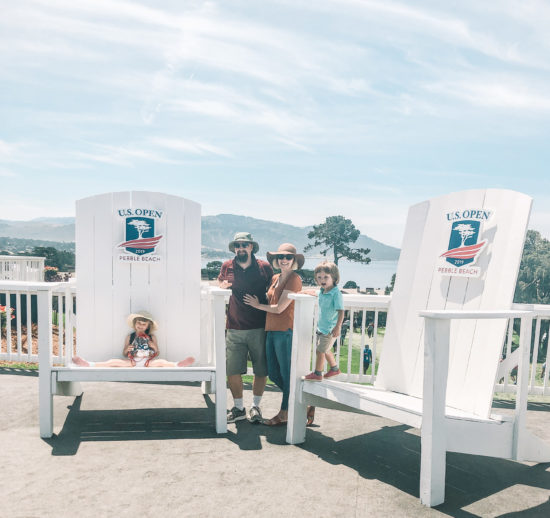 Hubby said the terrain and expansive ocean views made for the most beautiful golf course he's ever walked. But this year, the USGA upped its fan experience by not only offering a stunning venue, but also a weeklong program of kid-specific games, booths and fun with …
---
THE JUNIOR EXPERIENCE 
Located just down the steps from the eateries in Fan Central (just past the main admission gate), our homebase for the day was an all new area called the Junior Experience. The best part is U.S. Open tickets include complimentary access from 10 a.m. to 4 p.m. Monday/Tuesday/Wednesday and from 9 a.m. to 6 p.m Thursday/Friday/Saturday/Sunday. To pre-register your child, click here. Registration encouraged but not required. 
Offered for the first time this year to give golf's youngest fans something extra special to do (and thus making parents' lives easier), these activities are a collab between the USGA and the youth organizations The First Tee and LPGA*USGA Girls Golf.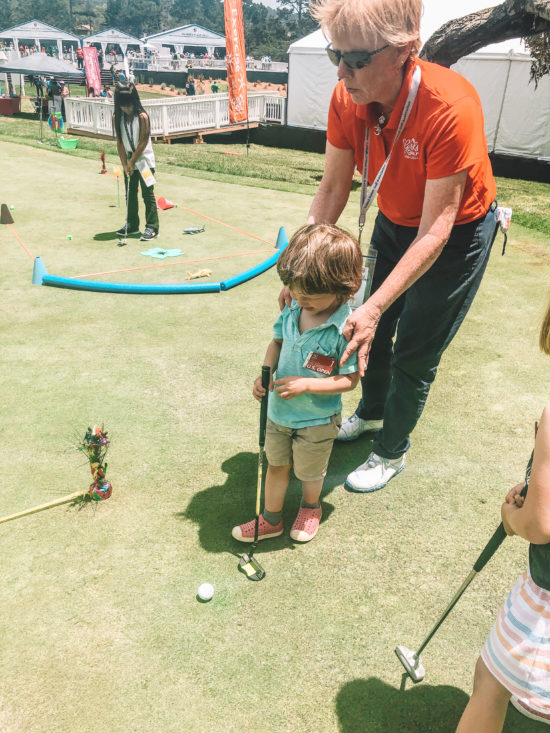 Each year, the USGA provides support and grants to these programs, which work to empower kids through the game of golf. The First Tee works with boys and girls from all walks of life while the Girls Golf organization specifically reaches out to female golfers ages 6 – 17 to instill leadership, confidence and inspo for an active lifestyle.
✤✤✤
The programs seem really cool! To get your kid involved you can search for your nearest First Tee chapter at thefirsttee.org/locations & closest Girls Golf program here.
---
The layout of the tent was nice: lots chic but comfy parent seating AND a charging bar with cords to plug our phones into.
---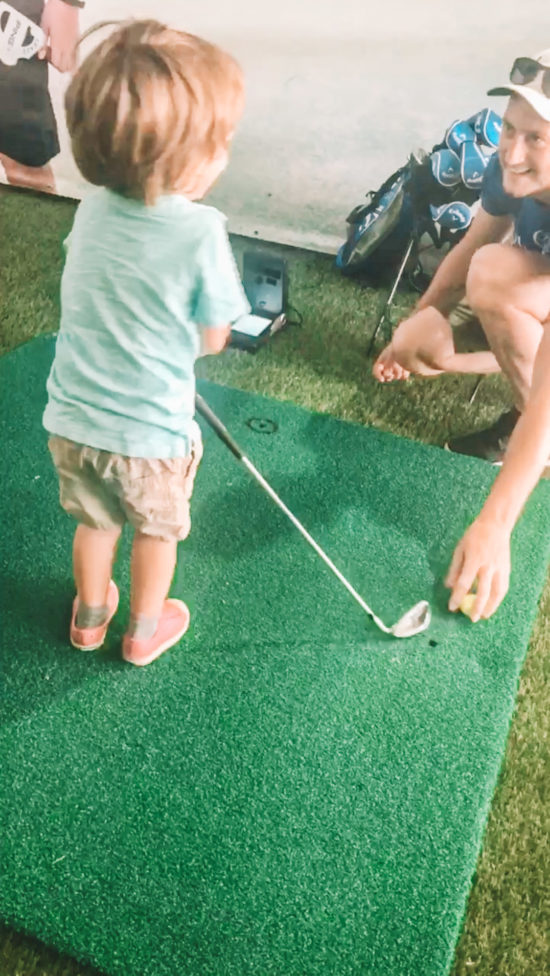 But even more, that reps from the youth organizations I mentioned were actually running it. This made each activity more meaningful because parents could chat with the players about their experiences with the programs. But also that their enthusiasm for kids and golf came across genuinely in their actions (and their smiles!).
---
They were even good sports when Wyatt broke out his full threenager-y self and ran around unlatching the line belts everytime they latched them back 😂. I gotta say: watching those guys running back and forth chasing Wyatt was pretty funny. Naturally, I just stood by snapping pics like any good parent 🙂
---
But also, the other family-friendly activities such as:
⛳️ Coloring wall with markers
⛳️ Golf simulator game: use a real club and ball to hit a ball on a virtual course with a lifesize screen. 
⛳️Golf video game competitions at a tablet table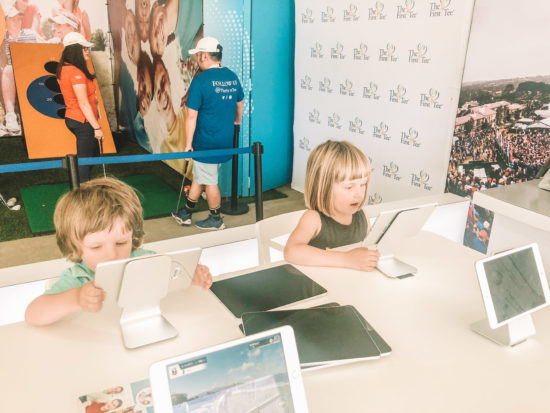 ⛳️Chipping and putting games inside the tent (think: golf skee-ball with neat foam golf balls)
⛳️Green Screen Photo Op
We all got to pose in front of a green screen, with our choice of several backgrounds of the  Pebble Beach golf course.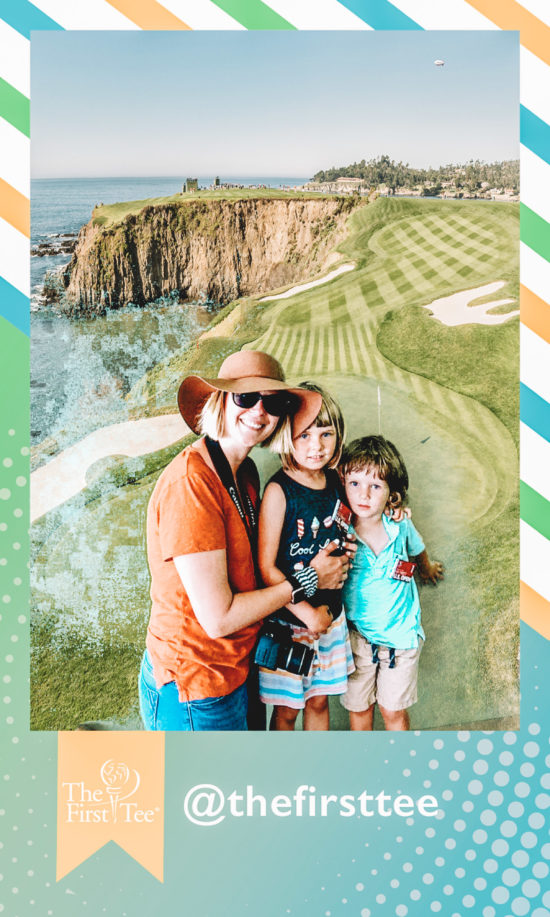 ⛳️Prize wheel with chances for candy, visors, rubber bracelets and more.
Just outside, the LPGA*USGA Girls Golf is also on board with all things kid-fun with their hot pink and purple craft booth set up with a prize wheel as another major draw for the kiddos.
⛳️Arts and crafts.
We used the neatest little metal stencils at that booth to transfer symbols onto golf balls with markers. We chose a batman logo and a kitty cat.
⛳️Hands-on putting green with kid-friendly obstacles like bright pool noodles, big plastic flower placeholders around the cups and the cutest golf clubs!
Behind the booth,  we played the Girls Golf putting  challenge  for almost an hour.  AN HOUR. That's a lifetime in kid world. The kids were super engaged there and I was happy to sit in the shade of a beautiful tree and snap some pics. 
It was there we met the truly wonderful Coach Coleen who helped the kids play the course. She was so attentive to my pint-sized 3 and 5 year old golfers who have literally never played even mini golf yet.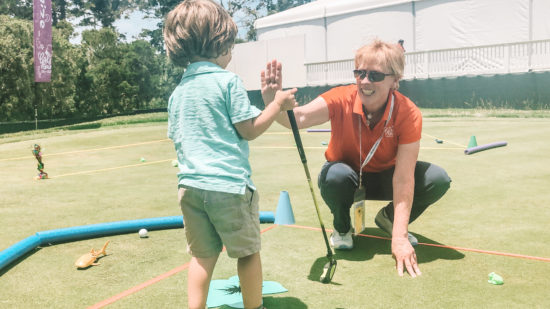 She gave them high-fives, she was direct but kind, and she really got them interested in completing the course (even 2-minute attention span Wyatt). When she helped Wyatt delicately tap the ball into the cup, he quite literally skipped and hopped back to his sister – a big 'ol smile plastered on his little face, He was beaming with pride! I got it on video, and I've watched it about 397 times by now … more or less.
---
---
Another one of the fine folks who helped us was Annie Miller, our USGA Junior Experience tour guide. Working as a communications manager for the organization, Annie is a 33 year old New Jersey mom of two. She showed us around and really helped the kids learn the games. She told us that golf can often be a family sport.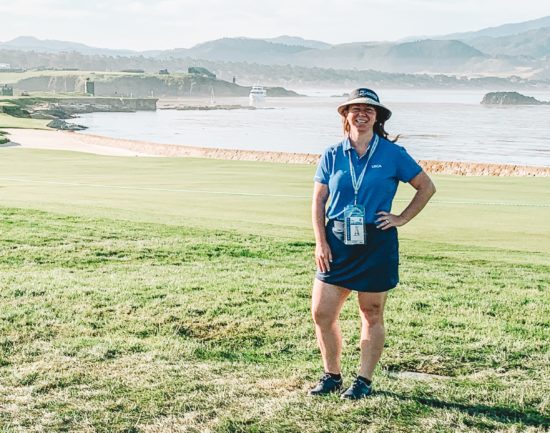 In fact, she got into it to have shared experiences with her dad and sister, who also play.  When she spoke about the sport her eyes shined. And when she helped Clara and Wyatt hold the golf club, her excitement was palpable which made the kids excited and wanting to play more.
It's that one-on-one human connection all around that I loved the most at the Junior Experience! Plus, you know, entertained kiddos. That's always a plus in my book!
---
⛳️⛳️⛳️⛳️⛳️⛳️⛳️
THE FINE PRINT: All activities within the Junior Experience are completely free for all juniors. Complimentary junior tickets are available on-site at Will Call every day during the championship, regardless of a sellout. There is a limit of 2 junior tickets per 1 adult ticket holder. Junior tickets for ages 12 and under are free on any day when accompanied by an adult ticket holder. Junior tickets for ages 13-18 are discounted when accompanied by an adult ticket holder (June 10-12: $20; June 13-16: $40). To pre-register your child as a junior planning to attend U.S. Open, click here. Registration encouraged but not required. Source: usopen.com.
---