NOTE: This story was originally published in the Jan. 27, 2023 edition of online news organization Gig Harbor Now for our new bi-weekly column!
Read on to discover all the fun secrets built into this hidden gem of a playground in Gig Harbor.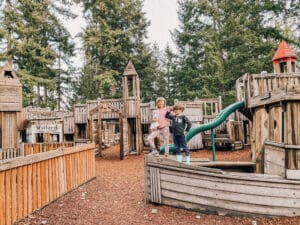 … Tucked behind Discovery Elementary School, The Kids' Gig is a hidden gem playground designed by students and built by community volunteers 21 years ago.
Its design features special throwbacks to the Puget Sound: a towering Fort Nisqually lookout, a wobbly Galloping Gertie chain bridge, and even the Skansie Brothers' mini Shenandoah.
But two decades of play, faded paint and missing parts mean much of that local history is getting lost for Gig Harbor newcomers like us. 
So the kids and I recently set out to rediscover the clues built into the park's design using current pics, internet archives, and historical photos to help bring those cool history features back to light.
---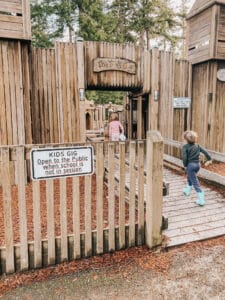 *UPDATE: Lo and behold, someone added The Kids' Gig to Google Maps since the publication of this article. Look at the power of this little column already. First stop, the Kids' Gig. Next stop, save the world! (Haha). 
The Kids' Gig was built in April 2002 as an olive-branch gesture by parents seeking a silver lining for Discovery Elementary School kids who lost their playfield to the construction of Henderson Bay High School.
At the time, parents and school officials debated over the loss of open space where kids enjoyed games of capture the flag. That's when Gig Harbor parents Kathy Hall and Laura Meacham presented a community-built park idea at the school, opening it up to all to bring the community back together.
Today, the park is still set up that way, welcoming folks in outside of school hours.
This kid haven, which news reports once likened to Disneyland, features intricately linked levels of wood-slatted hideaways, monkey bars, and climbers in a castle-like setting. Its overall design, distinctive in its sharply pitched gables and wooden-fort vibe, comes from a portfolio of customizable, pre-packaged playground plans headed by New York designer Leathers & Associates, seen at similar playgrounds around the country. The park was built on the firm's community volunteer model where everything seen there today was fundraised for, donated, and built by hundreds of locals lending their time and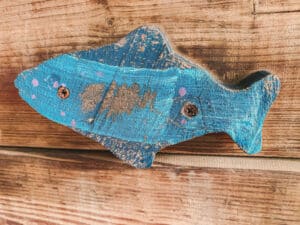 skill. Discovery Elementary kids also helped design it.
The Kids' Gig comes from the same narrow "captain's gig" rowboat from Gig Harbor's own namesake. U.S. Navy explorers used these gigs for smaller scouting missions during their expedition to study and chart Puget Sound landmarks in 1841.
That makes the playground's name really darling, don't you think? Making all the kids there their own little captains of the ship. The local history references bottled up in just the name alone represent the level of wonderfully whimsical touches volunteers gave the playscape in 2002 to make it, unequivocally, Gig Harbor.
---
A Playground Full of Secrets
I mentioned in my last column that my family moved to Gig Harbor in 2021. This playground was one of the first local places we visited when our lovely neighbor Rachel invited us on one of our very first playdates here.
And now, I can say The Kids' Gig is one of the coolest playgrounds we've been to. Ever.
Yep, that's right. It's a bold statement from someone who scouts fun kid places on the regular.
But I stand by it. Why?
It's because … The Kids' Gig feels like a secret.
I say this for two reasons:
First, it's unlisted. Everywhere.
The Kids' Gig isn't on the city's parks website. It's not on Pierce County's parks website, either. Nor is it on PenMet Park's website. It's not even on Google Maps!*
So crazy, right??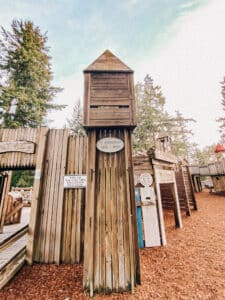 Further, it's so unobtrusively set into the back of its longtime elementary school spot that you can't even see it from the street. 
It's a marvelous mysteriousness that aligns with my second reason for loving this hidden gem: those clues that speak to local landmarks and culture mentioned above. Organizers called them "artistic embellishments," and they dispersed them in paint, signs, shapes, and carvings throughout the playscape's walls, panels, rooftops, and bridges. It's an adventure to scout them out. Sometimes they're hard to spot, but you'll know when you find 'em.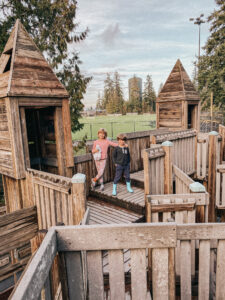 You'll see them in the towering Fort Nisqually lookout as you gaze toward a thick cloud cover and wonder whether the rain is coming, you'll feel them in a wiggly-wobbly shake underfoot while running over the Galloping Gertie chain bridge, and you might even hear them in underground telephone pipes that lead to little wooden speaker boxes inside a mini version of Gig Harbor's old Roxy Theatre marked with an intricately carved sign.
To bring more of this cool, somewhat lost history to light, here's a closer look at those special touches and what (I think) they refer to. 
---
Here's what we found:
---
D.C. Edwards Garage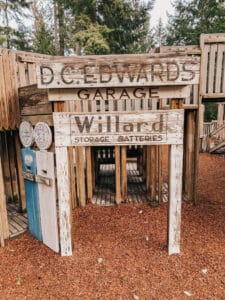 I first saw the secret magic of the Kids' Gig in the two painted gas pump panels to the right of the park's entrance and immediately wondered whose cool vintage garage the installment was named after.
Well, I found my answer in the Harbor History Museum's online photo archives. These paintings are all part of the park's "D.C. Edwards Garage" setup, arguably the most well-preserved painted feature at the playground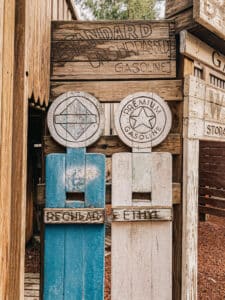 today.
The collection celebrates Dave Edwards Garage, located right around where the Devoted Kiss Cafe is today on Harborview Drive. His sons Ray and Don Edwards are in some of the pictures and so are references to the garage's neighboring business, Finholm's Grocery.
As seen in these original building signs pictured, D.C. Edwards offered  Willard Storage Batteries and premium gasoline two these cool old-timey gas pumps out front.
The archive photos are black and white, so was one pump blue and one pump white in real life?
The museum archive says the garage burned down in 1945. But not before these amazing pictures were taken of the outside of the shop, which appears to be the exact photos the playground's paintings copy. Don't you think? I mean, right down to the smooshed and curvy block lettering for "Standard Unsurpassed Gasoline" carved in a corner The Kids' Gig walls and also photographed here from what I believe was the 1940s. Pretty cool stuff. If you know more about this business, contact me 🙂
---
Roxy Theatre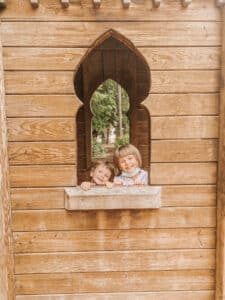 Near the back fence, you'll find a particularly cool-looking tower on the ground level with intricately carved windows (that Clara and Wyatt love to peek through!) and a very vintage-looking sign that reads "Roxy Theatre" posted next to it.
It took some online sleuthing, but The Roxy was one of several names given to a Gig Harbor movie theater built near the waterfront almost 100 years ago. A 2012 post on the Harbor History Museum blog says the building first opened as The Empress Theatre in 1925 and closed as The Roxy in 1955, only to be demolished a few years later.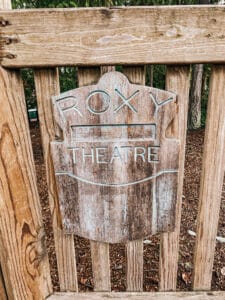 The Northwest Room at The Tacoma Public Library has a super cool picture of the Roxy theater building when it went by another name. But it sports the very same Moorish-style architectural windows that the Kids' Gig version has pictured at left. How fun is that?! The Roxy tower also has one of three pipe/speaker boxes to play telephone on and hear your friends from the other side of the playground.
What volunteer decided to feature the Roxy, do you think? Is it linked to a specific family here?
---
Playground Map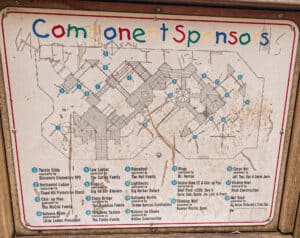 I said above that there's no guide to the secret spots. That comes with the caveat that a sponsor map exists onsite featuring an aerial sketch of the playground. The map has a color key that matches donors to special playground features and their locations. This helped my own sleuthing for sure, but it doesn't give all the answers. Some notes are specific, like the "Galloping Gertie" marked as the wobbly chain bridge. Other labels, however, attribute donors to generically titled features like "Fishing Boat." At first glance, this fishing boat is a broad wink to the city's fishing heritage. But upon a closer look at the actual climber, you'll find a sign nailed into the vessel's boards indicating it's just any fishing boat – but a mini kid-version of the famous …
---
Shenandoah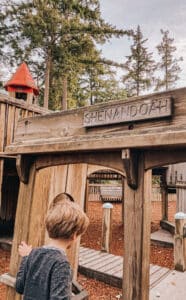 Yep, the little wooden boat-shaped play structure Clara and Wyatt are pretending to be captains of in our cover photo is in honor of Gig Harbor's  Shenandoah fishing boat built at the historic Skansie Ship Building Co. in 1925.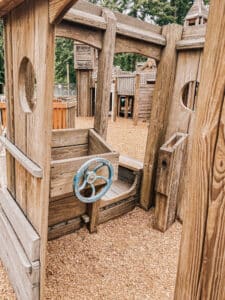 The Harbor History Museum is currently restoring the 65-foot vessel. Back in April 2002, the boat wasn't being worked on yet. A News Tribune article that month quoted Hall saying: "The Shenandoah will be in the new Historical Society Museum so we think it's kind of cool that kids can come and play on the structure at school and then go and see the real thing."
Guess I know where I'm taking the kids next!
---
Pictographs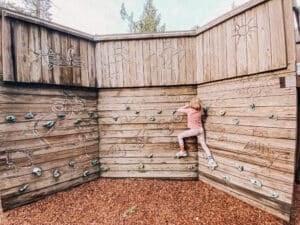 Stunning re-creations of ancient rock paintings inspired by real-life petroglyphs found around the Northwest adorn the playground's three-panel climbing wall. The figures were researched and painted in 2002 by Stephanie Lile, now director and curator of the Harbor History Museum. News reports at the time photographed a 2002 park volunteer drawing the pictures in chalk first, so they could be carved and painted later. The pictures are still there today and in pretty good shape!
---
Galloping Gertie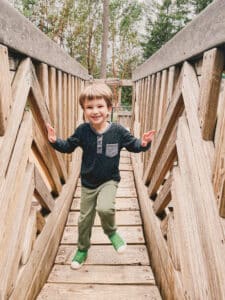 Volunteers cleverly paired a common playground staple with one of the most iconic Puget Sound landmarks when they decided to make a wobbly playground chain bridge in the likeness of the  Galloping Gertie. Construction workers on the first version of the Tacoma Narrows Bridge coined the Gertie nickname for its up-and-down rollercoaster moves that popped up in high winds. It was those blustery conditions paired with poorly designed bracing that led to Gertie's collapse in 1940.
Lucky for us, the sturdy craftsmanship (and intentional wobbles) of The Kids' Gig bridge beat out Gertie by two decades. The playground one is still standing while poor 'ol Gert resides deep in the cold depths of The Narrows. The new pair of Tacoma Narrows Bridges currently connecting Gig Harbor and Tacoma debuted in 1950 and 2007, respectively, and thankfully haven't taken on the Galloping Gertie nicknames thus far.
---
Named Fence Pickets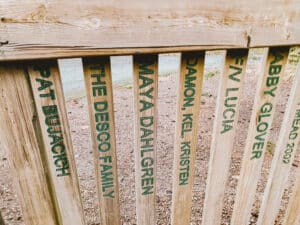 Fence pickets were one of the major fundraisers, too. For $40, local donors got their name, the name of a loved one, or the name of their company engraved on the picket fence boards that box in the playground. It's fun to walk around and look at all the names, some belonging to longtime Gig Harbor families I recognize from history books.
---
The Lighthouse
This red-topped tower with a base chunkier than the rest took an extra bit of head tilting to see beyond its faded paint job and broken detailing before I realized it was a lighthouse. It was the little circle window I'd previously missed that eventually clued me in. So, a lighthouse it is! A classic Puget Sound staple. But … which lighthouse? Do you know? Let's talk! If you have the intel on this lighthouse mini mystery, DM me on Facebook or Instagram so we can solve this thing once and for all.
Previously discarded ideas were the time-capsule statue lighthouse at the Gig Harbor sandspit entrance — but older photos of its installation don't show it with a red top.
My other idea was perhaps Fox Island's Tanglewood Lighthouse building (which according to the Fox Island News Facebook group was actually an office/infirmary for the 'Ta-Ha-Do-Wa' boys camp). But older photos of the rooftop of that structure aren't red either!
Help a girl out here.
---
The Kids' Gig Secret Website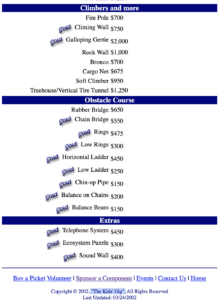 OK, so it's not really a secret. But the site, last updated in 2002, was taken down over the years while its screengrabs remain available on the Way Back Machine's internet archive). And it's fascinating. To the left, is a list of all the play features volunteers sought donations for. Similar pages list the inclusion of a maritime history wall, fishing boat, ecosystem puzzle, the Galloping Gertie, and the lifecycle of a salmon.
I don't think the maritime history wall is still there, or the ecosystem puzzle.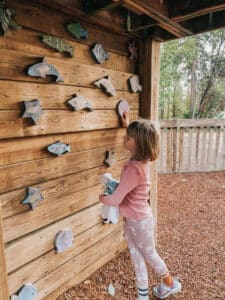 What do you think? There are some neat wooden fish installed under one of the upper walkways near the lighthouse, which could very well be the remnants of a former salmon life cycle display.
There's also a column of teeny-tiny thumbnail pictures on the left side of the homepage I'm convinced are generic shots of other playgrounds not specific to Gig Harbor. If you squint your eyes and look at the lighthouse photo — it's astonishing to study because of how detailed and colorful it is! I couldn't help but wonder (like Carrie Bradshaw) if The Kids' Gig lighthouse once looked like that, too.
---
The Stump House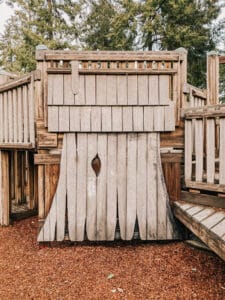 Look for this wooden panel shaped like a tree house opposite the lighthouse. Could it be the Guillemot Stump House near the Hood Canal? It's not exactly uber local to Gig Harbor, but it's a roughly 45-minute drive from the park, so the panel could very well be the hollow Western Red Cedar stump currently standing tall, slanted and oh-so-whimsical at the Guillemot Cove Nature Reserve just outside of Seabeck.
Now, you may be thinking "Duh, Tonya, the sign beside it clearly says "The Stump House." To that, I'd say, the sign doesn't indicate Guillemot specifically. However, this one does have a distinctive hole in its trunk, near the middle. Which seemed … oddly intentional. When I Googled it, the Hood Canal's tourism website explains: "The notches carved in the large stump also gives evidence to springboard logging practices, which dates the stumps creation to the 1890s."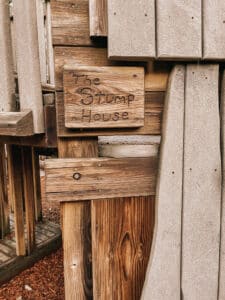 Interesting!
But I don't know. This whole "stump house" phrasing is new to me. Maybe someone's last name is Stump? Or, maybe stump houses are an everyday occurrence here in Washington? Or, maybe Oprah is standing on every Pacific Northwest forest trail declaring, "You get a stump house! And you get a stump house!"
There's really no way for me to know for sure. So if this artistic carving work is yours — please get in touch with me. 
---
The Netshed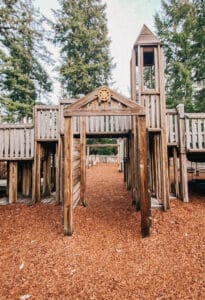 At least, according to the sponsor map, I think this is the location of the Netshed. The construction of a net shed is an extremely charming throwback to Gig Harbor's maritime culture, where commercial fishermen stored their varied collections of nets and ropes to hang and dry in these long narrow buildings along the waterfront.
But which local fishing family does this net shed represent? Some sort of yellow family crest, set into a ship bow (with most of the rungs broken off), adorns the top.
If you know, let me in on the secret, please. These are the questions that keep me up at night.
---
Tile Towers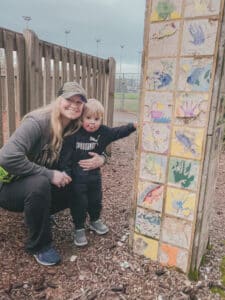 On a recent day at The Kids' Gig with Clara and Wyatt, I was busy snapping pics and lifting tiny bodies up to reach the monkey bars when a woman walked up with her 2-year-old son. Then … she knelt down to show him her very own tile she painted 21 years ago! And it's been permanently installed on one of two art towers at the park's entrance. What luck! I ran over to her and practically tackled this poor woman with excitement and questions and got her name and age and hometown and snapped of pic of her, too! (I'm totally laughing at myself for this).
She was Ashley Shatto, 28, of Artondale. And her son was the adorable 2-year-old Cason.
Shatto was in Ms. Foster and Mrs. Williamson's 1st/2nd-grade split class at Discovery Elementary School when she and her classmates painted special park tiles to celebrate the playground's highly anticipated opening.
Her piece is outfitted with a colorful rainbow, a bright yellow sun, and a cute little heart and flower for good measure.
"I picked that scene because that's what I wanted for the playground and for all of us students," she told me later. "A beautiful sunny day so we could try out the new playground."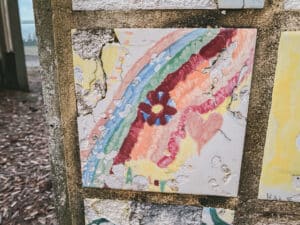 She also talked about "what an incredible privilege it's been to be able to live in the same town where I made my small mark on the Kids Gig nearly 21 years ago." Isn't that so cute? And now she gets to show it to her baby.
"It's such a unique and beautiful playground and it brings joy to so many families in the area, so it's definitely an honor and a source of pride for me that I get to tell my son that I was part of building all of that," she added. "I'm just so grateful I get to say I was there when it came to be."
Such a sweet note to end on. So here's to many more years of playing at this park and learning its secrets!
See ya out there!
---
All About The Kids' Gig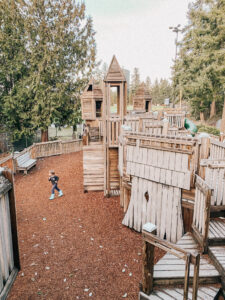 What it is: An all-wood playground with slides, monkey bars, and towers designed for children ages 5 to 12. Hundreds of community volunteers built it in 2002.
Find it: At the Discovery Elementary School campus, 4905 Rosedale St. NW, just north of the school building. To get there, park in the main lot and walk past the United States map painted on the blacktop. Make sure you and the kids jump on all the states you've been to before heading through the open chainlink gate and then left up the hill alongside the soccer field on your right. The playground will be on your left just past the basketball hoop below.
Hours: Open to the public, outside of school hours. Closes at dusk.
Tips: No restrooms, not visible from the street, no website, and a couple of tire swings instead of the regular. See sign at left for park rules.
---