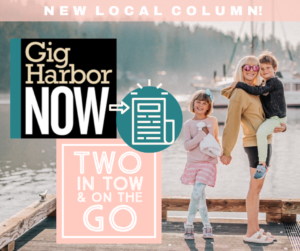 I'm happy to report that my very first Washington newspaper column is on the cover of Gig Harbor Now today.
In fact, my blog posts will regularly appear in this hyperlocal news site as we officially launch a
Two In Tow column
twice a month to tell stories about places to take kids in and around Gig Harbor. Our inaugural story with these fine folks is all about Crescent Creek Park and all the cool features there, including a giant seashell climber from the 1970s!
It makes my heart happy to be part of
a newsroom again
.
It's a really great group of journalists, too.
---
Gig Harbor Now is an all-online news site that operates on the nonprofit news model through the Institute for Nonprofit News (INN), complete with a local board of directors.

This newsgroup is made up of freelance reporters, copy editors, editors, and more – many of which have big-newspaper origin stories similar to mine. We're coming from formerly large publications that were slashed and gutted over the last 10 years as the entire news industry drastically shifted beneath our feet (and continues to do so).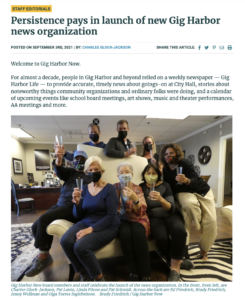 And yet, we persevere. In fact, this particularly enterprising group of journalists started the GHN venture last year with donors, a local board, and a mission statement "to create and sustain a community-supported nonprofit news organization that informs, educates and connects our community." Readers love it! It has really taken off locally. (Pssst., they take donations, too!)
(UPDATE: Gig Harbor Now has been nominated as Nonprofit of The Year by the Gig Harbor Chamber of Commerce. The winner will be announced at the chamber's annual awards gala planned for Feb. 25 at Ocean5. How cool is that?!)
---
The column collaboration all began when the GHN editor Vince Dice — wait, pause, how irrefutably Hollywood-level cool is his name?! Vince's parents know what's up.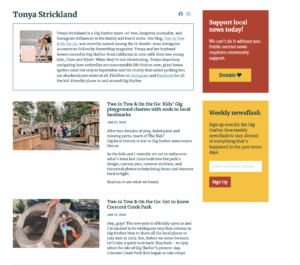 Anywhoo, so Vince walked up to my Uptown booth on Halloween and so graciously said what I do here on Two In Tow is a great fit for Gig Harbor's local readership. I think he even called it an asset. SO COOL. Then we met up for coffee a few weeks later and that was that! (Well, minus a few Facebook interactions of me totally fan-girling over some of their story posts, but we don't have to go over all that lol).
I'm looking forward to being
part of their team,
reaching more families with ideas on places to go and things to do, and getting involved in our new little community here by default.
---
 Clara and Wyatt are excited to have their picture in a publication again, too. 
(Two in Tow was featured as a monthly print column from 2017 – 2020 in Paso and Atascadero magazines before we moved to Washington).
✿