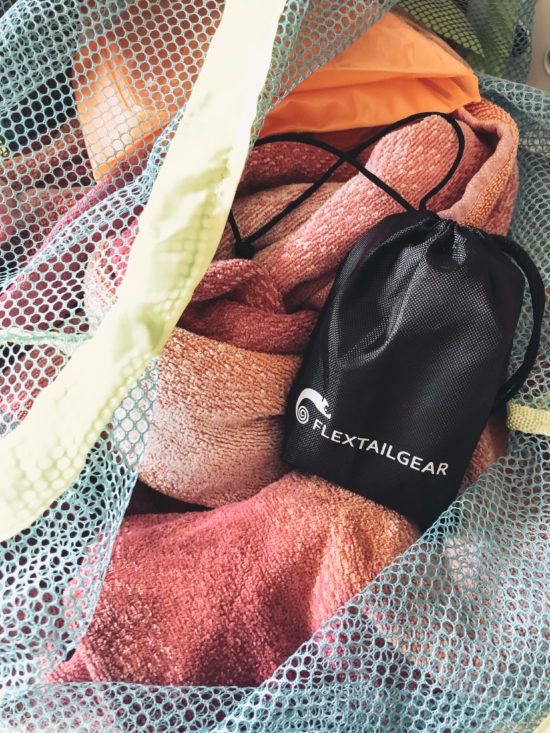 Today we're reviewing the Tropo Air Pump. This little dude is a small, battery-powered cube that's designed to inflate pool toys on-the-go.
Perfect for us!
We were given one compliments of Tropo in order to share our experience with it.
---
This post is sponsored by Tropo. All opinions are my own. Please see my disclosure.
---
Things The Tropo Air Pump
Is Designed To Do:
Pump up pool toys, an air mattress or a yoga ball.
Suck the air out of vacuum-sealed bags.
Aid as an air combustion tool for the barbeque  (idk about this one personally – that's something I'm not going to try. Lol).
Blow away dust.
To be clear, I only tried this on pool toys. The other recommended uses seem handy, but not particularly applicable to my life right now. But I 100% see myself popping the pump and its handy travel bag into our beach bag this summer.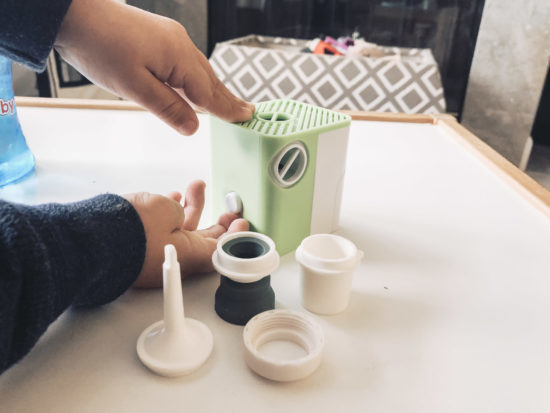 A Closer Look:
This pump has two ports and an on-off switch.
One port is for sucking in air and the other port is for blowing it out.
The pump comes with three plastic nozzles, each designed for specific inflatable types.
All the parts fit inside the little drawstring bag with the pump.
It takes four, AA batteries to operate.
Our Experience
We used it to blow up the kids' bright orange arm floaties.
The pump inflated one arm floatie in a few seconds, but it required a couple of my own breaths to make the floatie tight, if that makes sense.
We also tried blowing up a party balloon with it, but the pump didn't work for that. To be fair, it doesn't say anywhere on the box that this pump would blow up a balloon, and hubby says it takes a lot of power to do that. But, still, I thought I'd try because I hate having to blow up party balloons lol.
But to be able to take it to the beach with us and blow up a beach ball, for example, is going to be super fun. And then being able to deflate it for easy packing! Another blogger I saw said they used it as a fan on hot days. The perfect summer accessory.
I'm also excited to try this pump on our air mattress when my dad comes over to visit. I'll update you on how that works out!
---
This pump is $18 with free shipping at the Micronovelty website here.