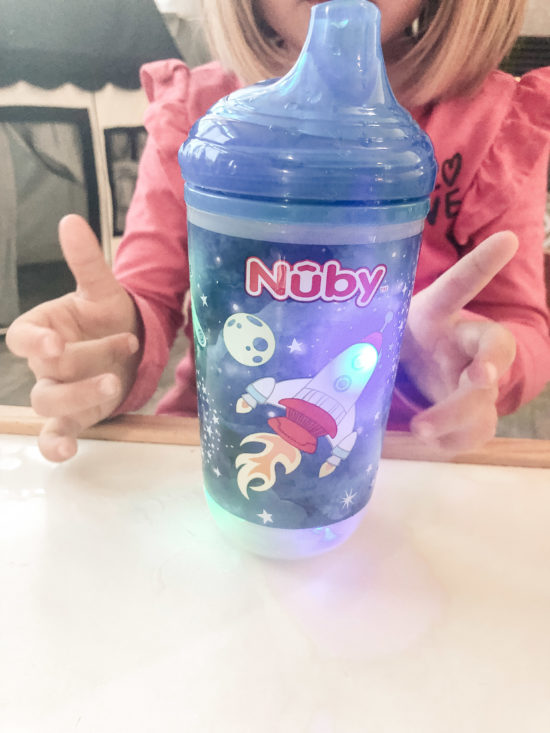 UPDATE: Since posting this review, I've received numerous complaints from my readers with concerns about this cup regarding safety and design:
One camp says kids (and adults) can't drink the water from the rim of the wonder cup, as designed. Apparently, the water just doesn't come out on some versions.
While the other camp says the light-up function is dangerous when leaks occur. Here are their comments (copied from the comments section in this post) for a closer look:
The inside cup leaked I put juice in it 30 minutes later I tasted it and the juice tasted like the battery. My baby loves it but it's really dangerous.
My baby lives the cup but the inside cup cracked I filled it n 30 minutes later I tasted it and it tasted like the battery very dangerous.
No one in my house can sip anything through the easy sip/bite-proof sippy. What am I doing wrong?
I just bought that same cup for my son and having the same issue. Not even the adults can sip anything through these cups.
I've forwarded these comments to Nuby USA's Online Community Coordinator asking her how we can get these concerns addressed. I always appreciate when readers reach out to me!
She responded that anyone who has issues with this cup can please call/email her directly so she can get more details on the problems with your product. Please let me know how this plays out!
Vanessa M. Eppinette
vanessae@nuby.com
Office:  318.338.3132
Cell: 318.789.2670
---
Today we are reviewing the Nuby Light Up Easy Sip Cup and the Light-Up 360 Wonder Cup. These cups are about $5.99 and $7.99 at Walmart and Target.
We received these products compliments of the brand, but all opinions are my own. For more information, please see my disclosure. We were gifted four cups in this series, two patterns of each type.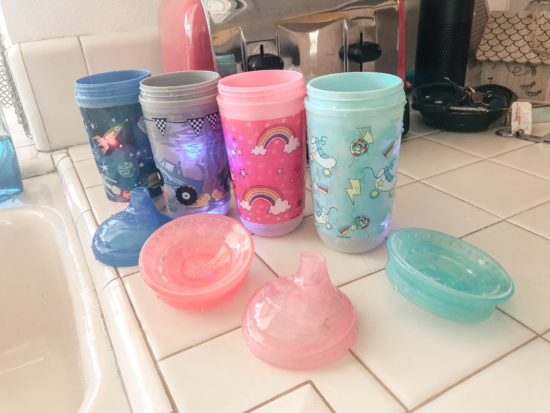 The patterns are:
Light blue with retro roller skates with a blue 360 lid
Pink rainbows with a sippy spout
Grey monster trucks with an orange a 360 lid
Navy blue rocket ships (the coolest, in my opinion) with a sippy spout. I legit just love the way the rocket ships light up on this pattern. So cool.
First up, the Nuby Light-Up Easy Sip Cup has a traditional wide-mouth plastic spout.  It's designed for ages 6 months + and fits 10 oz of liquid.
Here's a closer look:
No-spill construction
Double-wall insulation keeps drinks cold longer
Fun patterns
---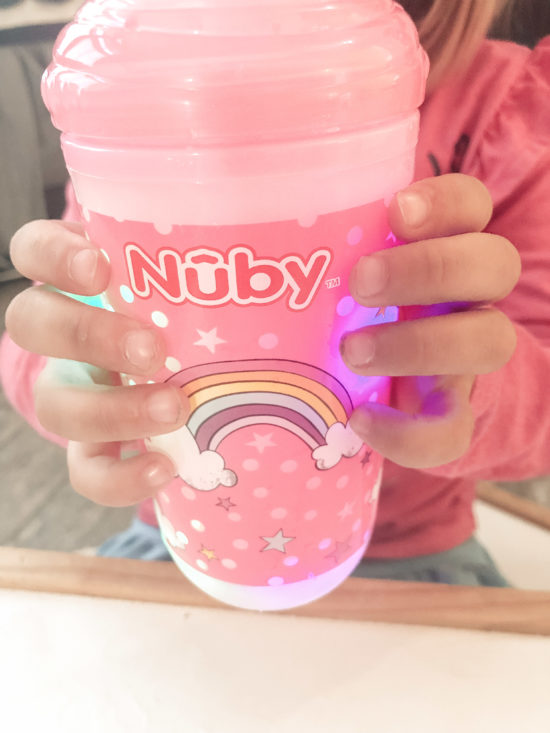 Speaking of fun patterns, Clara chose this bubblegum pink rainbow print with clouds –  and is totally smitten with it.
The lights are super bright and shine pink and green. After you tap the bottom of the cup, the lights blink for maybe 30 seconds until it's time to tap it again. Which, needless to say, the kids love doing.
---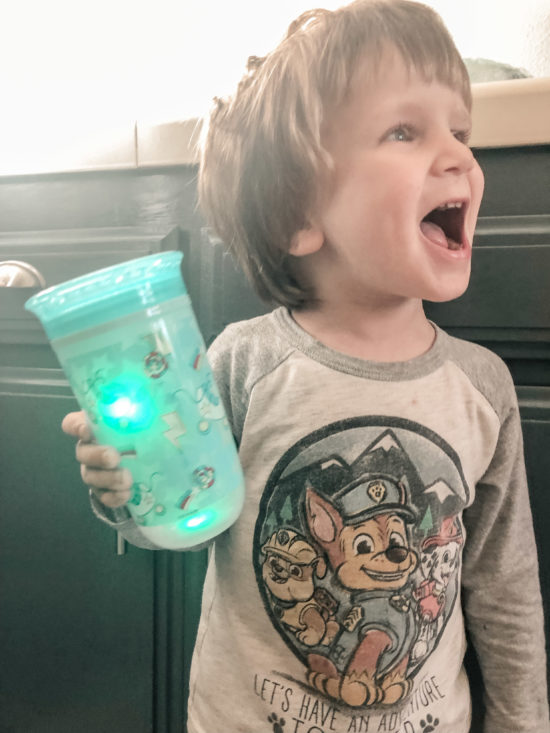 A closer look:
 12 months +
10 oz / 300 ml
Hygienic cover
Double-wall insulation
As a 360 cup, the design features a circular silicone top where the kids sip the water from the sides of the rim. The strawless technology helps my three and five year olds feel like big kids without me actually having to break out the  "big kid" cups.
---
Leaks
The cups have a tendency to leak. Not in their structure, but in their function. You see, since the kids hit the bottoms of the cups on the table in order to get the lights to flash, it makes the water kind of shoot upward and splash out. Wyatt for sure got a stream of water to the eye, which kind of made me laugh 🙂 But they don't leak when they're tipped upside down, for example. So I guess it just depends on your kid. Still, I wish there was another way for the lights feature to work.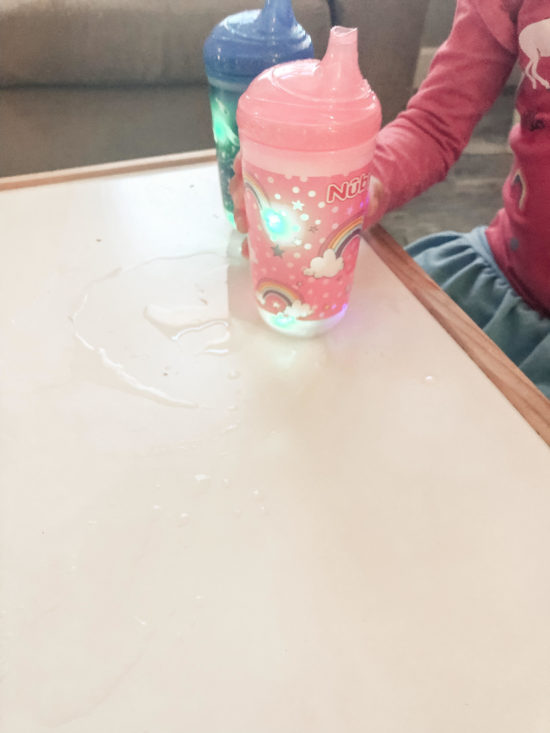 Cleaning
Both types of cups are easy to clean with a sponge and dish soap and still light up under running water (and afterward which is always a good thing, lol).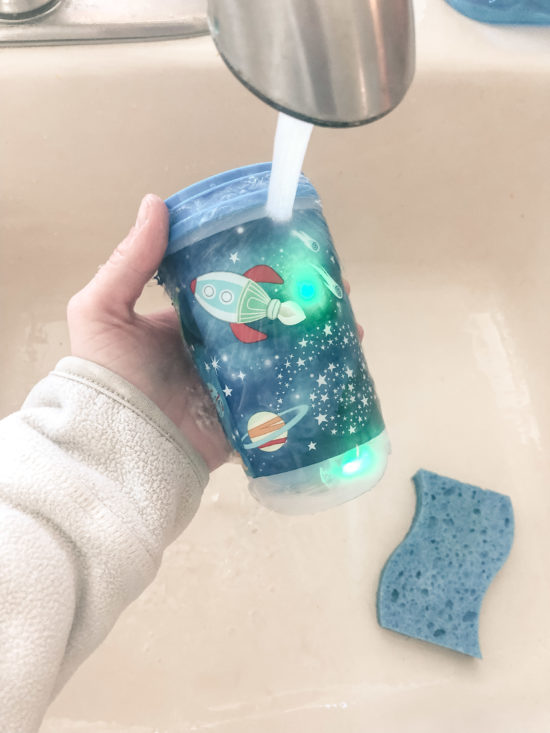 The one thing I'm not a fan of is the instructions say the cups are not dishwasher safe. They're still pretty easy to hand wash, I just hate hand washing lol.
As a Nuby Parent Blogger, I'm part of the brand's selective group of mommy bloggers chosen to show you some of its latest products in action. You can see my Reviewer Badge page and the network of other Parent Bloggers here.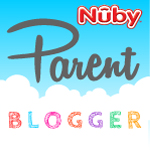 Here's how you can stay in touch with Nuby for new products and updates: