It started with a question, as many stories do, when one year ago I asked the internet what this little boarded-up building at Fox Island's Bella Bella Beach was about.
Turns out, others also wondered. Because now the Mystery at the DeMolay Sandspit Part I is my #1 most popular post on the blog! (Quite an upgrade from the previously top-ranking sippy cup rant of 2019).😜
Because who doesn't love a good mystery?? Plus, with that first post, not only did I get my answer (see below), but in writing it, I also fell down the rabbit hole into one of my most fascinating deep dives into local history.
And now that new information on the future of the sandspit's three existing buildings came to light this summer, I've decided it's time to share the second piece to one of my favorite puzzles.
Here's Mystery at the Tacoma DeMolay Sandspit, Part II:
---
A Special Place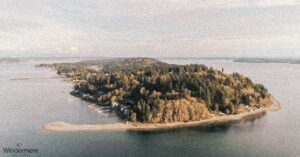 My first post detailed how Washington locals love the Tacoma DeMolay Sandspit for its water, piles of twisty driftwood, and unique sliver of pebbly shoreline along the wind-swept Puget Sound.
The beach is truly special — truly unlike any place I'd ever been.
But what's more, the sandspit also has a fascinating social history full of mystery and intrigue.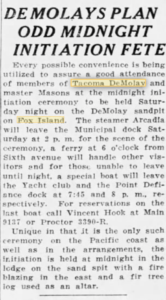 And that's because the sandspit got its very name from a masonic organization for young men looking to gain leadership skills. They held initiation ceremonies, worked with their hands, and hosted giant campouts on the sand for nearly a century.
Also in the original post, I dug into what the Masonic Order of DeMolay is/was, describing it in a very tip-of-the-iceberg way as an exclusive membership-based fraternity for young men aged 12 to 21 with hundreds of chapters worldwide boasting fancy alumni like Walt Disney, actor John Wayne, and broadcast journalist Walter Cronkite.
Over their next 70 years, the young men of Tacoma's fairly shrouded freemason social circles built what I have come to call the "three mystery buildings" on it, and spent their days and nights tasked with club rituals, fulfilling traditions, and taking planned excursions (stay tuned for Part III about what DeMolay club life was all about … including those midnight initiations!), and then sold the whole site for a cool $2 million to public rec agency  PenMet Parks in 2010.
The rec agency has since made the sandspit into a public nature preserve, and now anyone can go there from dawn to dusk. Today, visitors use the spit for access to the Fox Island waterfront, picnic areas, beach walks, bird watching, and as a walk-in launch point for kayaks.
I have so much fun stuff planned for Part III of this series, but first, we must define the buildings on site, the plans for them, and what happened inside them.
---
Plans for the Buildings: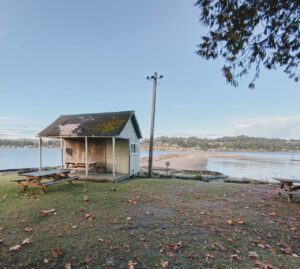 Beachtime amenities are fun and all, but it was the three old buildings, each intrinsically tied to the land's unique history, that kept me wondering about the sandspit long my first visit last year.
That's why I was excited to see the structures mentioned in Gig Harbor Now's June 27, 2022 news article. That is – until I realized what the story was about. It details PenMet's' plan to remove two of the three buildings from the 3.5-acre site in a large-scale maintenance plan slated to begin this year.
But, wait …. remove them entirely???
I'll try not to be too sad about this revelation, but it's going to take some effort. My first step in understanding things is to research them.
---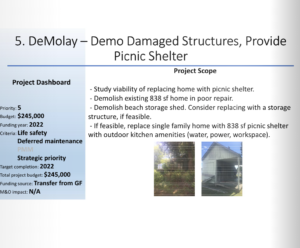 The news article sourced PenMet's 2022 Budget Plan for the details. Being the former crazy government reporter I am, I also looked up those documents for my mommy blog lol.
From what I can tell, the agency plans to do the following:
1. Demo the "storage shed" (former snack shack/my well-loved building that started this whole three-part mystery) and possibly build new storage in its place.
---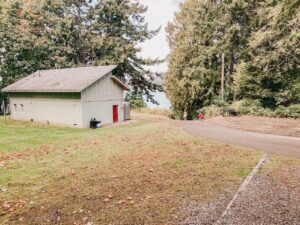 2. Save/Renovate the two-story green building dubbed the "Calligan Castle." A historical marker on site said the castle/ clubhouse was built in the 1960s.
SIDE NOTE: I'm happy to see the word 'renovation' next to the castle plans. Located just off the walkway from the parking lot down to the shore, this particular building has many names: the castle, the bunkhouse, the blockhouse, the Calligan Chalet and possibly others.

---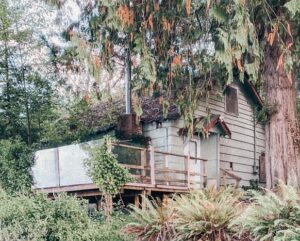 3. Demo the 838-square-foot haunted house-looking structure I haven't written about until now. It's currently caving in on the hill above the sandspit's eastern shoreline.
---
DeMolay Caretaker House
I recently discovered that this very home in question is the long-abandoned DeMolay Caretaker House. (Not to be confused with the Park Host house PenMet evicted from the site in 2021).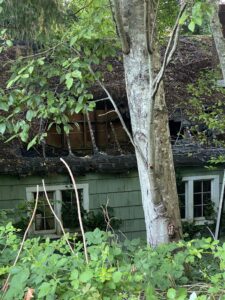 In my first post, I hadn't written about this house, which dates back to at least the 90s, because I didn't know:
1) If some crazy hermit man lived in the house and would come after me if I walked up to the windows snapping iPhone pics, like I did with the shed.
2) Whether the house was even part of the nature preserve. There are quite a few private properties right along the shoreline.
In favor of self-preservation always, I took note of items 1 and 2 because I sure as heck wasn't going to trespass into some shady overgrown corner of spikey shrubbery and spider webs with my two small children for the sake of research. (Remember the time I told you about when I almost walked into a murder's house as a newspaper reporter? Yeah. Not fun.)
---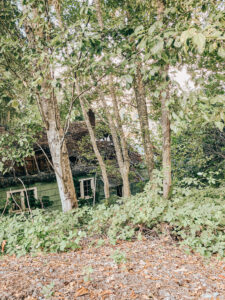 But now I know lots more about the house! What a difference a year makes. PenMet plans to replace the house with a picnic shelter sporting a cooktop, running water, and power.
Read on for more deets about the Caretaker House's history, including an account from the last person who lived there.
---
Calligan Castle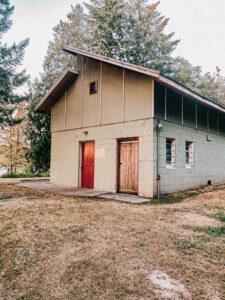 But first, let's round back to Calligan Castle, real quick. The green building at the property's center is important so I can properly introduce to you Reader Zak Smith, my new email BFF, and a former Tacoma DeMolay member. He told me he helped add a second story to Calligan Castle in the 90s. But he said the boys always called it "the blockhouse." They also put a plaque on the stairs naming the second floor "Haynes Loft" after the late Howard Haynes, a DeMolay advisor and former site Caretaker.
---
Here's how Zak describes Calligan's Castle/the blockhouse:
"There is a kitchen, bathroom, great room and sleeping loft in there. We used it for cooking,
showering, sleeping and playing card/board games if the weather was really bad. We generally didn't spend much time in there, especially when I first joined. It got really gross around the time I joined. It wasn't maintained properly so the roof was rotting and the water and electrical didn't always work right. When I was about 14, we went out there and cleaned the place out so we could go in it without being grossed out, but it needed serious repair.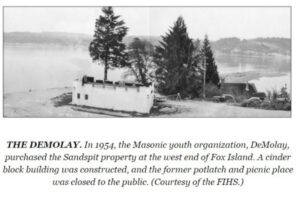 At the time it was just one floor with a kitchen and the main room. the bathrooms were accessed through an exterior door. The roof was a flat roof and was made to actually look like a castle with cinderblock ramparts and everything." (check out this 1954 photo of the blockhouse to the left!)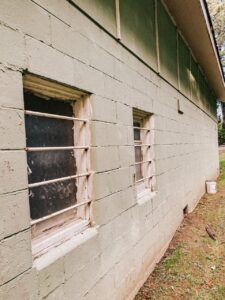 "Several of the advisors worked in construction. My dad is a plumber, Dan (Thomas) is an electrician, Cappy MacIntire was a carpenter … so we decided to do a big remodel. We built the loft and moved all the bunk beds upstairs, merged the bathrooms into one and made it accessible from the inside, and redid all the plumbing and electrical. We officially renamed it the Caligan Chalet, but just kept on calling it the blockhouse.
There used to be a volleyball net on one side of the blockhouse and a flagpole on the other. There were stairs going up from the blockhouse to the sports field (now the parking lot) and another set of stairs going from the back of the blockhouse to some trails."
So many memories at the castle!! Yep, it'a gotta stay!
---
Worth Keeping?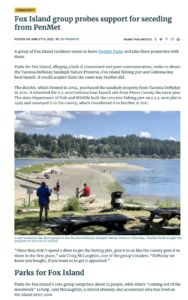 In reporter Ed Friedrich's Gig Harbor Now article, he writes about a community group that wants to acquire the sandspit from PenMet so they can fix it up themselves instead of waiting for the larger agency to do it.
Channeling my inner Carrie Bradshaw, "I couldn't help but wonder" if that local group had any interest in saving the old buildings.
When I asked a Fox Island Facebook group whether the sandspit structures were local gems worth keeping, I got a resounding NOPE NOPE, NOPERS.  😂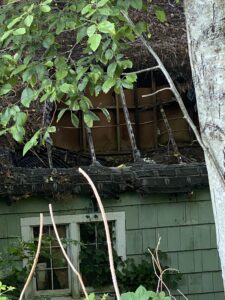 One woman told me she used to live next to the DeMolay Caretaker House and agreed that it needs to be torn down.
"That old house is filled with bats and rats," she said. "Not safe for anyone."
Another gal commented: "I don't think that house is recoverable. The roof is caved in, and everything inside I'm sure is moldy and awful."
---
The Caretaker (the DeMolay advisor who lived in the onsite house) was a central part of the sandspit, according to Zak:
"The Caretaker (Howard Haynes was the Caretaker when I was young, Dan (Thomas) took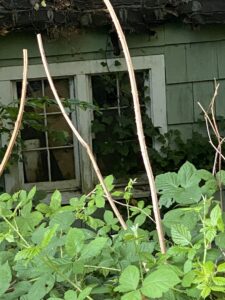 over from him) would come up with a list of projects that needed to be done while we were there. Usually things like heavy yard work, major repairs, major clean-ups, etc … Things that were too big for him to do. Howard was in his 70s when I knew him. He would mow the lawns and chase trespassers away for the most part."
Dan Thomas himself wrote to me and said "I lived in the lower house as the Caretaker for the camp in the early 2000s. Also helped with all the buildings." I'm patiently awaiting more deets from him on what it was like actually living there.
---
I'm not particularly attached to the Caretaker House, but I do know of at least two cases of public curiosity over it, which I thought were fun.
One of those individuals commented about the house on my first post, saying she'd love to know what it was. And the second, a local mom, said online that she and her kids made up fairytales about who could live there – including a grumpy Sasquatch 😊. I think she and I could be great friends.
Even still, after learning more about the Caretaker House's shabby structural state, I agree it makes sense to tear that one down for public safety.
---
Cappy's Kitchen
But, that little moss-topped building? Let's have that one stay. It's what inspired these posts, after all. Plus, I now know it's name:
---
Zak told me he helped build the snack shack in the mid-2000s, dubbing it "Cappy's Kitchen" in honor of the late Cappy MacIntire, a local carpenter and Tacoma DeMolay chapter advisor.
When it was new, Cappy's Kitchen was equipped with electricity and a refrigerator. But with its construction dating back only a couple of decades, Cappy's Kitchen certainly doesn't qualify as historic (however comma – you have to admit it has an adorable name). But its iconic stature at the face of the sandspit sure gives the beach a certain charm.
Plus, there's my own nostalgia!
I remember standing on my tippy toes last year, my arm stretched above my head, pressing my phone against the scuffed-up and foggy glass of the shed's too-tall windows to catch a glimpse of what was inside.
Reflections clogged the images quite a bit, so I took pics through the cracks of its wood-slatted walls. I was sure my iPhone trick would reveal the skeletal remains of the body I feared was certainly inside, for it only to find … kayaks 😅.
Ok, ok, maybe I've listened to one too many true crime podcasts. Zak said he isn't even sold on Cappy's Kitchen keeping its foothold on the site.
"I was actually never a fan of the shack, to be honest," he wrote me. "I thought it spoiled the view."
---
View or not, I'd still like to see Cappy's Kitchen stay.
What do you think? Comment yay or nay below!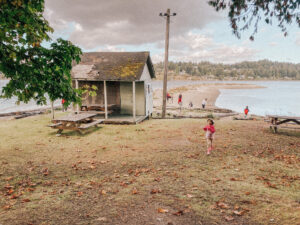 ---
Stay tuned for Part III of this series, detailing club life in the mysterious DeMolay!