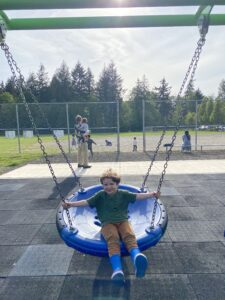 A tall tower slide, a friendship-making disc swing, and a stone monument honoring local WWII veterans make this park a fast fave.
Read on for more details about all the things we love at Kenneth Leo Marvin Veterans Memorial Park.
---
Intro
Veterans Memorial Park is (currently) Clara and Wyatt's favorite local playground. Coincidentally, it's ALSO the closest one to our house. Score! There's a small tot lot here but overall I'd call this a "big kig" park due to the height of the main tower.
Located at 3580 50th St. Court on the wesr side of Gig Harbor's city limits, Vet's Memorial Park has its own parking lot plus lots of street parking. Bring visitors because you'll also find a WWII monument there along the sidewalk next to the parking lot entrance into the park. It's designed to honor local veterans  – with many names inscribed at the base. The statue was relocated to the park from Harbor Ridge Middle School, and the old Gig Harbor Union high school before that. The monument is from the 1940s!
The park's namesake honors the late Kenneth Leo Marvin (1921 – 2006), a Marine Corps veteran and longtime Gig Habor volunteer. Marvin also fought in WWII before being captured for 1,354 days as a POW. Afterward,  he returned to Gig Harbor to raise a family and join the commercial fishing industry. (Check out his bio here; scroll to the bottom).
---
PLAYGROUND FEATURES WE LOVE
Hand grabbers to climb UP the slide + a super tall slide tower
What's one unpopular parenting opinion you have?
I think I've said this before on her, but mine is we're 100% climb-up-the-slide people. While I'm slightly cray about water safety (and bridge safety, apparently), I part ways from helicopter-parent territory because I can't stand watching other parents constantly nagging their kids about not climbing up the slide.
They're kids. They'll figure it out.
If another kid comes down the slide and your kiddo gets a face full of sneakers, they won't like it and will remember to wait next time. If your kid is at the top of the slide and is the little stinker that slides down when someone is climbing up, that's a teaching opportunity for manners. The people who made the giant slide tower slide get it. I know they know (that we know they know we know) because they've made the only slide I've ever encountered that boasts hand slots on the slide's outer walls.
I didn't even realize they were there until I was going down the slide and ran my hand along the outsides and almost broke a pinky bc my fingers caught the gap while I continued forward. (So be careful of that last part.) The finger incident is a minor transgression that I forgive the slide people for since they encourage curious little climbers in their designs.
Ps. I don't think Bowen is a climb-up-the-slide person. But that's OK. As long as we don't go to the park together LOL.
---
Super fun XL disk swing that fits 4+ kids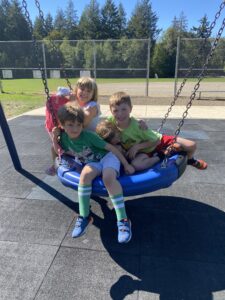 Clara and Wyatt always make friends on this swing bc they all gather here and take turns pushing the disk or swinging on it together and it's really just the cutest ever.
---
Decent restrooms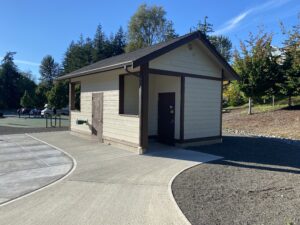 There's one restroom stall per gender (or maybe it's two all-gender placards now, I forget) so there's a wait but it's also nice for keeping an eye on your kid. Also, hooray for washing hands at a real sink.
---
Scary rope climbing thing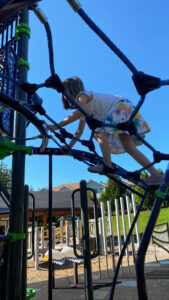 Look all good things, when I say scary, the kids say fun. Lol.
Clara (9) and Wyatt (7), love this climber on the tall tower. It's scary for me bc it's taller than I am, so if the kids fall, they're probably tumbling into my face rather than me catching them. But fingers crossed they've got strong coordination muscles from all those years of climbing up the slides 😀
---
A massive shade structure with tables
The sheltered picnic area is a great spot to sit if your kids let you do that sort of thing 🙂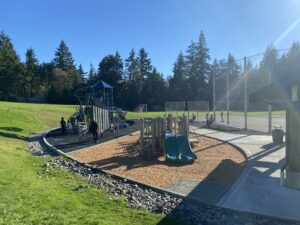 ---
IF YOU GO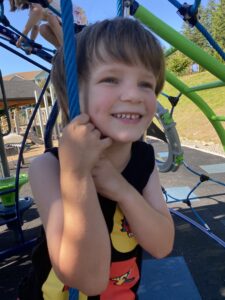 Address: 3580 50th St. Court
Hours:
Restrooms: Yes
Run by: City of Gig Harbor
Size: 5.57 acres
Bonus: Half-court basketball area, combined baseball & soccer field with bleachers, WWII veteran monument
More Info: General Parks Info: (253) 851-8136 // Park Website 
---