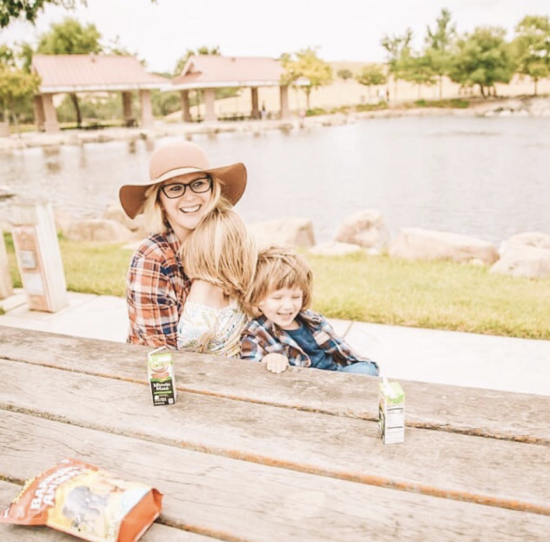 Remember that summer post when I announced that we're the face of the City of Paso Robles' Fall Rec Guide? Well, the city's influencer campaign (involving us!) won a state award!!
---
Not only were we on the cover of the rec guide that was mailed to 14,000 residents, but we were also part of the city's widespread fall influencer campaign. And I've never felt so cool.
The award is the 2019 California Park & Recreation Society Award of Excellence for Marketing & Communications.
The awards presentation will take place at the annual California Park & Recreation Society  Awards Banquet Friday, March 13, 2020 at the Hyatt Regency Long Beach — and I'm soooo going!!
This all started when Heather Stephenson of Paso's Park & Rec Department asked us to participate in the city's Fall Rec Guide.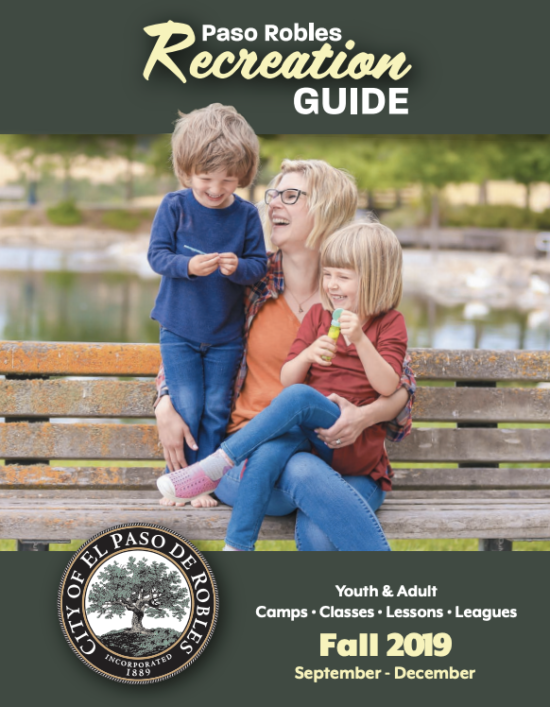 We all got together at Barney Schwartz Park to take fall pics in flannels with pumpkins and picnics on the grass. A professional photographer was there and it was so much fun! Heather used to work for Nickelodeon so she knew all the tricks for getting kids to laugh on camera! She's the best.
So we did all that. And I can't even begin to explain the unexpected things that unfolded after.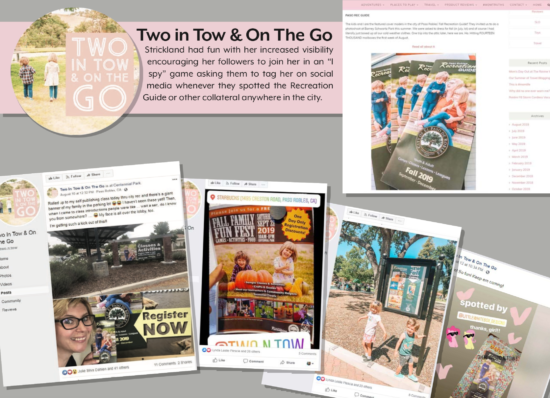 First, I thought we'd just be on the Rec Guide mailer that comes with residents' water bills. And that was 14,000 mailers so it was no small thing! But as it turns out …. it was even bigger than that. Our faces were not only on the mailers but featured in a full-scale campaign on posters at every school campus, around downtown and at the city library; and strung across giant banners at Centennial Park. The campaign was also all over the city's website and social pages.
Plus, people were always coming up to us saying, hey, you're from the rec guide! You're famous!! It was super fun and cute.
Second, on my Facebook page, I decided to do a "Spotted!/I Spy" promotion for readers who saw one of our posters around town. The contest asked readers to snap a pic of the poster we were in and tell us where they spotted us!! It was a successful campaign for reader engagement and oh so fun.
THEN … the city used all this to apply for a state award – and THEY WON. The city council is announcing it at its November meeting.
Heather said using a local influencer to raise community awareness is what helped their Fall Rec Guide achieve such success. Here are a few stats she relayed to me:
City Rec registrations at the Fall Festival were at a RECORD high – rising 70% over the previous year's event.

The Facebook post announcing we'd be appearing on the cover of the guide also received an "unprecedented" response compared to years past – reaching close to 1,000 people with 103 post clicks and 92 engagements.
"Since Strickland's appearance on the cover of the guide, the Recreation Services Facebook page has increased by 200 followers in just over one month.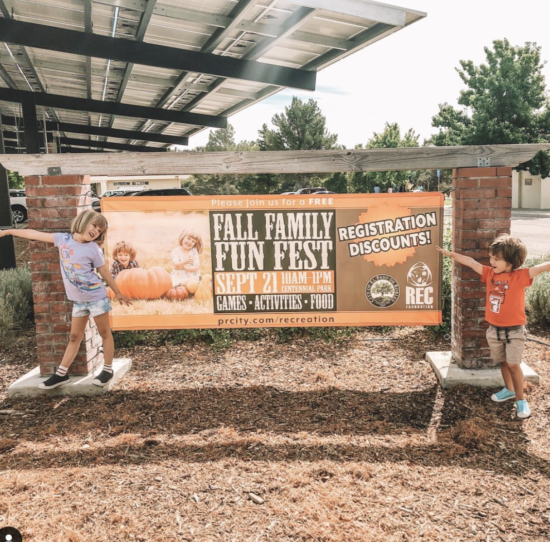 "Tonya and her children appeared on the cover of the Fall 2019 Recreation Guide as well as on the supporting collateral including banners, flyers, and posters throughout the City. Strickland had fun with their increased visibility encouraging her followers to join her in an "I spy" game asking them to tag her on social media whenever they spotted the recreation guide or other collateral anywhere in the city. The response was tremendous with posts appearing from a whole new set of followers excited to discover the Paso Robles Recreation Guide."

"The big payoff for the campaign was the Fall Family Fun Fest event … Facebook page likes during the week of the event increased by 25%. Strickland also created a Fall Family Fun Fest post for her social media pages all driving local families to the City's Facebook event."
!!!
I helped with that!! But, honestly, so did you guys. "Influence," to me, just like journalism, or writing, or whatever, is about the people – it's about human connection.
I know it's super corny, but I legit had tears in my eyes reading just how our "influence"  translated into growth and numbers for the city's rec department. I'm a confident person, but when I left The Tribune, I felt like my career side was gone forever. So to hear that my blog and brand that I made out of nothing had the power to impact my community – well, that was just super cool for us.
I'm so proud of Heather and Paso for winning this, and I feel special and thankful FOR YOU to be a part of it, too!