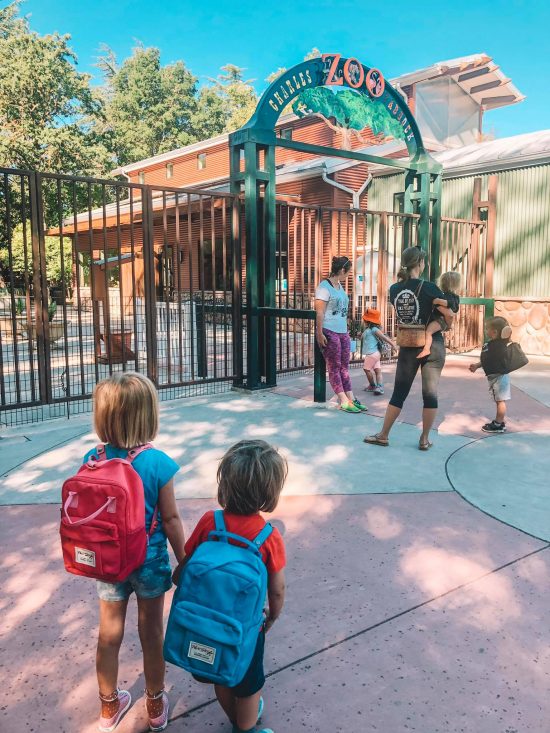 Not only does California's Central Coast have some absolutely fantastic landscapes, it also has …. some pretty cool animals, too!
The Charles Paddock Zoo is city-owned zoo nestled on 5 acres at Atascadero Lake Park. The zoo is small, but has many animal friends like red pandas, a Malayan tiger, lemurs and meerkats, as well as other small-ish mammals, birds, reptiles and insects. I always smile when I think of the zoo's founder, Charles Paddock, and his funky little menagerie of zoo animals when he started this zoo in the 1950s and 60s. Read on for all that local history stuff I love.
---
No, our little local zoo isn't the San Diego Zoo with its giant elephants and impressive habitats. But it has heart. It's also a great enclosed place to let the kids run around. Pretty sure Clara and Wyatt also learned to walk there.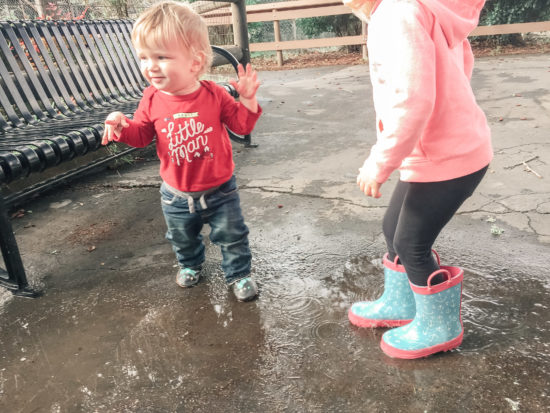 ---
Charles Paddock Zoo
9100 Morro Road, Atascadero
Hours
10a to 5p, seven days a week
Admission Prices
Adults 12 & over — $7
Children 3 to 11 — $5
Seniors 65+ — $6
Children 2 years and under — FREE
---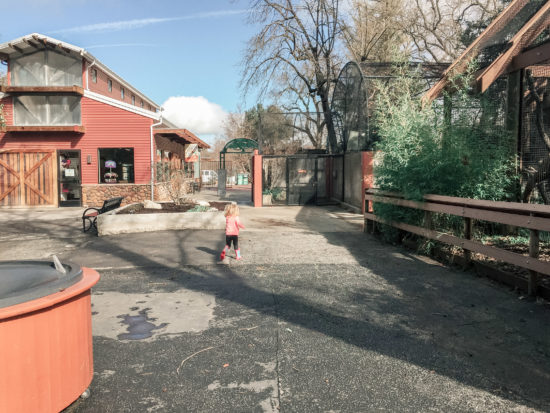 In 2011, I wrote an article for the SLO Tribune about the zoo and its history. Ya'll KNOW I'm a sucker for historical storytelling, so here's an excerpt:
The zoo traces its start to 1956, when a SLO County Park Ranger named Charles Paddock caught and kept an opossum one night while irrigating the grounds at Atascadero Lake Park.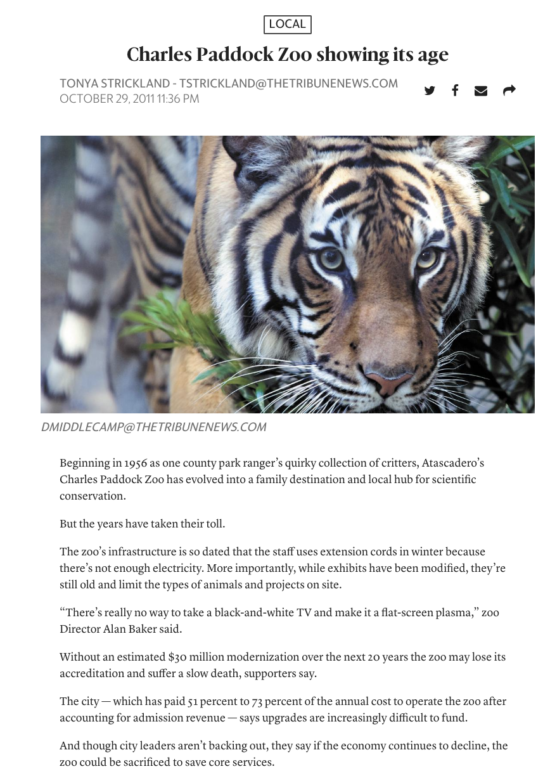 Soon, people started bringing him other animals. A Camp Roberts soldier sold Paddock an organ grinder monkey named Josephine for $25. Later, Paddock acquired a black bear named Baby  confiscated by the state from an illegal bear-wrestling act. Another resident came when a Las Vegas woman donated a leopard cub she had as a pet but became too big for her to handle.
By 1959, Paddock had more than 125 mammals and wild birds in the collection. He bankrolled the entire operation for several years.
In the early 1960s, a group of women formed a zoo society to raise money for exhibits for the animals. That group eventually became the Central Coa
st Zoo Society.
The exhibits grew as additional animals and financial donations came in. By 1967, news reports said 100,000 people visited the zoo.
The attention led it to become an official San Luis Obispo County-funded operation.
But in the 1970s, people began criticizing the small size of the animal enclosures.
From the start, Paddock said he caged the animals to keep the people out, not the animals in. He was clearly upset by the characterizations.
"It bothers me," Paddock said in 1971. "People look at the animals through people's eyes. But they're not like us. If they worked with these animals, they would learn a heck of a lot more than they know now about what it takes to make them content."
Despite public concerns, news reports from the U.S. Department of Agriculture said that surprise inspections at the zoo over nearly two decades never once gave it a bad mark.
In 1978, Paddock resigned, fell ill and passed away two years later at the age of 57. (A statue of him stands at the zoo's entrance today).
When the city of Atascadero incorporated in 1979, it took over the zoo's operation and officially named it the Charles Paddock Zoo a year later.
In 1982, a city committee formed and found that the zoo was a key attraction and the city should find ways to upgrade it with community help.
The zoo society again stepped up, and the city began charging admission to the zoo in the mid-1980s.
By 1991, the zoo underwent one of its biggest changes, becoming one of the smallest accredited zoos in the nation and part of the national nonprofit Association of Zoos and Aquariums. Among other things, that gives it access to exchanging marquee animals within the association with the goal of breeding endangered species.
---
The zoo has a gift shop as well as stroller, wagon and locker rentals. You can bring your own stroller, snacks and waters. Dogs aren't allowed. Because, you know, the wild animals in all.
Here are a few things we love about the Charles Paddock Zoo.
Menderu the Tiger 
Who would have guessed that inside this quaint zoo in small town Atascadero's Lake Park, a male Malayan tiger resides.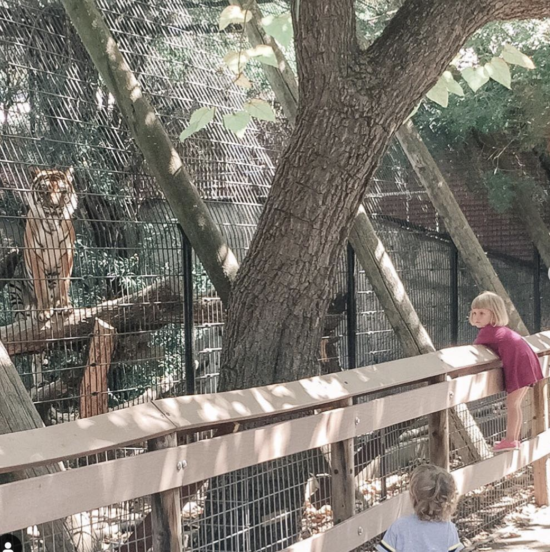 Kids love Menderu. He's the main attraction at the zoo for many people (I personally like the meerkats the most 💁🏼‍♀️). But the kids always run to his exhibit and try to spot him if he's sleeping in the bushes :). Menderu, which apparently means "roar" in Indonesian, arrived at our zoo in 2009. He was born a year prior at the San Diego Zoo.
Some think Atascadero's little zoo is too small, but I love it. It's a testament to its humble origins in the 1950s. Also, I would say most people don't know the whole point of the zoo is to breed endangered species and build conversation awareness. And, this little city-owned zoo holds a special place in my heart because it does things like giving a home to the discarded pet turtles when Atascadero Lake dried up in the drought a few years ago and hosts the model trains older residents collect and show off each winter. There's just a nice community feel here.
---
2. Red Pandas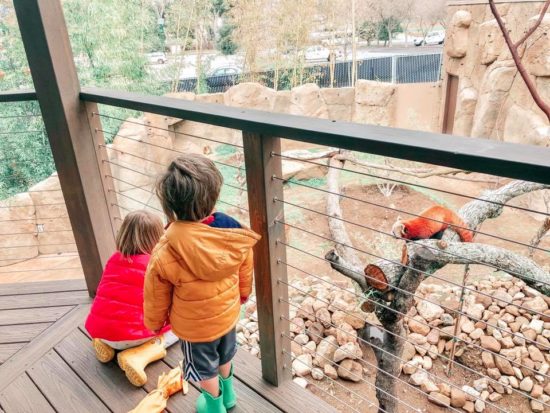 After being under construction for what felt like forever, the Thelma Vetter Red Panda Experience opened in spring 2019. And thank goodness, because those little cinnamon-tufted mammals are our favorite!
Red pandas are raccoon-sized animals that munch bamboo and, in the wild, live in trees in the foothills of the Himalayas. Located next to the tiger exhibit, the new area is home to three red pandas, each about 2 years old. A zoo volunteer told us they're brothers named Yeren and Ping-Jing from the Philadelphia Zoo; and another male named Pabu, from the Denver Zoo. We wrote about this exhibit for Paso Magazine in this whole other dedicated post.
---
3. Meerkats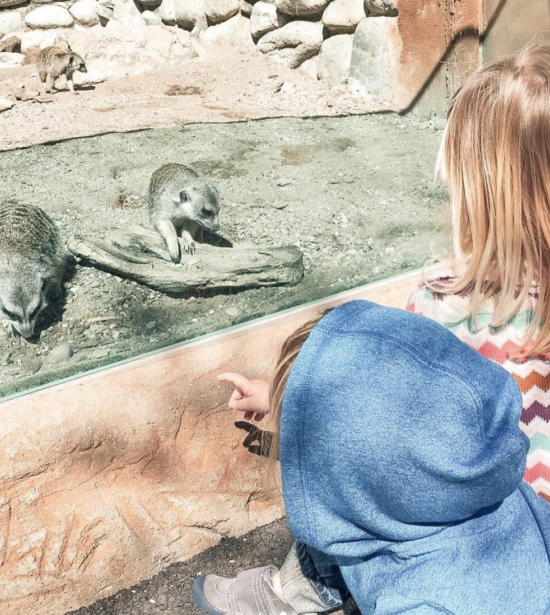 I could seriously sit and watch these guys for an hour if the kids would, you know, let me sit for even two minutes.
According to the zoo's website, "meerkats are small mammals belonging to the mongoose family. A meerkat clan often contains about 20 meerkats, but some super-families have 50 or more members. In captivity, meerkats have an average life span of 12–14 years, and about half this in the wild. Meerkats forage in a group with one on guard watching for predators while the others search for food. Sentry duty is usually approximately an hour long.  If the meerkat spots danger, it barks loudly or whistles."
---
4. Charles Paddock Statue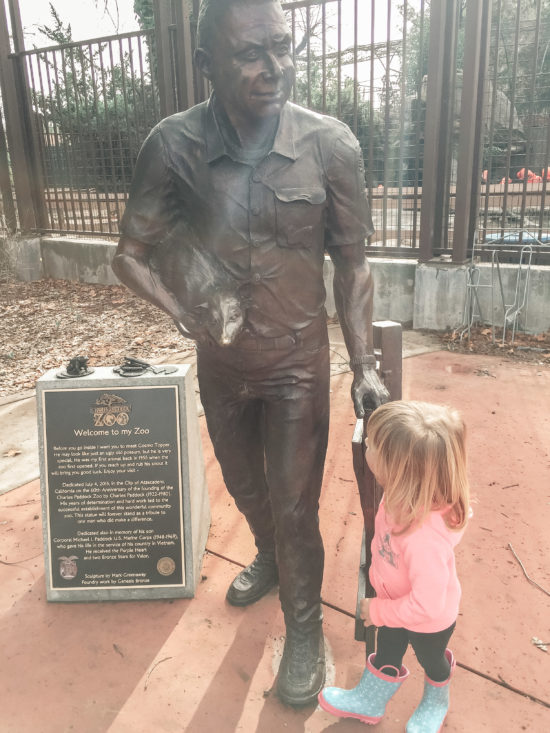 You guys, I watched this statue being made. Crazy, right?!
You can find this statue at the zoo's entrance, facing the parking lot. In 2015, I wrote about this statue for the newspaper. That's when I got to go to the foundry and watch the artisans make it with clay and bronze.
The statue is neat because, well, unless you're local no one really knows just who the late Mr. Charles Paddock was and it gives you all the 411 on that. So it gives a little throwback to his character, the achievements of his veteran son, and the possum who started it all.
From that article:
"In addition to honoring both men, the statue is intended to start a new Atascadero tradition. In the sculpture, a smiling Paddock with wrinkles around his eyes is holding his famous opossum — Cosmo Topper — who is positioned at a child's height.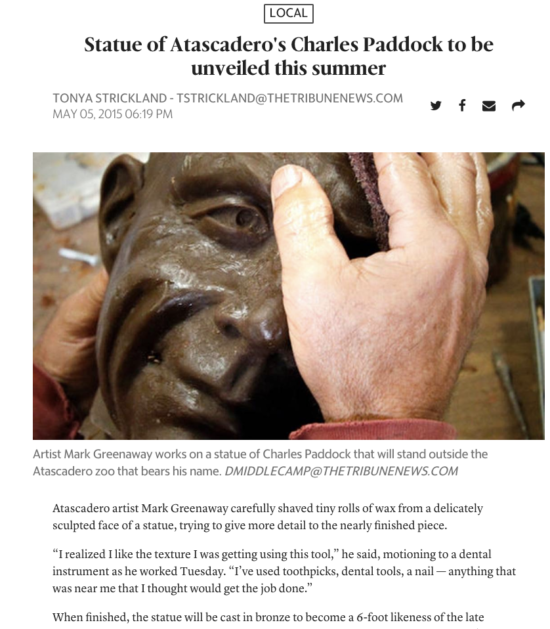 'So then the kids can rub his nose and make a wish,' said Atascadero resident Chuck Ward, one of the volunteers who is raising money for the project.'
As a side note, Chuck absolutely made this statue happen. He died two years later. He was a great source and just a solid person to know. I always appreciated his calls – he was always doing something, always smiling, and always had a hand in the community. I miss talking to Chuck.
---
Here are some other scenes from our trips to the zoo: