This adventure is one of my favorites — but also not. It was beautiful, different than our everyday routine and I got a milkshake from In & Out Burger at the end of it. On the other hand, I wasn't prepared for the length of the trip once we were there or the surprise trail leading to the beach. Usually we just go with the flow but this time the latter was particularly exhausting, especially while baby-wearing. Lesson learned.
Now on to the main event – the butterflies.
Every October, hoards of butterflies migrate to Pismo Beach to hang out in a specific Eucalyptus grove until about February. You can find more information on the butterflies and their migration here.
We visited in mid-January. Watching so many butterflies was, indeed, spectacular.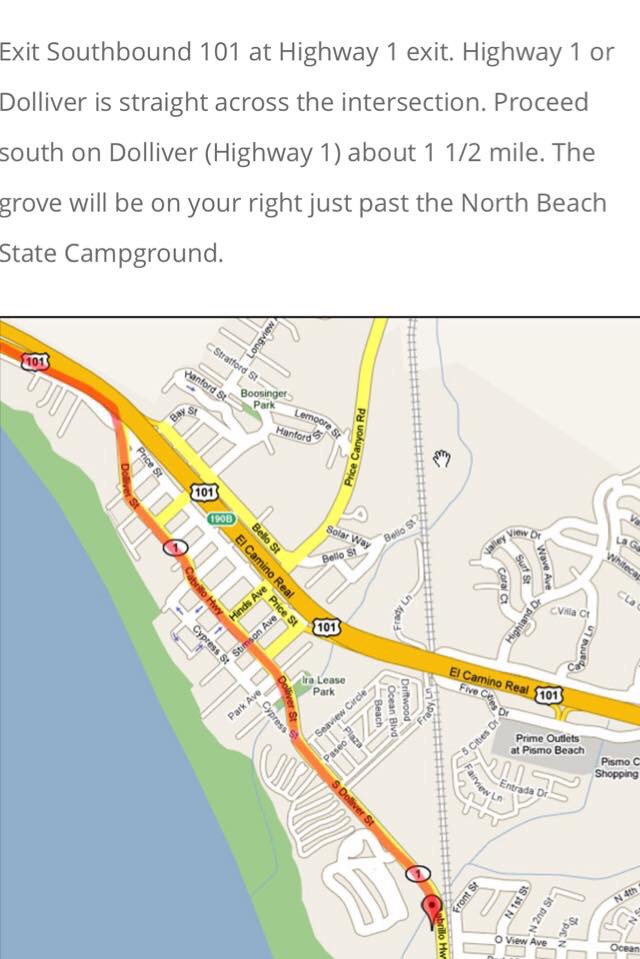 The grove is located at the south end of the city of Pismo Beach off Highway 1, just after the North Beach Campground. Above are the directions coming from 101 South. We didn't use these instructions and should have. Instead we got lost at least four times on the way there. My friends met us at the grove, but before we left we shared GPS trackers on our phones so we could find each other. They said my little dot on the map was zig zagging all over the place. They were totally laughing at me.
The trip also a roughly 45-minute drive from Paso Robles, one way. So that's kind of a long time for an afternoon activity with kids. The baby napped on the way back. But my toddler didn't when she really should have in order to make the stretch from dinner to bedtime sane. She also asked for about 400 things on the way there and back. So just be prepared for the time commitment.
Our friends have kids ages 5 and 3, which was great age range for this adventure because there's lots of room to run around and explore. But they also got tired on the way back from the beach walk so there was some whining for sure.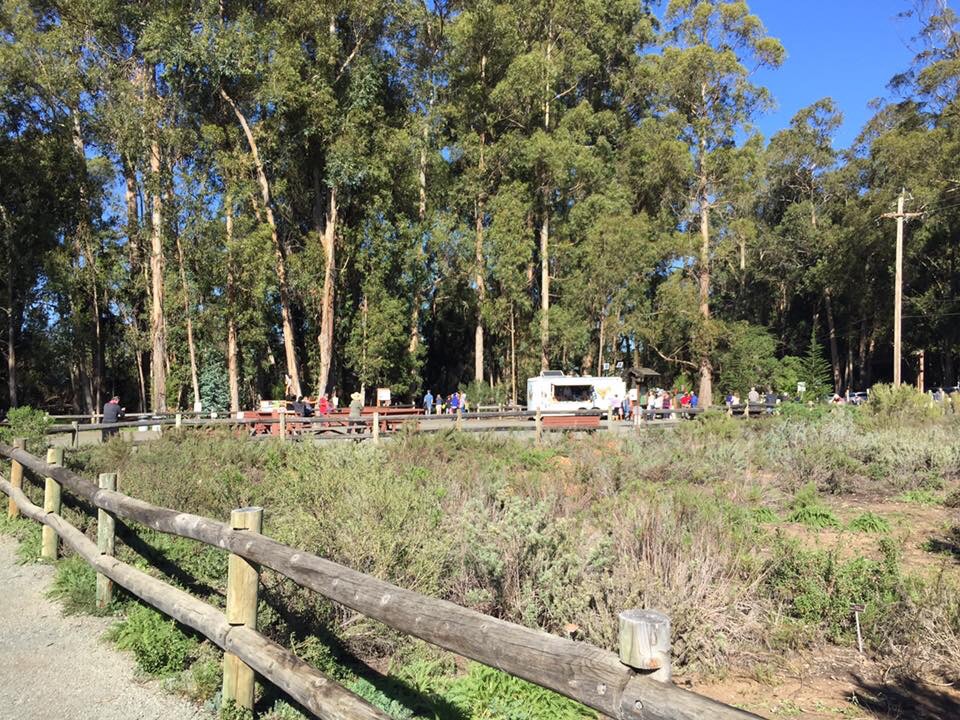 If you're lucky, you can snag some street parking right in front of the grove. Otherwise you can park further down on Highway 1, which is kind of daunting with children. Here's what the grove looks like from the street. There's a portable bathroom at the south entrance. Hit that up first.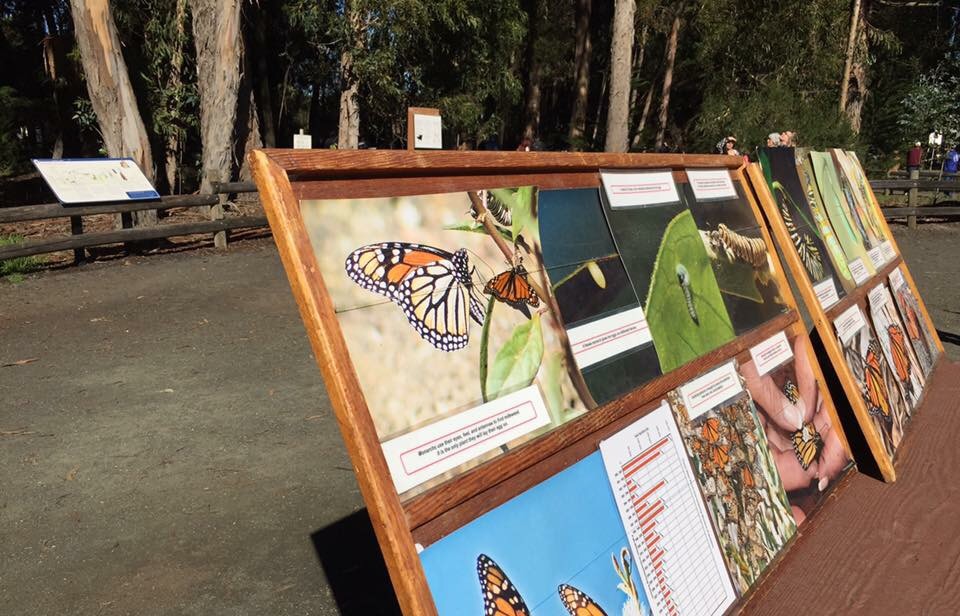 Once you walk up to where all the people are, there's informational material at the front. You might find all the posters interesting as an adult, but your small children will run straight pass all that toward the trails.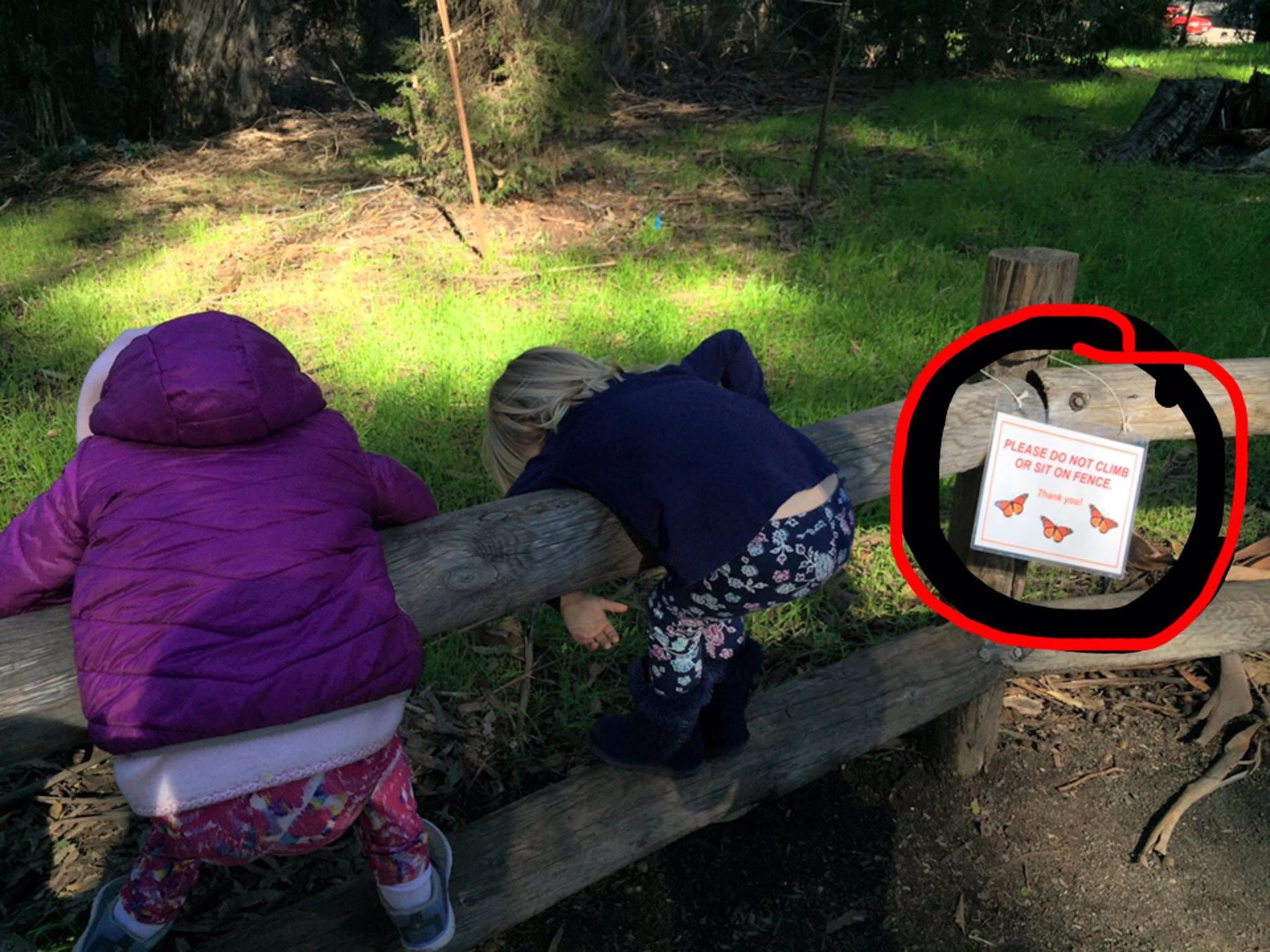 Meanwhile, the kiddos will run right up to the fences around the area and climb them. Maybe even right next to the big NO CLIMBING sign, like ours did. It's not a successful trip until mom gets embarrassed.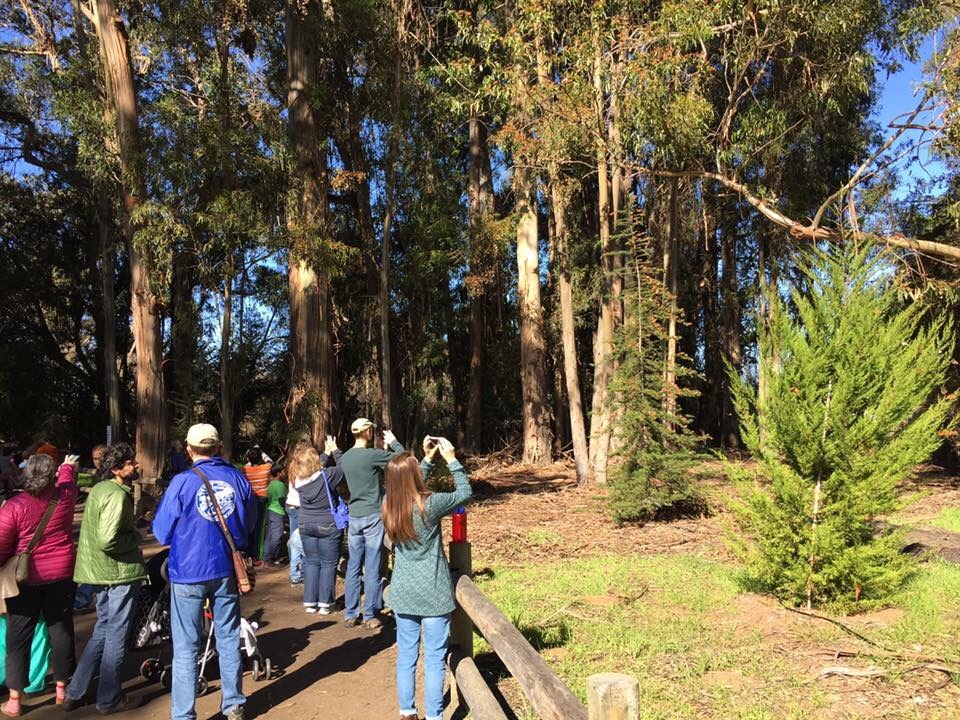 Soon it was time to stop and look up at all the butterflies.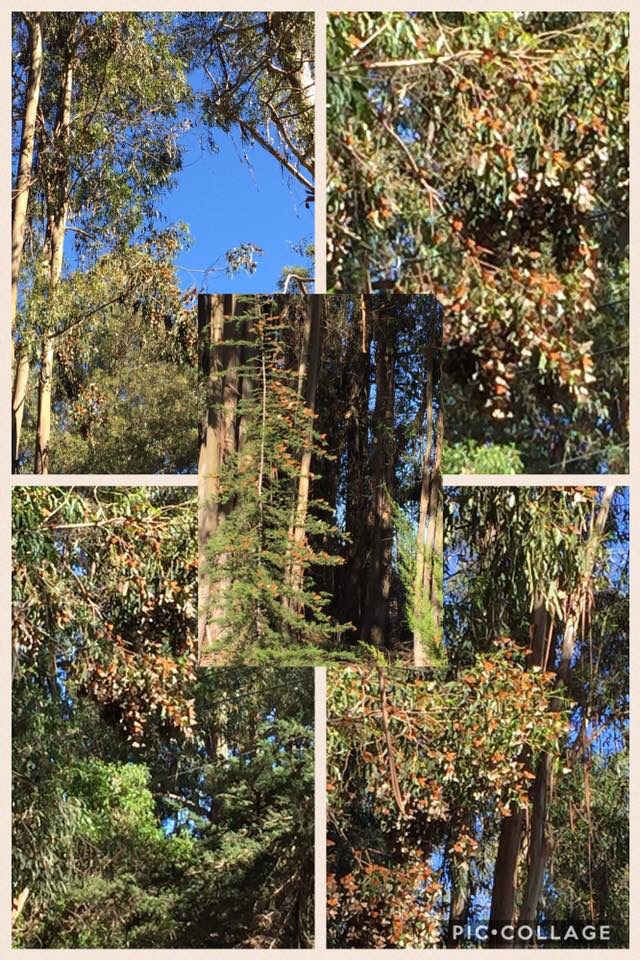 They're perched in giant clusters on the tree leaves. And there are thousands of them. It's a pretty crazy sight once you realize what you're looking at.  But don't look too long, because your small children have a two-minute attention span and they just moved on to the next thing.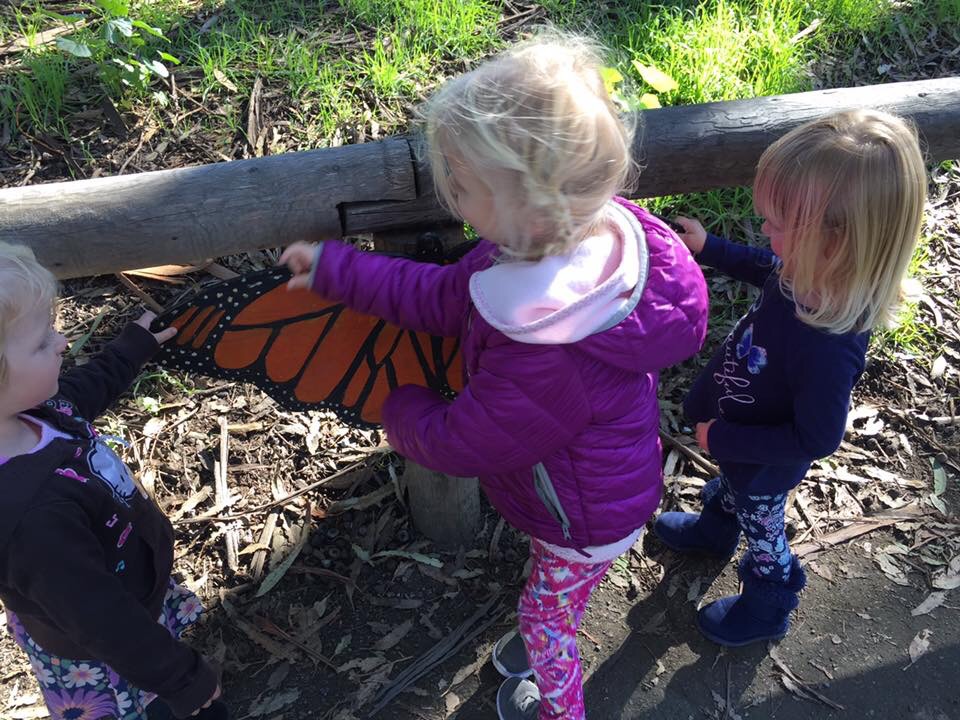 Like this giant fake butterfly.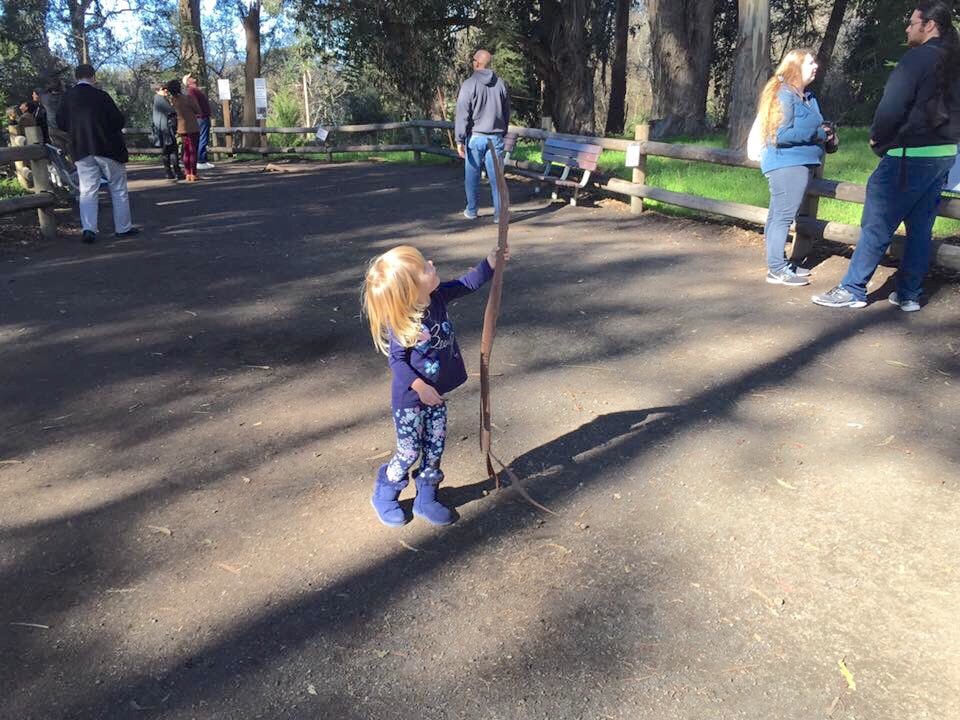 Or some big stick.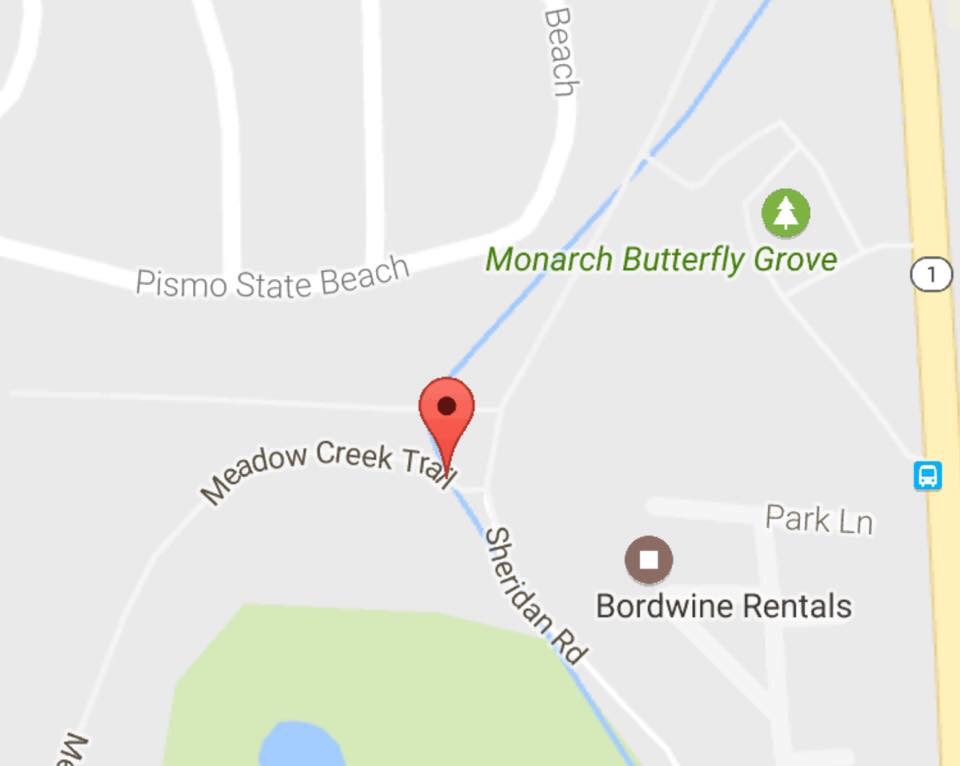 It was around that exploring time when we found the Meadow Creek Trail. It leads right out of the grove and to the beach.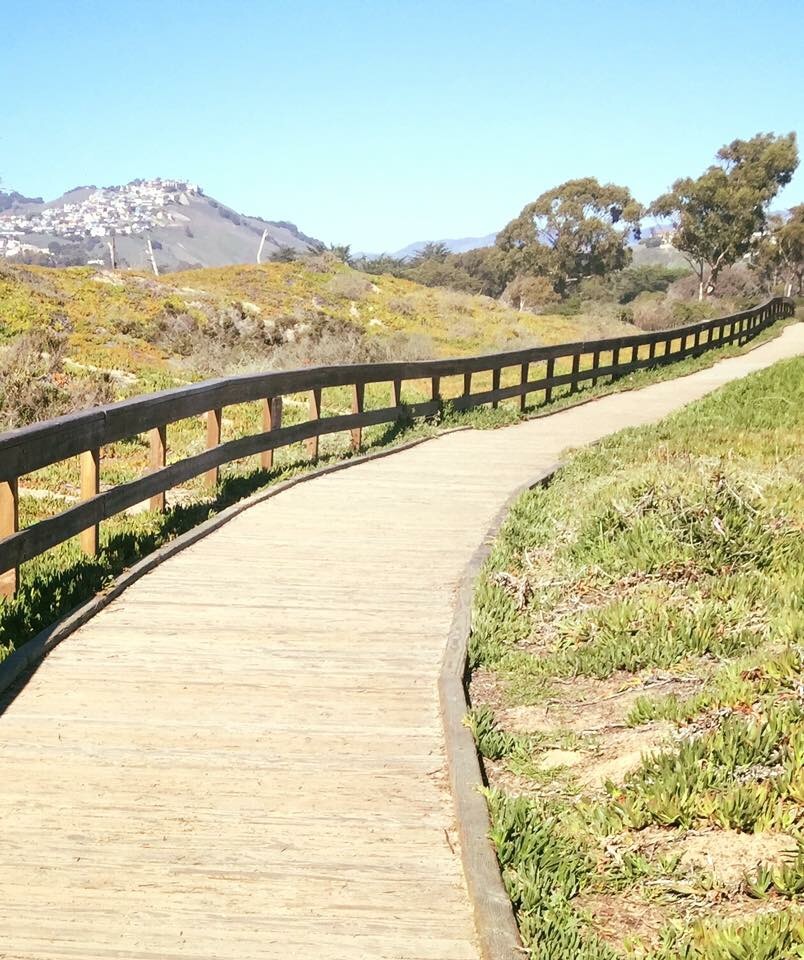 The trail is super kid-friendly and lined with flowers, long grasses and pretty scenery. It even has a partial boardwalk. At just over a mile, the walk was mostly flat with a few hills as you get closer to the ocean.
It's a lovely walk, even though our band of tiny humans held up the line in front of our perfectly polite (but probably annoyed) fellow hikers. I kept the baby in the Ergo (again!). I swear he eventually gets to do some of the fun stuff, too.

So remember how I said the trail leads out to the beach? Well that's fun and all but then again, nottt so much when you're completely unprepared for a beach outing and your kid is wearing her new furry boots and pants.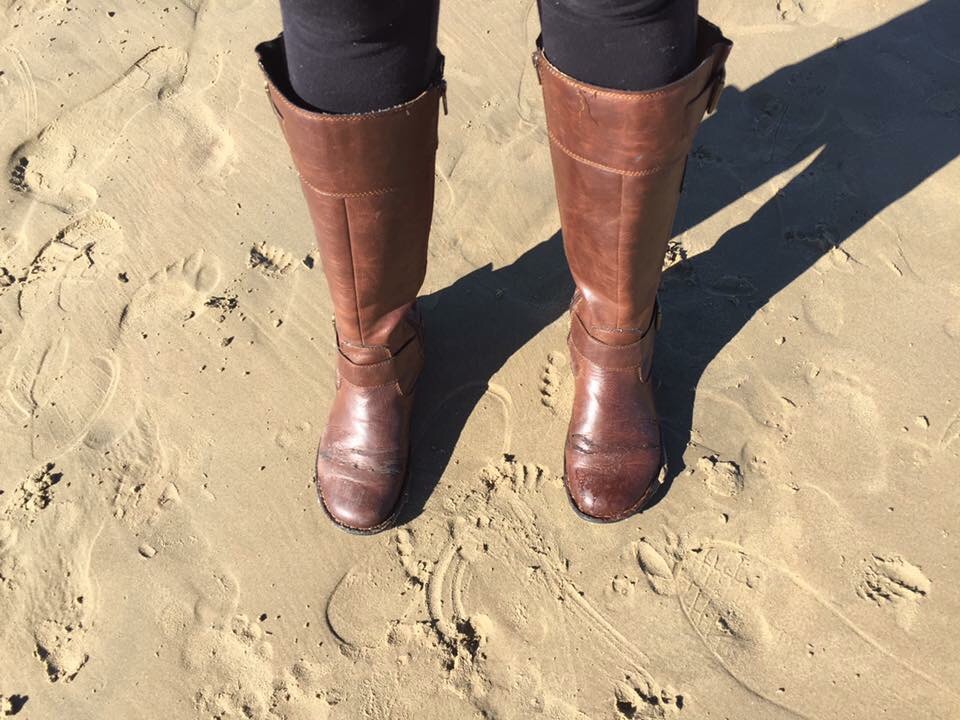 And you're wearing boots, too.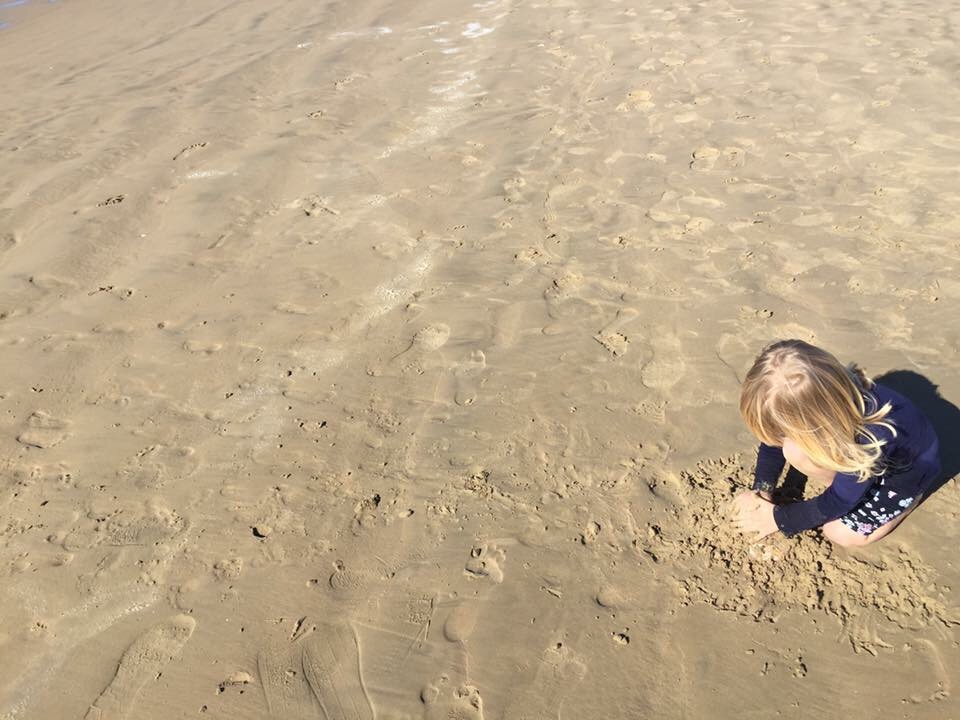 Oh well. Guess you'll just have wet, sandy kids like me! Always a delight 😂.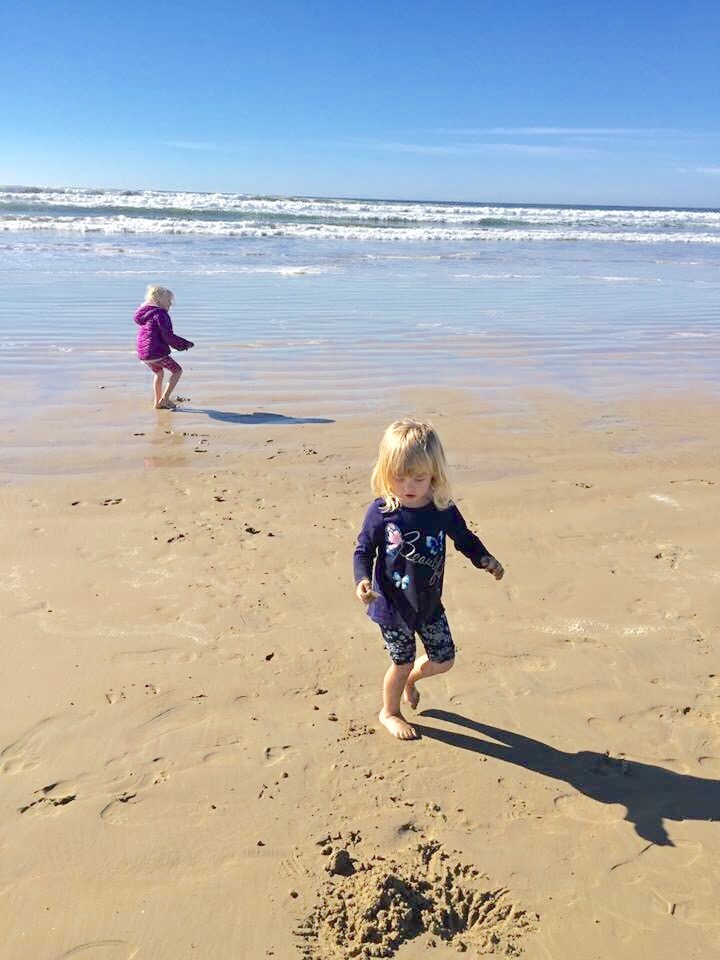 And – of course – they want to play in the water and wet sand, too. Don't think you're just getting away with only playing in the dry sand. Silly mommy.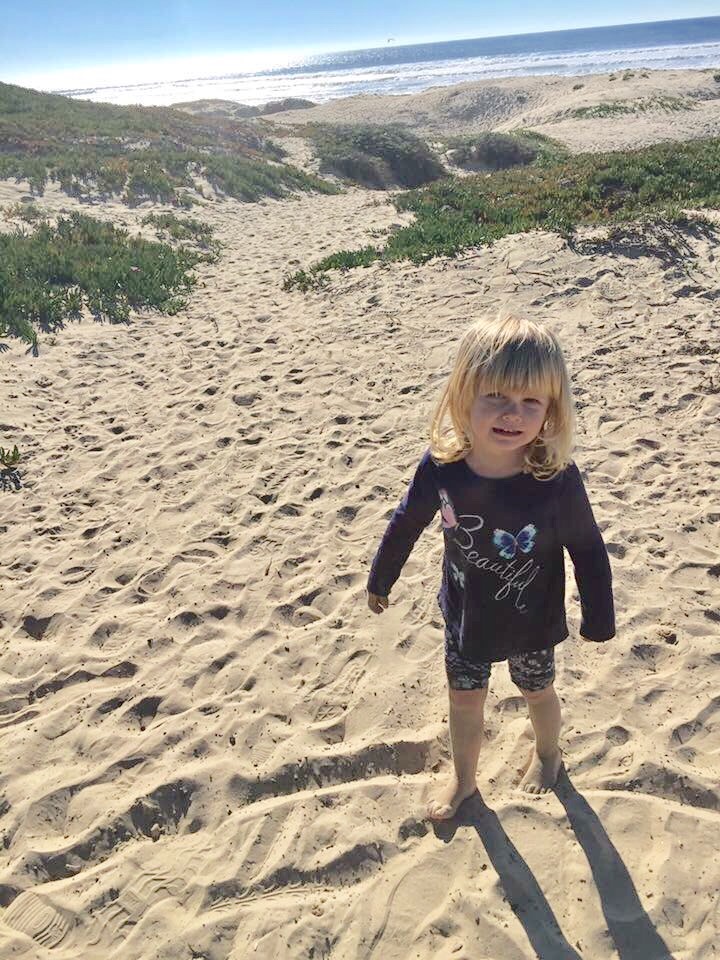 And before you know it, your outing has just become way too long and you're hungry, your kid is hungry (and wet and sandy) and you have to walk aaaaaall the way back to the butterfly grove to get to your car. But first you have to convince your small child to leave the beach. And possibly pick her up while also baby-wearing.  It's these times that we'll look back on and laugh, right?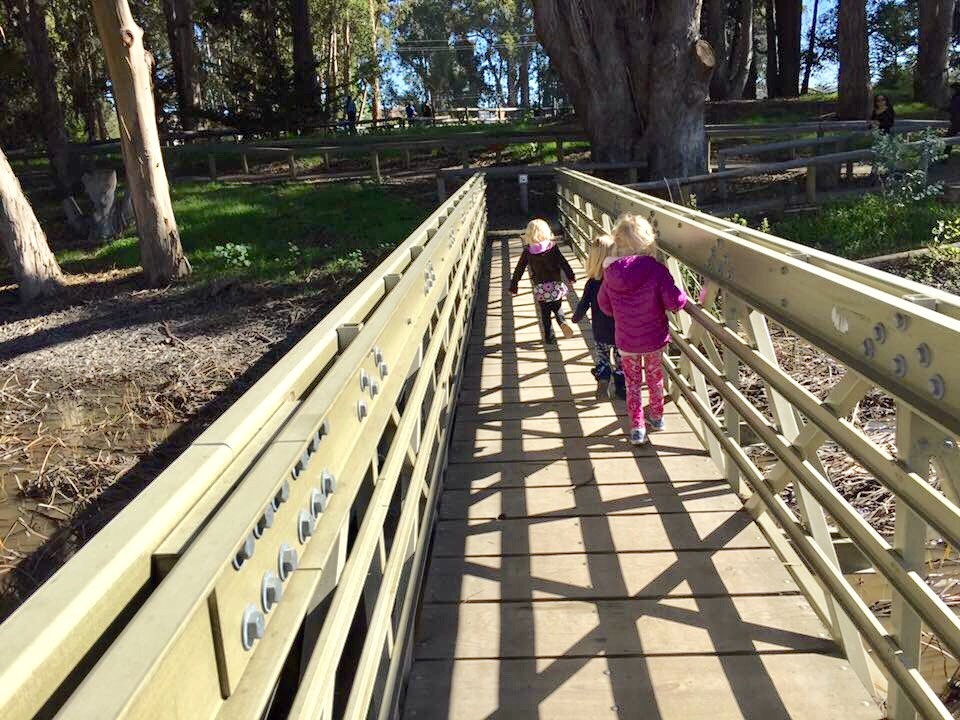 But if you're anything like me, you can usually bribe them with the promise to go over this cool bridge one more time and with any luck you won't have to drag your sandy kid outta there the whole way.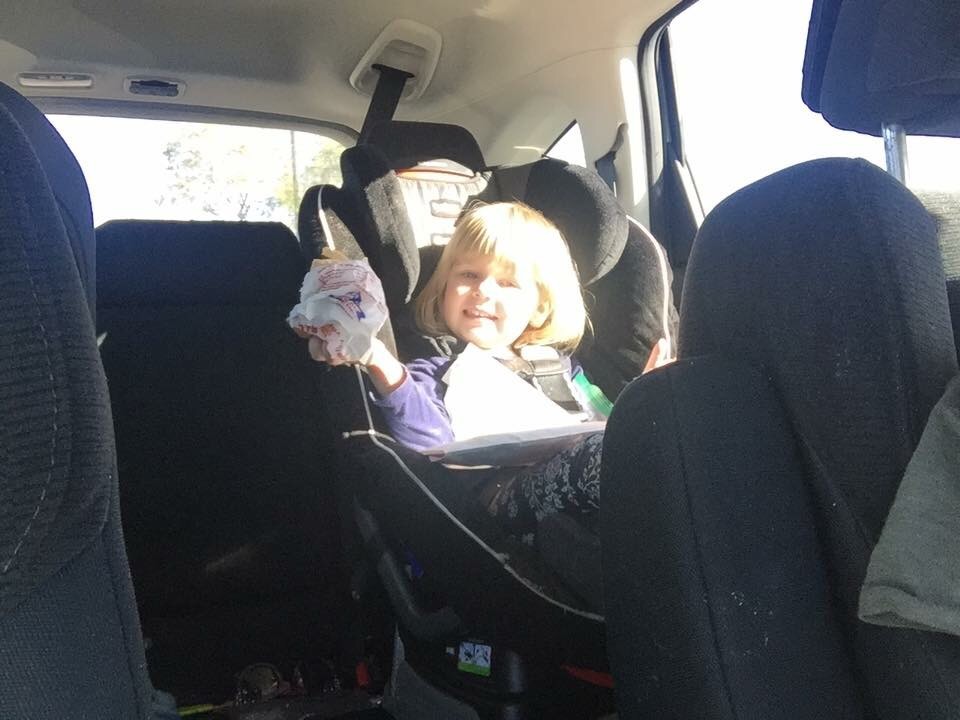 Then you say bye bye, butterflies and hello In & Out in nearby Arroyo Grande. And you order the LARGEST milkshake they have ALL FOR YOU without telling your kids what a milkshake is and get them milks and stickers and fries and they'll be none the wiser.

And then you realize the kids have been  quiet in the back seat. Tooooo quiet. And you look back and it turns out a rogue napkin has escaped your clutches and your child has already found it. And subsequently shredded it all over the place. But you don't care because you have your milkshake and the car radio and hey, at least she's occupied.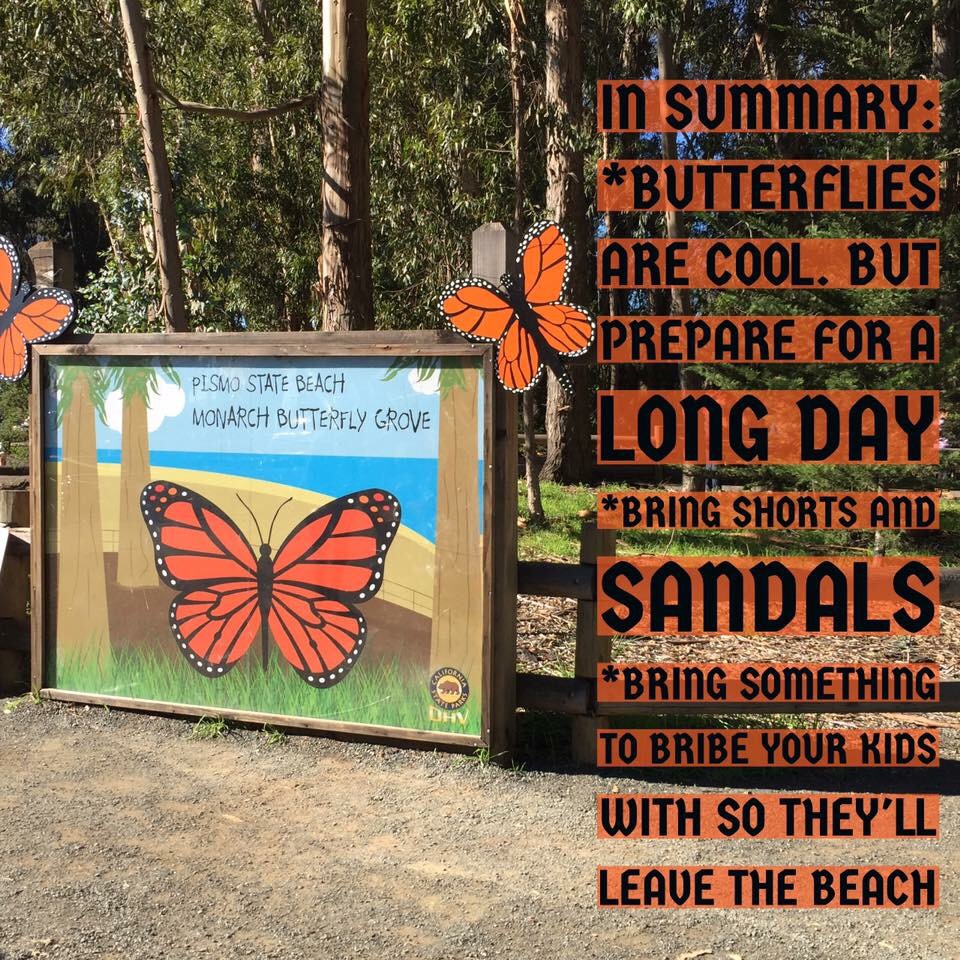 That's it!! A very fun activity with lots to do … just a long time getting there. Plus a few surprises, a sandy hiking tantrum and the long drive back to Paso Robles. #givemeallthemilkshakes.