UPDATE:
These are awesome toys that my kids love – but they do mold after about 4-6 months of use. So we've tossed them since that time. But with it's $8.99 price tag, I wouldn't mind buying a new batch for the kids from time to time after the old batch was tossed.
Designed for ages 6 mos+, this set comes with four bath toys in the shape of trucks.
My 3 and 5 year old kids love these toys. They can squirt the water all the way to the bathroom ceiling, lol. They're fun colors and chunky shapes and I appreciate the detail in the wheels, grill, headlights, etc.
Overall, we'd recommend these little guys.
---
We received this item compliments of the brand in exchange for our honest review as part of my role as an official Nuby Parent Blogger.
Taking off some "points" because bath squirters in general are hard to keep clean over time. But at their price point, I wouldn't mind replacing the set every so often.
The set of four cars is $8.99 on the Nuby website. They're not available on Amazon, but if you want to shop my Amazon Influencer Shop (affiliate link), you can find Nuby's 10-pack of similar Little Squirts Bath Toys in the shapes of animals instead of cars. We also tried these and like them just the same.
---
---
As a Nuby Parent Blogger, I'm part of the brand's selective group of mommy bloggers chosen to show you some of its latest products in action. You can see my Reviewer Badge page and the network of other Parent Bloggers here.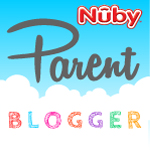 Here's how you can stay in touch with Nuby for new products and updates: