We received an Octopus Hoopla bath toy compliments of Nuby in exchange for our honest review. (For more info on this, see our disclosure). And the verdict is … we love it! Overall, we highly recommend this for bath time since it can be used among siblings or in solo play.
Here are some of the ways we use it:
As an actual ring-toss game, which helps gives some early skill learning.
As individual pieces to be played with individually.
As a toy that siblings can actually share (#winning).
Faves:
This bath toy has long arms for trying out hand at a tossing game! And the tossing game is great for multiple players — I even like playing it from the side of the tub (instead of my other mama game of constantly trying not to get splashed).
It's perfect for younger and older siblings.
It has solid construction; no weird bath mold issues here!
The little rings that fit on its arms are also fun on their own.
My 4-year-old pretends the rings are money and uses them to buy other toys from her brother in pretend play – so cute.
There are a few pieces to this toy, which is nice for siblings who struggle to share (like mine!)
It has great colors! I like how purple is more of a gender neutral color.
Areas for Improvement:
I haven't found any issues yet, but I'll make sure to update this if I do!
---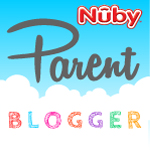 As an official Nuby Parent Blogger, I'm part of the brand's selective group of mommy bloggers chosen to show you some of its latest products in action. You can see my Reviewer Badge page and the network of other Parent Bloggers here.
Here's how you can stay in touch with Nuby for new products and updates: