Today, we're excited to review the very special kids tent playhouse that we were gifted by South Korean company, Petite Maison Global in exchange for our review. Although we received this product for free, all opinions are my own, For more info, see my disclosure.
This playhouse is special, not only because it's super cute and the kids love it, but also because it completes  2-year-old Wyatt's big boy room!
Goodbye crib, and hello fun new space to play with sister and sleep through the night … (if I write it, it will happen, right?)
Overall, this tent playhouse is a beautiful item. It satisfies all the things I look for in kids stuff: fun factor + style. AND it was so easy to put together. More on that below. But first, let me just say that I like that it boasts the Scandinavian look I endlessly search for, but is so surprisingly hard to find. Luckily Petite Maison just so happened to be looking to push an expansion into the U.S. this year. Woot.
THE PLAYHOUSE TENT
The playhouse is made of a 100% cotton canvas cover that fits snuggly over a sturdy aluminum frame. It comes in a variety colors ( I listed them below with links). We snagged the Navy Blue color scheme, because it matches perfectly with Wyatt's room as he already has a navy dresser and side table.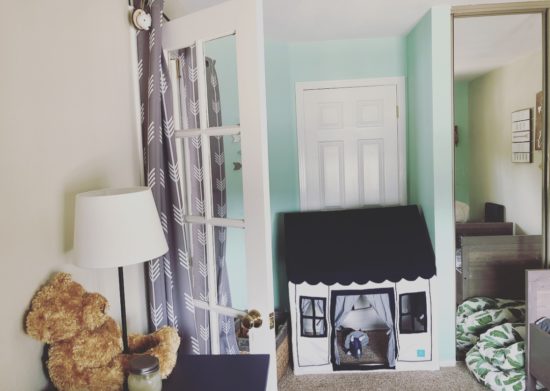 THINGS WE LOVE
We've had this tent for about a month, and here are some things we already love about it:
The scalloped roof detail is oh-so-sweet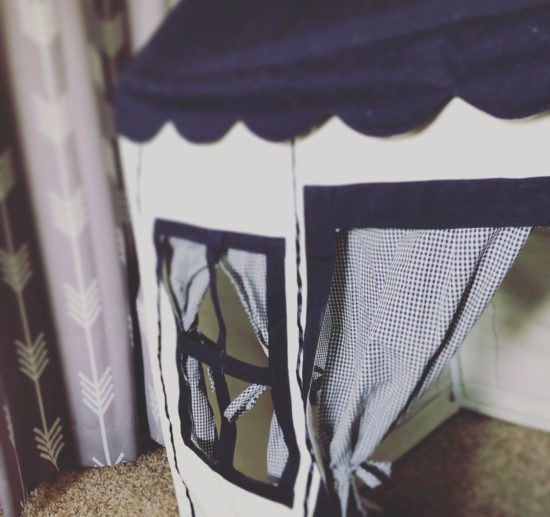 The overall look helps for pretending the playhouse isn't a house at all, but actually a little corner market or even a pet hospital.
The kids love to peek out the windows, which have cute little fabric window panes in them.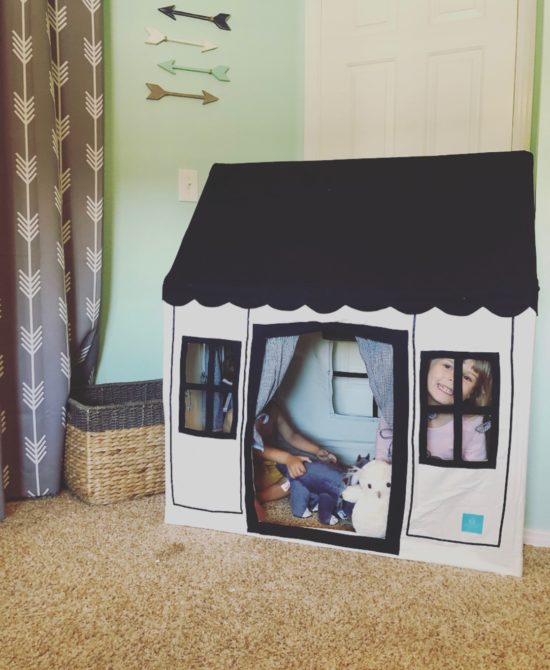 Checkered curtains come on all the windows and the door, and they're totally adorable. They add to the overall look and are sewn nicely. They feel thick and sturdy, and really add to the quality of the piece.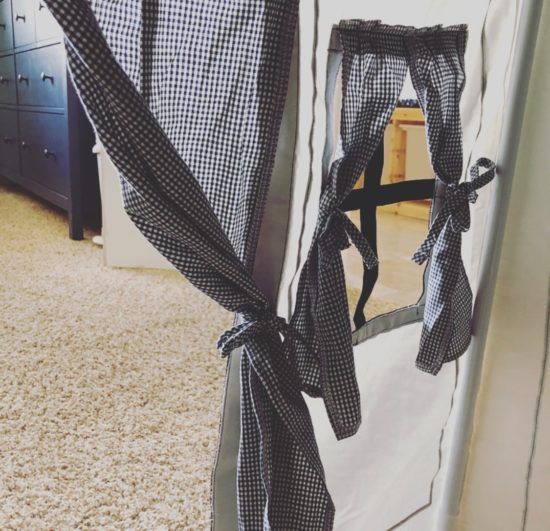 This tent is basically my spirit animal. This probably shows my crazy side, but I totally love how tight it fits over the frame, as I noted above. That may seem like a small detail, but I like to have crisp, clean lines in my house and the fact that this playhouse isn't one big messy blob in the corner seriously calms my soul.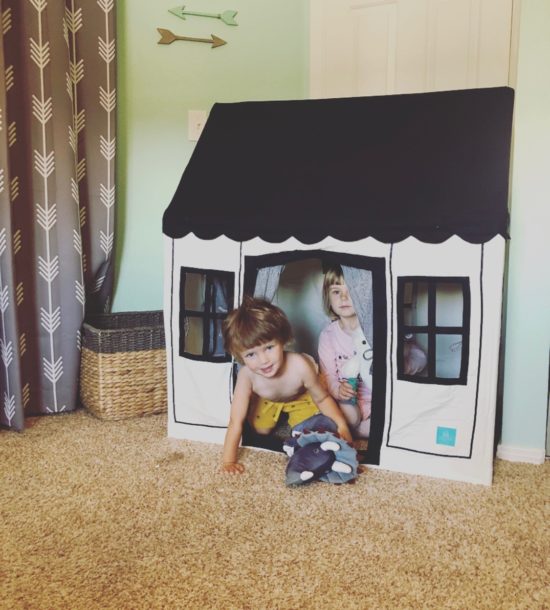 THE ASSEMBLY
This was really easy to put together. If you watch my Stories over on Instagram, then you know from my other toy testing endeavors that I'm not the best assemblyman. Hilariously so, in fact. Seriously, my 4 year old figures out instructions faster than me – and she can't even read yet.
But the assembly on this playhouse was SO EASY. Each aluminum bar comes with a color coded sticker on it. And then the instructions give you a photo of where each colored bar goes — and with barely any words. It's so simple, it makes you wonder why all companies don't do it this way.
Here's a funny timelapse video we featured on our Instagram Stories of us putting the playhouse together.
ABOUT THE COMPANY
Petite Maison started out in 2013 in Seoul, South Korea, and has positioned its selection of canopy beds, playhouses and wardrobe frames
(check em out)
as functional yet stylish choices in the kids furnishing market. The company's founder/CEO originally made the solid plastic elbows joints that connect aluminum poles together. During that endeavor, he found that customers wanted ​not only reliable replacement parts for other brand's playhouses, but also stylish playhouses that moms liked, too. So he sought out to make both.
Petite Maison also makes bumper-guard floor beds for kids, fashion hanging racks and smaller aluminum-framed pet houses — all styled after the playhouse we have.
​