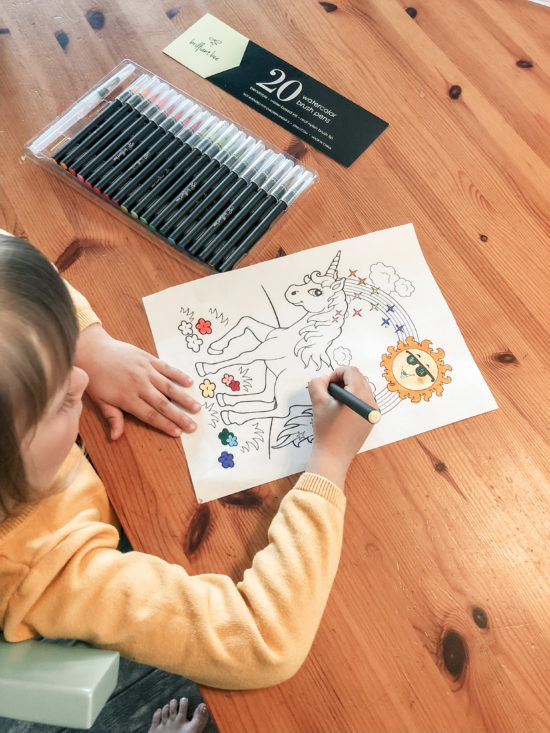 I've been coloring with the kids since birth practically and I can't tell you how much more fun it's been for me to ditch those bulky kid crayons for these Watercolor Brush Pens by Brilliant Bee. This 20-pack was gifted to us by our friends over at @jumpoffjo. Keep reading to see why we love these pens and for an awesome Amazon promo code!
---
This post is sponsored and contains affiliate links, but as always, all opinions are my own. For more info, see my disclosure.
These pens are made with water-based ink + a nylon brush tip that makes the ink feel very similar to painting, so the pens just have this great stroke/flow/feel when writing.
They aren't designed for kids under 3 (plus Wildman Wyatt is banned from markers 😅), but 5-year-old Clara used them and she said she loved the way they felt while coloring. She and I also did a fun thing where we each colored one part of this unicorn scene and then passed the page back and forth between each other to finish the next part.
Here's a little video of my part in the coloring train. I bumped up the footage speed and added some music for your viewing pleasure 🤓. Relaxing to watch, right? I thought so.
---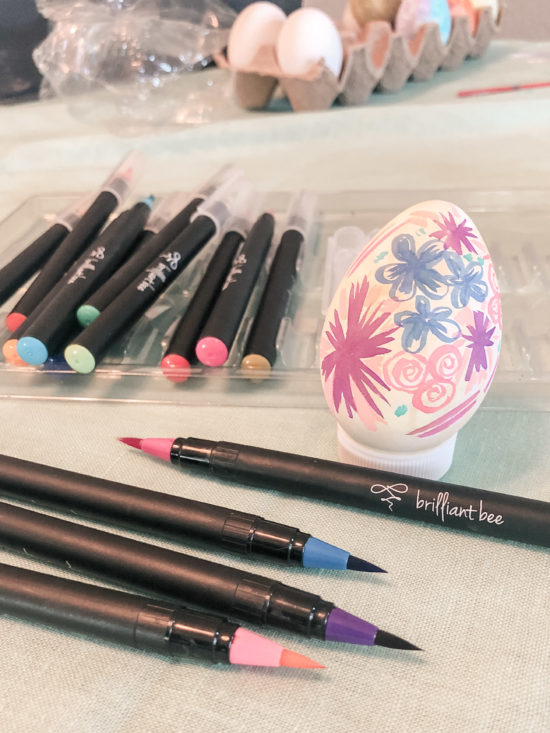 We also used them last week to draw on Easter eggs (swipe). Now I can't wait to try them on one of those adult coloring books next or maybe practice some trendy calligraphy?! This marker set is $12.99 in my Amazon Influencer Shop.The brand also shared an Amazon Coupon Code for the brush pens for 10% off.
Hope you get some coloring time in soon!