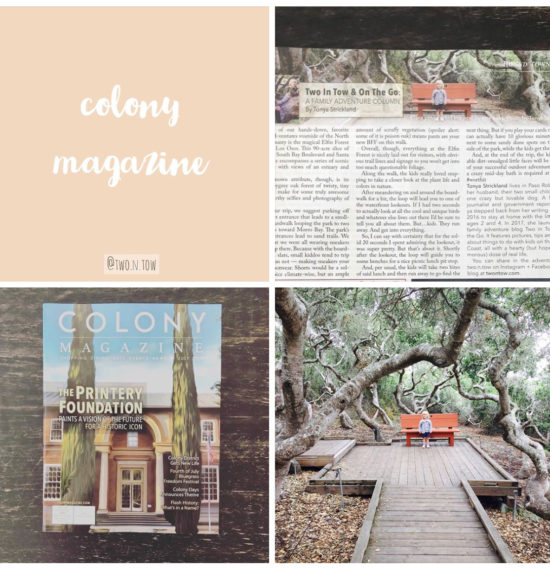 I'm happy to share that the fine folks behind PASO Magazine (where we have a column) have created a second publication called Colony Magazine for our neighboring city of Atascadero! Its first edition was July 1, 2018.
And I'm absolutely honored that Two In Tow was published in its inaugural issue.
A Quick Look at the New Publication:
Details from the magazine's announcement.
Printed circulation: 17K
Delivered to:
Atascadero
Santa Margarita
Creston
Pozo
California Valley
Find it on:
---
A Snapshot From History:
• The new magazine's content coverage includes all the North County stuff we love, but also a bit about the coast. And that's because Atascadero is historically linked to the coast. Do you know why? To answer that question, first a little history: Atascadero was founded by E.G. Lewis as a master-planned utopia (or colony) in 1913. According to Wikipedia, Lewis put together a group of investors and acquired thousands of acres of empty ranch land that would become the present city. But at the time, he invited the investors to homestead the property as a colony. He first set up tents for them to live in and then later, built homes. In fact, the magazine's publishers live in one of those original colony homes today! You can check it out on the @atascaderoavenue page over on Instagram. (It's beautiful).
• Ok so back to the coastal connection …. In 1914, construction began on an 18-mile road, today known as Highway 41 West, which Lewis cut through the Santa Lucia Mountains from inland Atascadero to the ocean in #MorroBay. He wanted the residents of his colony to have easy access to the beach! How cool is that?
• As such, our Colony Magazine column features a family-friendly hike in the Elfin Forest with sweeping views of the Morro Bay Estuary.
We hope you enjoy the column and this new community resource!