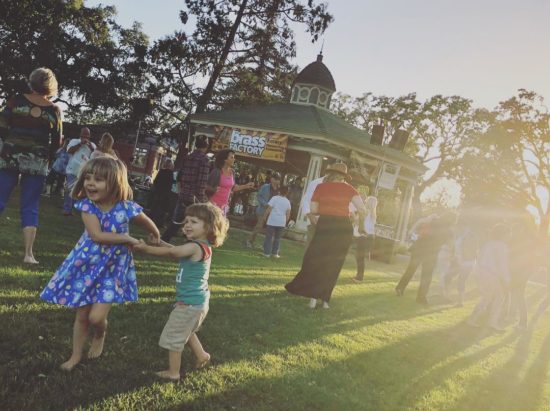 When most people talk about their quintessential summer, I often hear about relaxing poolside getaways. But when I think about my own perfect summer staple – it's all about Paso's Concerts in the Park.
Here is a guest post I contributed this summer to Paso Robles' official tourism website, TravelPaso.com.
It's warm Thursday evenings where the heart of our downtown fills with the sounds of rock 'n roll, country and funk.
It's families gathering in sun dresses and jeans on brightly colored picnic blankets and canvas chairs, taking in the sounds and smells and tastes.
It's my own family dusting off our plastic wagon, buckling the kids in and stashing goodies and blankets and snacks all around them.
It's walking through our historic downtown toward the park where the green grass becomes a dance floor for couples, singles and little children alike to delight in being twirled round and round.
It's my own children playing in bare feet, laughing and clapping to the music.
It's the sun shining through Paso's twisty oak trees, cascading just enough golden light over the crowd to make these memories perfect for a photograph.
It's full ice chests, chilled wine and laughter among friends.
It's not having a care in the world.
It's the collective happiness of living in a small town.
Paso's 2018 Summer Concerts in the Park season kicked off last week and will continue from 6 to 8 p.m. each Thursday until August 16. This free concert series is organized by the nonprofit Paso Robles REC Foundation and the City of Paso Robles. It features a diverse lineup of live bands, booked in advance, that delight the crowds from the stage of the charming dome-topped City Park Gazebo.
For more dining options, guests can also purchase wine and food at each concert. All net proceeds from beverage sales go to the REC Foundation's work to enhance parks and recreation in the city.
All in all, Concerts in the Park is something my family looks forward to each year and serves as my perfect quintessential summer getaway, right here at home.
Tonya Strickland lives in Paso Robles with her husband, their two small children and one crazy but lovable dog. She writes the SLO County Mommy Blog Two in Tow & On the Go featuring pictures, tips and stories about things to do with kids on the Central Coast. Share in the adventure at @two.n.tow on Instagram + Facebook or visit the blog at twontow.com.