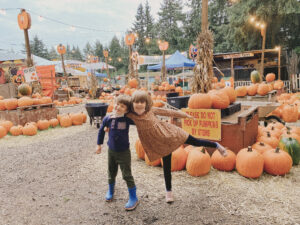 Do you hit up all the big pumpkin patch attractions every fall? I've seen a ton of family-friendly farms advertise their seasonal attractions around the Puget Sound in the last year. (In fall 2021, we visited the picturesque Hunter Farms in Union Washington. And for those of you in California, I have a list of faves there, too.)
Since I'm normally adventuring on weekdays with two kids by myself while Bowen works, I tend to lean into a less crowded pumpkin patch approach. We found that this October at Patterson's Farm Market in Gig Harbor. It's a cute spot with a hometown feel.
---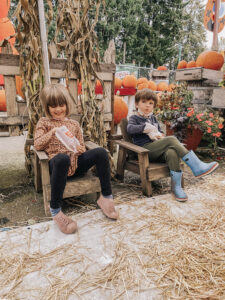 Patterson is a year-round business, offering farmer's market type veggies, fruits, canned jams and grocery items all staged in wooden bins and shelves under the main tented area. As of writing this post in January 2022, it's hard to find info about the business online as its FB page appears to be down. But on FB visitors are still tagging their pics on the geo-tag for "Patterson's Fruit Stand."  There are also many recent Google Reviews about them rolling in most months).
I took the kids to Patterson's just before the weather turned from cool/late summer to fall/rainy. In fact, the first rain fell as we were heading back to the car! We were delighted to find Patterson's October attractions offered a little bowling game, rubber ducky derby water spout races and a ball toss game. And it's all free. And … all pretty adorable. 🍿🎃🌲. As well as pumpkins for sale and handpainted signs for photo ops.
---
Clara and Wyatt's favorite part of the pumpkin patch, though? The popcorn! 🎃🍿. Popcorn was $1 under the tent.
In 2020, the KING-TV news channel said owner Shelli Patterson works side by side with her daughter Hailey at the market. If you know more about this local entrepreneurial mother/daughter duo, please comment and I'd love to write more about them and the history of their family-owned business 💜 .
---